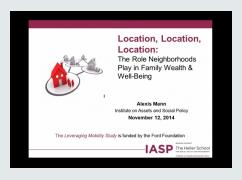 This webinar, by PolicyLink, IASP, and NFHA discusses how policy can help create a fairer distribution of opportunity by neighborhood.
The webinar focused on the recent IASP brief, "Location, Location, Location: The Role Neighborhoods Play in Family Wealth and Well-Being."
This brief delineates between high opportunity and low opportunity neighborhoods, explains the disparities in...
|
More >