Incorporating Arts and Culture into Community Development Work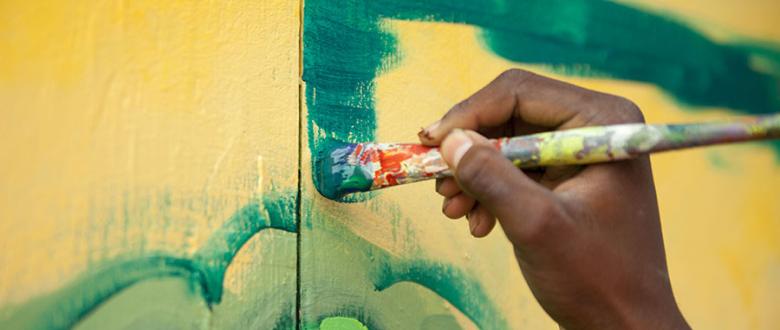 Arts and culture are essential for building community, supporting development, nurturing health and well-being, and contributing to economic opportunity. As such, they are critical to achieving communities of opportunity driven by equity:  just and fair inclusion where all can participate, prosper, and achieve their full potential. PolicyLink arts, culture, and equitable development efforts span the full breadth and depth of our work, touching health, infrastructure, equitable economy, workforce development, and every issue in our portfolio.
Our work encompasses both drafting an equity-focused policy framework to guide efforts to engage arts and culture in infrastructure development, community building, and sustainability; and research and documentation efforts through a three year initiative with ArtPlace (see press release below).
From the press release:
On August 31, President Obama announced that ArtPlace America – a national collaboration among private foundations, federal agencies, and financial institutions – will invest $18 million in six place-based organizations, including the Anchorage, AK-based Cook Inlet Housing Authority.  Each organization will receive $3 million over the next three years through these Community Development Investments (CDI) to incorporate arts and cultural strategies into their core work.
"Arts and culture are too often left out of community planning conversations," said Jamie Bennett, ArtPlace's Executive Director. "These six organizations will demonstrate the unique value that artists and arts organizations can bring to the full spectrum of community development priorities, including community resiliency, economic development, housing, open space, public health, and youth opportunity."
Since 2011, ArtPlace America has invested $67 million in 227 creative placemaking projects in 152 communities of all sizes across 43 states and the District of Columbia.  ArtPlace will draw from these projects, as well as its philanthropic, federal, and financial institution partners to support the six CDI participants along their organizational change journey.
"Our fundamental proposition is that arts and culture must be at the core of every conversation we have about community development in this country," said Rip Rapson, President and CEO of the Kresge Foundation and chairman of the ArtPlace collaboration. "When this happens the dialogue is richer and more inclusive for the long-term visioning a community needs to remain vital and healthy."
ArtPlace will work with PolicyLink to identify, organize, and share the best practices, processes, and insights for any community looking to work in this more comprehensive and inclusive way. 
The organizations selected as part of the CDI program represent a diverse range of place-based organizations working across a broad spectrum of community contexts:
Each organization will host a public forum in October to introduce the CDI program to its community.  For more information on the organizations, forums, and CDI program, visit www.artplaceamerica.org.
To read more about Arts, Culture, and Equitable Development, see the PolicyLink Center for Infrastructure Equity.