Bill conference report authorizes $125 million for HFFI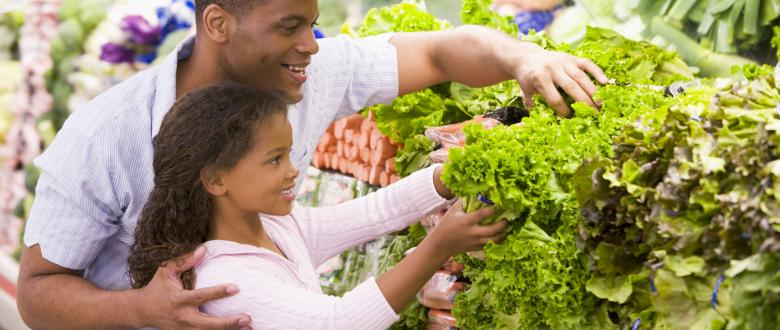 Exciting news for the Healthy Food Financing Initiative (HFFI) – Congress released its joint Senate and House conference report on the Farm Bill late yesterday. It authorizes $125 million for HFFI and would, for the first time, officially establish the initiative at the U.S. Department of Agriculture. While the farm bill still needs final approval by both the Senate and House, we are thrilled to see policymakers addressing the issue of access to healthy food with innovative programs such as HFFI.
PolicyLink, The Reinvestment Fund, and The Food Trust along with many of you have been working for years to expand fresh food access in underserved areas throughout the U.S. In this light, the inclusion of HFFI is a significant win for community leaders from across the country seeking to bring healthy food and jobs to their communities.
The Farm Bill is a multi-year bill that legislates policies and authorizes programs for food and nutrition aid, agriculture, trade, and marketing programs, rural development assistance, and other programs. The bill addresses the issue of access to healthy food with HFFI, and other innovative programs that foster sustainable local food systems and incentivize the purchase of fresh fruits and vegetables at farmers markets (Food Insecurity Nutrition Incentive grants; Community Food Projects; Specialty Crop Block Grant; Farmers Market and Local Food Promotion Program).
Together, these programs are important steps in the journey to create a system that ensures small and disadvantaged farmers can produce and market in an economically, socially, and environmentally sustainable manner. It also ensures that consumers have the resources they need to lead healthy and productive lives and all communities have ready access to affordable, nutritious food. Unfortunately, this Farm Bill includes a harmful $8.6 billion in cuts to SNAP—the Supplemental Nutrition Assistance Program—over the next 10 years. The cut will mean a reduction in benefits averaging $90 per month for 850,000 households, about 4 percent of SNAP households, according to the Center on Budget and Policy Priorities.
A bright spot, HFFI will help to revitalize communities by bringing in new, vibrant healthy food retail and by creating and preserving quality jobs for local residents. To date, the federal HFFI initiative and similar efforts in more than 10 states and localities have helped bring over $1 billion in resources to healthy food access projects across the country. The language in the Farm Bill conference report creates a federal framework for HFFI to continue to support the many efforts currently underway to improve access to healthy foods and grow local economies through small business development and job creation.
The House voted on the Farm Bill this morning, and the Senate is expected to follow suit soon after. We believe this Farm Bill should be passed and signed into law by the President.
Stay tuned for more updates on the farm bill and join us for a webinar TODAY discussing new research to help expand healthy food access in your community.