Coding for Equity: Connecting Young People of Color to Tech Careers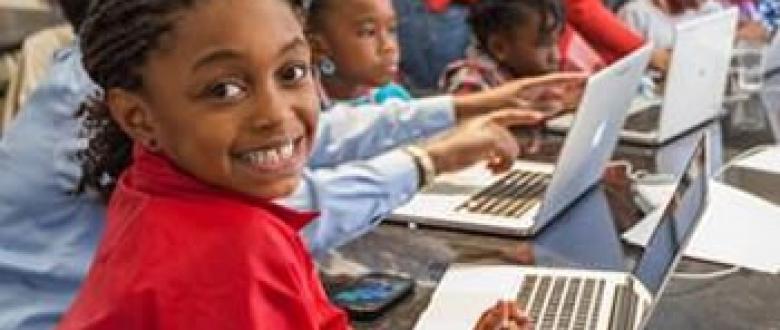 Playing video games and surfing the web — that's about all Rebecca Taylor could do with technology a year ago. Today, the ninth grader from Oakland, California, is writing code, building websites, and planning a career as a software developer.
She learned these skills and discovered her passion at Black Girls CODE (BGC), a San Francisco-based nonprofit dedicated to training and empowering girls of color to become leaders and innovators in computer science and technology. BGC is part of a new wave of ambitious, creative initiatives to prepare young people of color, from elementary school through college, for success in tech careers.
In the three years since its founding, BGC has served more than 3,000 girls ages seven through 17 and opened seven chapters around the country. Its goal is to reach one million girls by 2040.
Scaling such programs is urgent not only for communities of color but also for the tech industry and the nation's economy. "There are very real business drivers for tech inclusion," said Kimberly Bryant, BGC founder.
The new face of the new economy
That's because of the disconnect between the two major shifts shaping America's future: the growth of technology, and the changing face of the population. STEM — science, technology, engineering, and math — is expected to create 1.4 million jobs by 2020, with more than 70 percent involving computing. Job growth in computers and math jobs alone is projected to rise 18 percent over the next decade, compared with an overall job growth rate of 10.8 percent.
Meanwhile, African Americans and Latinos, who are among the nation's fastest-growing populations, are highly underrepresented in the STEM economy and career pipeline. While 18 percent of computer science degrees are awarded to black and Latino students, they make up less than 10 percent of the tech workforce. Combined, these groups make up almost 30 percent of the overall population today.
Companies report they are having trouble finding qualified candidates for tech openings — in a survey of information technology firms, 53 percent reported this as their greatest hiring challenge. Employers recognize that the next generation must be connected early and equitably to the technology pipeline if the United States is to remain the global leader in innovation and entrepreneurship. They are looking for ways to better recruit diverse candidates, said Kerry Kidwell-Slak, associate director for internships and employment at the University of Maryland, Baltimore County, which graduates large numbers of STEM majors of color.
"We see it in employers who are coming to campus," she said. "They value diversity, they know they aren't the experts in being diverse, and they are willing to listen and learn."
Tapping talent and reaching goals
It's almost impossible to overstate the energy behind efforts on the ground to connect young people of color with the tech world. Black Girls CODE works with hundreds of students like Rebecca Taylor, teaching basic programming skills through after-school classes, weekend workshops, and a summer bootcamp. The girls work in teams under the guidance of volunteer mentors and take field trips to area tech companies such as Facebook. The organization also offers Spanish-language workshops and classes for parents in financial literacy.
Like Rebecca, more than three-quarters of the girls who come are ardent web surfers and users of social media but never before tried programming.
Rebecca began in a nine-week class in video-game design, and loved it. "It was fun and challenging at times," she said. Since then, she has participated in BGC programs over the school breaks. She also has taken part in Bay Area "hackathons," which engage students of color over an intensive day or two to design apps aimed at solving problems in their communities. For instance, she served as a mentor at the first Startup Weekend-Black Male Achievement in Oakland in February. The event brought youth of color together with developers and leaders from tech companies to answer questions such this: Could a smart phone app have saved the life of Trayvon Martin?
Through events, ideas, and connections like this, Rebecca, who is home-schooled, has discovered a world of online resources to further develop her skills. She also has found the self-confidence to aim high and pursue her dreams. "I feel accomplished," she said. She hopes to go to a top university in computer science and become a video game developer. "She's realizing it's okay to be a girl geek," said her mother, Wilda Taylor.
Hands-on and high impact
Inspiring and educating kids like Rebecca is only part of the solution to the opportunity gap. In order for computer science students and graduates to have opportunities to get their foot in the door, they must be connected to the all-important internships that build résumés and professional networks and often lead to jobs.
That's where CODE2040 comes in. Through this program, the nonprofit places high-performing black and Latino software engineering majors in paid summer internships at tech companies in Silicon Valley and San Francisco. Each cohort of "fellows"— this summer's will be the third — also takes part in a 10-week program of mentorship and leadership training, to cement relationships within the group and to encourage participants to "pay it forward" by guiding and supporting students coming up behind them. For instance, two members of the inaugural class in 2012 served as mentors last summer. And last summer's interns coached this year's applicants through the rigorous screening and testing process.
The idea behind CODE2040 is to develop all the strengths and assets that aren't taught in the classroom but that are critical to success in the world of Silicon Valley — collaboration, team leadership, and access to networks.
"The program is very high touch, very comprehensive," said Iris Gardner, CODE2040 manager of events and outreach. "Students get exposure to every possible piece of the tech economy, and they leave the summer with every possible skill."
Spots are highly competitive — last year the program received 400 applications for 18 positions. This summer's program will expand again.
And as the program has grown, its leaders have learned that they, too, must crack open their door wider. They recruited their first cohort from the nation's top 10 universities in computer science, such as Stanford and MIT. But African Americans and Latinos are underrepresented in these programs, so CODE2040 cast a wider net.
Last year, the program actively recruited at 21 schools. Among them are the University of Maryland, Baltimore County; Georgia Tech; University of Texas-Pan American, and other schools graduating STEM majors of color.
"You have to think outside the box about where you're going to get your talent," Gardner said.
Read the rest of the May 7, 2014 America's Tomorrow: Equity is the Superior Growth Model issue.