DELIVERING ON OUR PROMISE: My Brother's Keeper Initiative Flourishes in Its First Year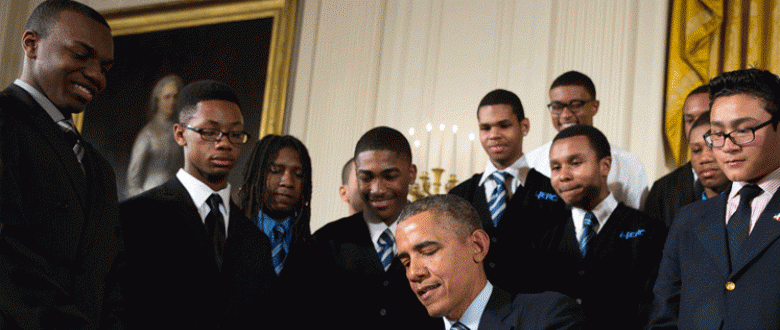 This week, the White House is celebrating the one-year anniversary of the President's My Brother's Keeper (MBK) initiative with the release of a report that highlights the exciting progress made by the campaign since its launch in February 2014.
Last year, President Obama established the MBK initiative with the goal of closing the opportunity gap facing too many young people across the country, and boys and young men of color in particular. Through a Presidential Memorandum, he called for state and local engagement, private sector action, and public policy reform that would help put all youth in a position to thrive, regardless of their race, gender, or socioeconomic status.
We know that where you live is a proxy for opportunity in America, so we need to invest in communities where all people reach their full potential," said Angela Glover Blackwell, CEO and Founder of PolicyLink. "This initiative can help communities reach this goal."
The positive response to the President's call — in both public and private sector, and on local, state, and national levels — has been inspiring.
Since the fall, nearly 200 mayors, tribal leaders, and county executives across 43 states and the District of Columbia have accepted the MBK Community Challenge. This Challenge asks local leaders to develop action plans that help young people of color reach their full potential, from cradle to college to career. These "MBK Communities", which range from the nation's largest cities to small rural towns to Tribal Nations, are now actively reviewing local public policy, hosting action summits, and implementing tailored policies to address gaps in opportunity.
To help these MBK Communities access the technical assistance they need to take action, the Obama Administration hosted the "My Brother's Keeper Community Challenge National Convening on February 12, bringing together more than 200 representatives from over 80 communities at the White House. PolicyLink played a central role in the planning and execution of the event and has provided ongoing support and technical assistance.
This meeting gave leaders across the country an opportunity to connect with other folk in cities who are doing the same work, said Shawn Dove, CEO of the Campaign for Black Male Achievement and speaker at the event. That sense of movement building is really important."
Foundations, businesses, and social enterprises have also stepped up, exceeding original funding more than $300 million in grants and in-kind resources for investments in safe and effective schools, mentoring programs, juvenile justice reforms, school redesign, and efforts like the National Basketball Association's (NBA's) "Be Someone Who Matters to Someone Who Matters" mentorship public service announcement (PSA) campaign.
On the federal level, the MBK Task Force, a team of representatives from across the federal government that was established alongside the MBK initiative, has made recommendations that have led to a greater focus on federal investments that support evidence-based interventions. For example, grant programs, like the Department of Labor's American Apprenticeship Initiative, will harness federal resources to create clearer pathways to success for youth using earn-and-learn and other job-driven training models.
One year later, the momentum surrounding MBK only continues to grow. Leaders from new communities continue to join the Community Challenge, businesses continue to express interest in ways they can further the mission, and success stories continue to pile up as these commitments bear fruit. The promise of this initiative is an inspiring force during a time when race and gender inequity, conflict over social values, and public protest are on the rise in our public discourse. PolicyLink is excited to continue supporting this vital initiative as it moves into its second year.