Equity in Policing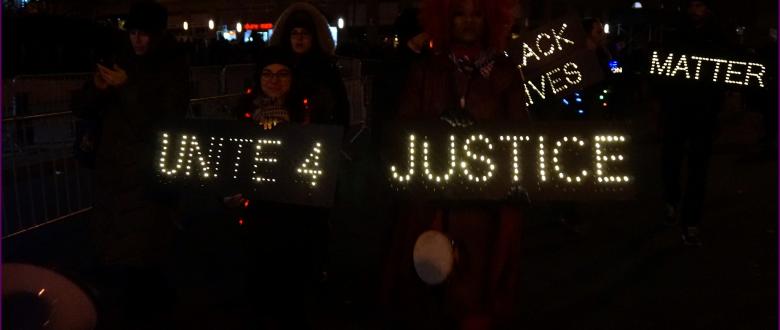 From Los Angeles to Staten Island, a movement led by determined young people of color is reimagining community safety and demanding that the country value Black and Brown lives. As incidents of police violence against people of color continue at an alarming pace, young leaders refuse to tolerate these atrocities and have, instead, ignited conversations about transforming policing and overcoming systemic racial injustice.
We view this rising movement as critical to advancing equity — just and fair inclusion. Addressing the disparate treatment of people of color at the hands of police is a preliminary, fundamental step toward creating an equitable society.
PolicyLink has engaged in a number of partnerships to help support the work of this movement:
PolicyLink, Center for Popular Democracy, and Local Progress teamed up to create Building Momentum from the Ground Up: A Toolkit for Promoting Justice in Policing. The toolkit elevates 15 recommended policy reforms and showcases best practices, successful organizing efforts, and model legislation from across the country. Please join us for a webinar diving into the toolkit's content this Friday, June 12.
Included in the toolkit, PolicyLink created a mayoral pledge template for community leaders and advocates to urge mayors across the country to commit to ending police violence in their cities and towns.
Working with Advancement Project, PolicyLink issued Beyond Confrontation: Community-Centered Policing Tools, a series of four briefs intended to help advocates, policymakers, and police officials understand challenges facing police departments and police-community relations, and to lift up working models that advance community-centered policing.
In addition, PolicyLink supported the creation of Mapping Police Violence, a groundbreaking tool produced by WeTheProtestors that reveals sortable data about police killings of civilians, and continues to coordinate the Alliance for Boys and Men of Color, a California-wide coalition that prioritizes police reform and accountability in its policy platform.
Also, please check out JusticeInPolicing.com for resources on organizing, policy reforms. The site also contains information about alternatives to policing and a re-evaluation of our investment priorities.
We hope these resources will be valuable and welcome the opportunity for continued dialogue, shared learning, and authentic engagement with community leaders, advocates, organizers, and policymakers who are part of the growing movement to reconsider public safety and hold police accountable to communities.
--Angela Glover Blackwell, Founder and CEO
--Judith Bell, President