Georgia Becomes First Southern State to "Ban the Box" for Criminal Records on Government Job Applications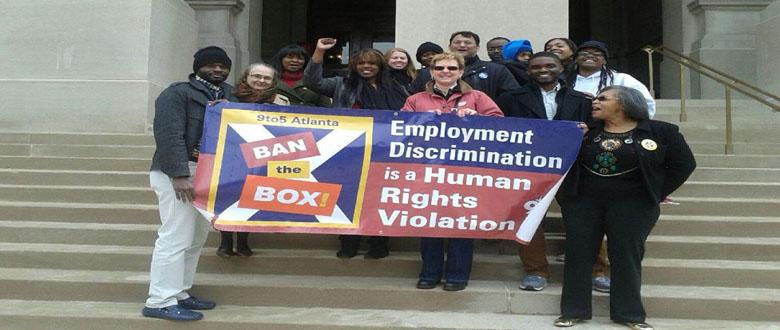 Advocates in Georgia won a major victory last week in the fight to connect the state's 3.8 million residents with criminal backgrounds to quality job opportunities.
Republican Governor Nathan Deal signed an executive order on February 23 adopting a "Ban the Box" policy that will remove criminal history questions from state job applications and prohibit the use of a criminal record as an automatic bar to employment. This allows applicants to be considered primarily for their qualifications, with the opportunity to explain the circumstances of their arrest to potential employers in person.
Georgia is the first Southern state to adopt a Ban the Box policy, joining 13 other states and a hundred localities in passing similar ordinances. Given that Georgia has the fourth highest unemployment rate in the country, this policy could have enormous impact for the millions of residents in the state who face a lifelong struggle to find jobs because of their criminal record.
I chatted with Shannan Reaze, an organizer at the Georgia chapter of 9to5, about her organization's work on the Ban the Box Campaign throughout the state.
What were the key elements to your success?
Getting advocate voices into state and municipal meetings: "When we were advocating for the policy in Atlanta, folks created the Reform Citizen Council, which was made up of formerly incarcerated people. [The Council] was talking to different commissioners about what's needed to get the policy passed. After we won [the local ordinance] in Atlanta, we started pounding the pavement in other municipalities and we provided input to the governor's Criminal Justice Reform Council, which was tasked with helping the governor do a series of criminal justice reforms. Our presentation focused on Ban the Box as a necessary reform."
Personalizing the policy through individual stories: "We had people in the community willing to tell their stories to people in power, and our campaign provided the institutional strength behind their efforts. Marilyn Winn was the 9to5 member leader whose story carried a lot of our advocacy. She is formerly incarcerated and was fired from 18 different jobs just because they would find out about her criminal record, without giving her the opportunity to explain why she was arrested."
What were the biggest obstacles to passing this policy?
Pushback from the business sector: "Everyone is terrified of any policy that will regulate business, and the governor was getting pushback from his fellow Republicans, so we always have to highlight that this policy doesn't affect hiring practice for private company jobs — just the government ones. While we know [a policy for affecting] public and private jobs is possible — 3 states have done it — we know the state demonstrating efficacy is important."
Stigma around incarceration: "We're also always dealing with huge stigma about what it means to be formerly incarcerated, but when you have one in three people with a background in the state, most of the time we're talking about somebody who was 17 and got caught up with a felony theft charge and is now 43 and that charge is still stopping them from getting a job."
How will this policy build equity?
Connecting those left behind to good jobs: "The problem with the box is that we're creating barriers to people accessing employment when they need it most. We know that half of people without a job in the first year after being released from prison will end up back in prison, compared with only 16 percent of those who can find a job.  So this policy is about funneling people into jobs that are likely to have benefits and decent wages, and many government jobs do.  It's also a public safety issue: people commit crimes when they are in an economic struggle and can't sustain themselves, so by connecting people to jobs it's better for them and safer for the community. Plus, we know that these policies have teeth: When we look back at the implementation of this at the city level in Atlanta, we've seen a 12 percent increase of hiring of those with a criminal background, so this policy is making a real difference in people's lives."