Join Us to Close Corporate Loopholes and Make California More Fair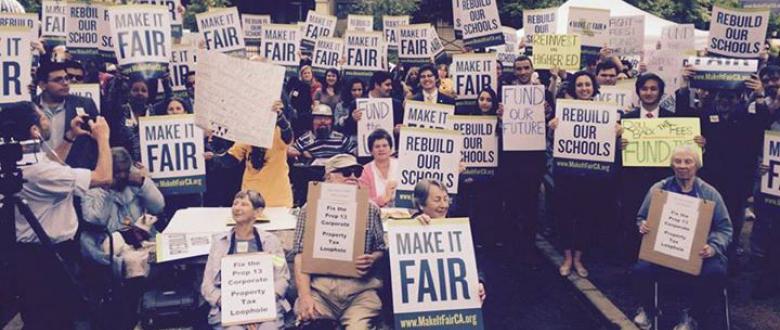 Having been majority people of color for more than a decade, California is uniquely qualified to model how equity — just and fair inclusion into a society in which all can participate, prosper, and reach their full potential — is necessary for our shared prosperity.
The state has taken important steps toward this goal, including implementing a more equitable school funding system and decriminalizing minor property and drug offenses. Yet, despite budget surpluses over the past two years, California has still not fully restored billions of dollars cut from important public services in the wake of the 2008 recession, including cuts to schools, community colleges, housing, and the social safety net. This has contributed to a lack of opportunity for many Californians, and to a growing inequality between the rich and the state's low-income communities and diverse communities of color.
Today, I am pleased to share that PolicyLink has joined Make It Fair, a new coalition of civil rights, religious, community, and labor groups dedicated to rebuilding our state. After examining the problem from many angles, Make It Fair has determined that making the commercial property tax system fair is the best way to create a revenue stream for the state that can help close gaps in funding for essential services. 
Make it Fair proposes to close loopholes by assessing commercial and industrial property at fair market value, ensuring that big corporations and wealthy commercial properties pay their fair share of property taxes. This would mean that a company like Chevron, whose Richmond refinery was last assessed almost 40 years ago, would have its land value recalculated at its current market value. Right now Chevron is paying taxes on the 1978 value of that land — not what it's worth today. Statewide, Chevron's underassessment alone shortchanges our communities by $100 million every year.
In fact, a recent report by the USC Program for Environmental and Regional Equity (PERE) found that reassessing commercial property at its current value would generate up to $9 billion in additional revenue each year for our state. And it is a matter of fairness: according to California Calls, at the time Proposition 13 was passed in 1978, big businesses and wealthy commercial property owners were paying 45 percent of the state's property taxes and residential homeowners were paying 55 percent.  Today, homeowners are currently paying the lion's share — 72 percent — of the state's property taxes. This is an example of a backwards trend across the country — the tax code should not enable the very rich to pay less and force everyone else to pay more.
Going up against big companies and wealthy commercial property owners will be challenging. But the large amount of money at stake can help increase equitable investment in California's low-income communities and communities of color and will make a real difference for kids, seniors, and our shared future.  
Join us in advancing greater equity in California. Learn more about Make It Fair and add your name to the growing list of endorsers.