Morehouse Ally Talks President Obama and Equity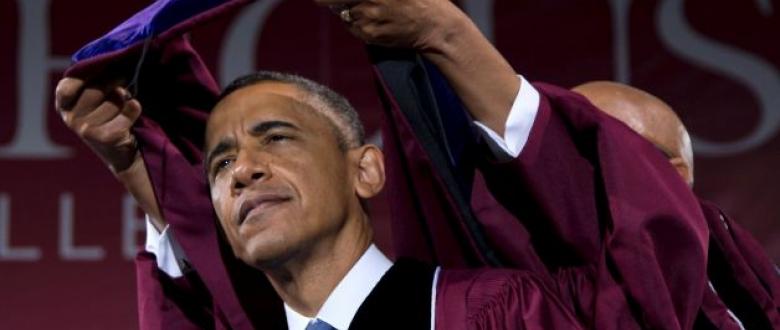 On Sunday, May 19, President Barack Obama gave a buzzworthy commencement address to the Morehouse College Class of 2013. PolicyLink sat down with our colleague Christopher Brown, director of Legislative and Government Affairs, to chat about his Morehouse connection and get his thoughts on the President's speech:
Q:  What is your relationship with Morehouse College?
A:  I grew up in Atlanta, Georgia, where my father, several uncles, and other family members attended Morehouse.  Dr. Benjamin Mays, the Morehouse icon and former president quoted by President Obama, was my godfather and a close family friend. I essentially grew up on the campus, through the various community and education activities. I also worked in the Morehouse Admissions Office, helping to articulate and craft some of the messages embodying the Morehouse values that bring students to the institution.
Q: How would you describe some of these Morehouse values?
A: Morehouse is the only all-black male higher education institution in the country, and it has to be considered the crown jewel in developing black male leaders, such as Martin Luther King, Jr., David Satcher, and Spike Lee. Excellence in leadership, service, and scholarship has always been part of the Morehouse mission.
Q: What did you think of the President's speech?
A: I thought the way President Obama talked about his own experience as a black man in America was monumental. It was one of the first times since his 2008 candidacy that he talked about his relationship to race in such an outspoken way.
I also thought about how our work at PolicyLink to further Black Male Achievement connects so strikingly with the President's message. The President urged graduates to "widen [their] circle of concern to care about justice for everybody," and we are focused on the same thing: increasing equity and inclusivity in society. In California, our work as a part of the Alliance for Boys and Men of Color (BMoC) ties to what the President described: developing and promoting ideas that improve health, education, justice, and employment in our communities, but also making sure boys and young men of color have and become positive male role models.
Q: The President's speech was criticized for focusing on personal responsibility, a message that often ignores or minimizes structural inequity. What do you think?
A: The President did talk about how racism and discrimination still exist, so I don't think he ignored these important structural issues. Both systemic change and personal responsibility are important, and we must do both at the same time. Through our work in the Alliance for Boys and Men of Color, for example, we tackle issues like school disciplinary policies that unfairly target young men of color, but we also lift up the importance of mentorship, self-respect, and setting personal goals.