My Brother's Keeper: Breaking New Ground by Investing in What Works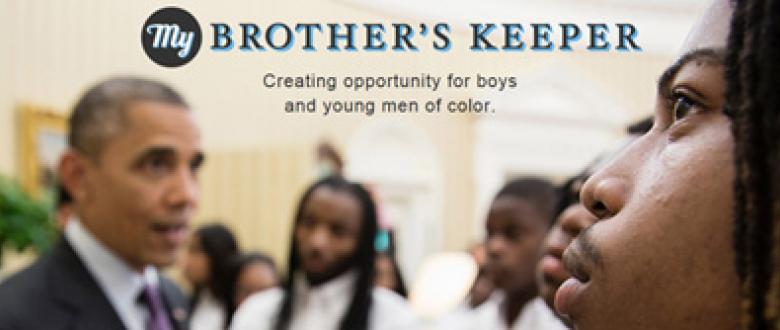 President Obama's announcement of My Brother's Keeper yesterday was an unprecedented national acknowledgement of the obstacles preventing too many boys and young men of color from reaching their full potential. The action agenda put forth, which is being supported by some of the nation's leading philanthropic institutions, provides assurance that help has arrived.
As the president stated, helping our boys and young men of color succeed is both morally right and an economic imperative for the nation. "When, generation after generation, they lag behind, our economy suffers. So we need to change the statistics — not just for the sake of young men and boys, but for the sake of America's future."
By the end of this decade, the majority of children in the United States will be of color. We all have a stake in ensuring that these children, and all children, have a fair chance at creating strong futures for themselves and their communities. This is the essence of My Brother's Keeper — improvements in the lives of the traditionally excluded will benefit the lives of all.
To bolster the federal effort, leading philanthropies and corporations have pledged to invest at least $350 million to find and spread best practices from around the country. This is smart and strategic. But we also know that to succeed we need more resources and energy from many more foundations, corporations, faith institutions, civic organizations, and government at all levels.
My Brother's Keeper is building on the commitment of countless organizations and leaders across the nation working tirelessly to improve outcomes for boys and young men of color. Many of these efforts can be found on the websites of the California Alliance for Boys and Men of Color and the nationally-focused Institute for Black Male Achievement, or in the list below.
If you missed the announcement yesterday, we urge you to watch the video here.
We also encourage you to visit My Brother's Keeper to share your story of how you are working to improve life outcomes for young men of color. We hope you will join us in applauding the president's leadership.
There are a number of programs already working to advance the goals set forth by the White House Initiative. Since we like to lift up what works—and the White House is doing the same—here are a few of the projects around the country doing exemplary work to drive tangible results for young men of color.
NATIONAL:
Campaign for Citizenship
A campaign working with immigrant families to win citizenship for 11 million aspiring Americans who are our family members, friends and neighbors. Young immigrant men have high and growing numbers in our criminal justice systems. This campaign works to decrease criminalization and promote opportunity for immigrant boys and men and their families.
Cities United
A national effort to reduce violence-related deaths amongst black men and boys. Cities United was launched in 2011 under the leadership of Philadelphia Mayor Michael Nutter and New Orleans Mayor Mitch Landrieu to equip mayors with tools, best practices, and other resources to restore hope and opportunity to young black men who have been affected by violence.
Dignity In Schools Campaign
A national campaign that works with parents, youth, advocates and educators to support alternatives to a culture of zero-tolerance, punishment and removal in schools. With chapters across the country, the campaign has a host of efforts underway in districts throughout the country working to reform disciplinary practices that disproportionately impact young men of color.
Equal Justice Initiative
The Equal Justice Initiative is a private, nonprofit organization that provides legal representation to indigent defendants and prisoners who have been denied fair and just treatment in the legal system. EJI is a leading organization in the national fight to decrease youth from being tried as adults, a situation which disproportionately impacts too many boys and men of color.
Fathers Families and Healthy Communities
A national organization working to promote promising practices in the social service delivery to improve the opportunities and outcomes for children of non-custodial fathers. FFHC is a leading organization in the responsible fatherhood movement and serves as a catalyst and support to cities interested in launching fatherhood initiatives.
Lifelines to Healing
The PICO Lifelines to Healing Campaign organizes local communities to stop neighborhood violence and promotes state/federal policies that will end the mass incarceration of young men of color. Lifelines has a particular policy focus on restoring the rights of the formerly incarcerated.
National Employment Law Project
A project working to reduce unfair barriers to employment of people with criminal records. In partnership with All of Us or None, NELP has advanced ban the box policy campaigns in cities and states throughout the country. These efforts have significantly contributed to boys and men of color having a fair chance at employment.
The African American Male Achievement Department for the Oakland Unified School District
An Oakland-based initiative working to create exemplary practices, habits, and strategies to turn around and accelerate the achievement of African-American male students in Oakland.
REGIONAL:
NOLA FOR LIFE
A social movement of citizens taking responsibility to flip the script on New Orleans' street violence and give youth a chance to thrive.
California Alliance for Boys and Men of Color Local Campaigns
These campaigns–in Fresno, Los Angeles, Oakland, and Stockton–serve as examples of successful youth-led community models that remove barriers and create opportunities for young men of color.
Communities United for Restorative Youth Justice
A community organization that works to interrupt the cycles of violence and poverty by motivating and empowering young people that have been impacted directly and indirectly by the criminal justice system to make positive changes in their lives and prepare them to become the community leaders of today.
CPEHN
A leader in the fight for health equity, CPEHN advocates for culturally and linguistically appropriate care to advancing social and environmental conditions that promote health for young men of color. We would also be happy to speak from our experience managing projects that "help young men of color facing tough odds stay on track reach their full potential."
We have many in-house experts on the issue. For media requests, please contact Naomi Abraham.