Did you hear President Obama's speech on inequality and upward mobility?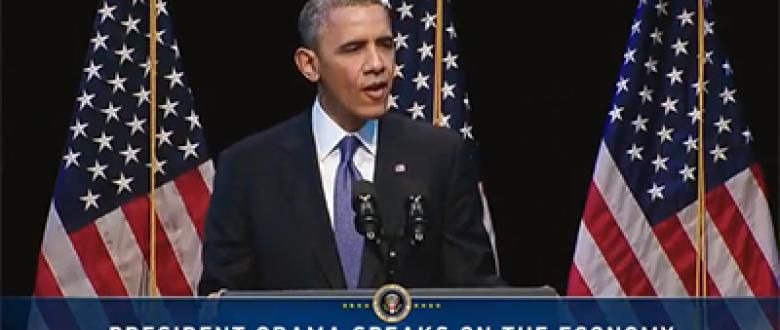 This week President Obama made us proud and gave us hope by signaling, with conviction, that his administration will prioritize fixing the nation's fundamental flaw: growing inequality.
In a speech full of insight, he embraced the wisdom of knowledgeable economists, the demands of activists committed to fairness and justice, and the aspirations of millions of Americans who have been wondering if anyone was paying attention to what has been happening to them and their communities.
The speech echoed what many have been saying for years: Inequality thwarts the nation's ability to grow and prosper. To secure the future, we need to create ladders of opportunity and remove barriers so all can contribute their skills, creativity, and leadership to building America's next economy.
Acknowledging that inequality hurts Americans of all races and in urban and rural communities, the president emphasized the importance of strategies that range from  the Affordable Care Act and tax reform, to food stamps and raising the minimum wage. He also acknowledged the need to address the lingering racial discrimination that holds too many people of color down.
In recent years, PolicyLink has been highlighting the urgency for the nation to adopt an equitable growth agenda as we rapidly become a nation that is majority people of color. This agenda would ensure that everyone has access to the ingredients of social and economic success. Our economy cannot thrive when so many people cannot access the basics: a good education, stable housing, a healthy environment, transportation, health care, and a job that pays enough to save money and provides opportunities to move up. These things are not luxuries; they are necessities.
America's strength is rooted in the strength of its people. To be a strong nation, we need to enable our children to start school ready to learn. Our students need to graduate high school ready for college or careers. Our families need the financial security to weather downturns and the supports to escape poverty. And our unemployed and underemployed workers need pathways back to full-time employment with family supporting wages.
An equity agenda—one that creates opportunities for all to participate, prosper, and reach their full potential—can achieve these goals. It is what America needs to live up to its ideals.
The president clearly believes in that agenda. And a recent national poll demonstrated overwhelming support for new steps to reduce racial and ethnic inequality.  More than 70 percent of the respondents said they would support an equity agenda that would invest in education, job training, and infrastructure, among other things.
We've heard it from the president and we've heard it from the people: Equity—just and fair inclusion for all—is the antidote to inequality.