School Climate Matters! Alliance for Boys and Men of Color Members Redefine School Success and Accountability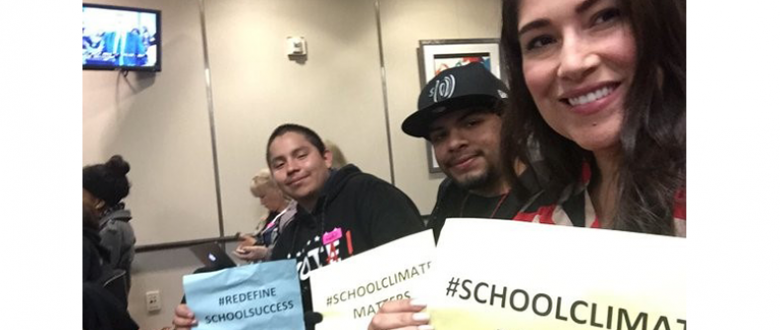 When California's new accountability system takes effect in the fall of 2017, parents and students will be able to see how their school or district is preparing students academically but also whether it is creating a fair and conducive learning environment for all its students. Thanks to the work of the members of the Alliance for Boys and Men of Color, Californians for Justice, InnerCity Struggle, and Fix School Discipline Committee.
We are happy to announce that our members have won an important step in redefining what makes a school successful and removing barriers for boys and students of color in schools across the state.
At its recent board meeting in May, the California State Board of Education announced plans to include student suspension data as one of its top five measurements in the new school accountability system, which will evaluate school performance across the state. You can read more about this in the LA Times and in Ed Source.
For the past 18 months, Alliance members from Boyle Heights/East Los Angeles, Fresno, Long Beach, Sacramento, San Jose, Santa Ana, South Los Angeles, Stockton, Oakland, Bakersfield and beyond have been pushing the state board to include school climate measurements that at are critical to ensuring the success of students of color, english learners, foster care and low-income students who make up the bulk of California's schools.
Since January of 2015, alliance members and partners have mobilized several hundred youth, parents, educators and advocates to speak at Board of Education meetings, have met with legislators about their vision for school accountability and have held rallies to make their voices heard. (See here and here for photos and social media coverage).
Why School Climate Matters
When schools are challenging, nurturing and respectful places, all students learn better. Unfortunately, many boys and students of color are unfairly and unequally impacted by practices and policies that create negative school climates and that hamper their academic success. For example, in 2013-2014, African American made up 6.2% of enrollment in California public schools, but 16.2% of students suspended, according to the state Department of Education.
Including suspension rates, along with traditional academic measures like math and English test scores, is a significant step in helping schools recognize the importance of school climate and to closing the racial equity gap.
Suspension is only one important indicator in measuring school climate. The state board will also consider other potential indicators that Alliance members have been encouraging — chronic absences and school climate surveys — at its next meeting on July 13-14.
We are proud to have worked with our community partners who represent the voices of thousand of youth parents and community members across the state. We look forward to continuing to work with Alliance members to ensure the success of all our students.
FOR MORE INFORMATION ON THE ALLIANCE PARTNERS, STATE POLICY PRIORITIES, SEE THE ALLIANCE WEBSITE.