America's Streets are More Deadly for People of Color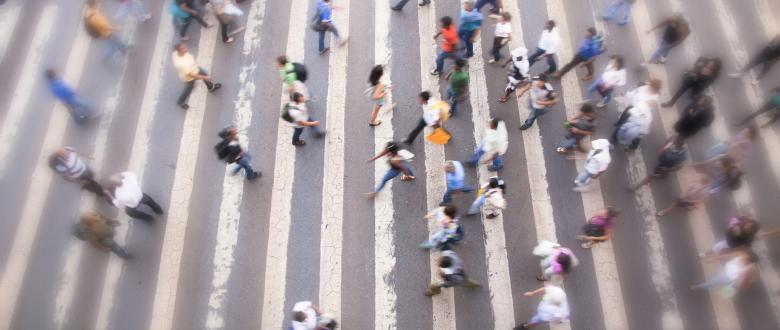 Because our transportation system is not designed with everyone's safety in mind, people of color are disproportionately killed while walking down the street. A report released this week by the new National Complete Streets Coalition, Dangerous by Design 2014, highlights the inequitable pedestrian death rates in communities of color. Equity-focused policy, design, and practice are needed to make our streets safer for all people.
People of color suffer higher pedestrian death rates than do whites. The age-adjusted fatality rate per 100,000 people is 60% higher for African Americans than for non-Hispanic whites, and 43% higher for Hispanics than whites. At 5.87 deaths per 100,000 people, American Indian/Alaska Natives suffer a pedestrian fatality rate that is over 250% that of non-Hispanic whites.
Not only are pedestrian fatality rates higher for people or color, the share of pedestrian deaths among communities of color exceeds their share of the total population. American Indian/Alaska Natives make up 0.8 percent of the population, but they comprise 2.5 percent of all pedestrian deaths. African Americans make up 12.7 percent of the U.S. population, but they account for 17.3 percent of all pedestrian deaths. And Hispanics make up a little over 15 percent of the population, but 18.6 percent of pedestrian deaths. Our communities deserve policies that meet their transportation needs and address this deadly health disparity.
America needs policies that account for the safety of people on foot, who are disproportionately from communities of color. The majority of preventable pedestrian deaths occur on roadways that are dangerous by design – engineered and operated for speeding traffic with little to no provision for the safety of people walking, biking, or using public transit.
You can take action today. The U.S. Department of Transportation (USDOT) is now accepting comments on a proposed safety measure that is too weak to be effective at reducing injuries and deaths. Tell USDOT to require that states set measurable safety goals for those walking or bicycling, and to ensure state and local transportation agencies are held accountable for meeting their goals. If USDOT is serious about saving lives, it needs to enact strong safety measures.
Congress is also currently working on these issues as they develop a multi-year surface transportation reauthorization proposal – our nation's blueprint for transportation policy and investment. To account for the transportation needs of our communities of color, federal transportation policy should foster equitable investment in pedestrian, bicycling, and public transportation projects. Federal policy should also leverage data collection, performance measures, and interagency collaboration to ensure our streets are safe for all.
For more information on Dangerous by Design, including a searchable fatalities map, visit here. To learn more about how your organization can join PolicyLink and dozens of other organizations in lifting up the need for a more equitable transportation agenda, please visit the Transportation Equity Caucus website today, and check back on the EquityBlog for upcoming opportunities to influence federal transportation policy.