Summit Snapshot: Sustaining Community Change Beyond the Pilot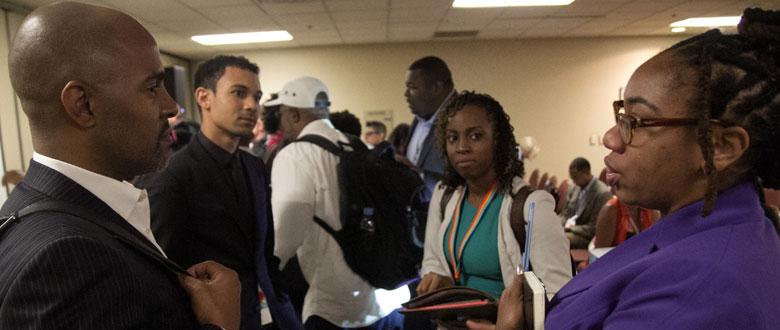 Over the next few weeks, Equity Blog will feature a dozen first-person accounts of Equity Summit 2015. Each guest blog post will focus in on a particular session, plenary, or workshop — offering readers insight into and reflection on the Summit experience.
This is our moment.
Poet Karineh Mahdessian, who opened the session, "Building Sustainable Community Change: Beyond the Pilot," reflected back this deep theme within Equity Summit 2015 in her moving prose, drawing parallels between two young men killed by violence in recent memory:  Mohammed Abu Khdeir, the Palestinian youth who was burned to death by Israeli extremists and Michael Brown who was shot to death  by police officer Darren Wilson. Pulling together the threads of multiple struggles to free communities from oppression, to build places of opportunity for youth to prosper, Mahdessian's poem asked Mohammed, "Do you know Michael? Are you friends?" Despite differences between our lives and our struggles, the work we all do is connected. Now is the time for us to join together and multiply our strength.
Building on this powerful chord, the session brought forth the stories of communities where investment is occurring and where federal and foundation dollars are funding pilot projects to build a brighter future. The important questions panelists focused on were: What next? How do we maintain momentum when political winds change? Woven through the stories was the central tenet to equity work: the voice of the community must be present, strong, and leading the way. Funding requirements should be met, and traditional public policy avenues should be utilized, but these hierarchical structures must not dampen the power of community to direct positive change.
Panelist Abou Amara, special research advisor to the minority leader of the Minnesota House of Representatives and a member of advisory bodies in communities of color, boiled down the process for scaling up pilots and sustaining them to four stages:
1. Incubation, usually relying on federal or foundation funding.
2. Maturation, when a promising practice is honed.
3. Explanation, when data that proves the promise is provided to the systems that govern.
4. Lead the nation, when the practice is scaled up, expanded to provide opportunity in similar communities elsewhere. 
Many examples demonstrated this four-step process to scaling promising pilots into transformative practice. Speaking from experience in Detroit, Skillman Foundation President and CEO Tonya Allen emphasized the importance of investing in preparing the community to take on leadership roles and to sustain important work once the pilot period ends. Abou Amara emphasized the practice of "targeted universalism," which professor john powell of UC Berkeley has explained as broadening an approach to include all groups which the project or program could be applied to, to create a larger base of participants and beneficiaries, and thus a larger base of community investments. Toni Van Buren, senior vice president of United Way of San Antonio and Bexar County summed it up nicely: "All the money in the world will not make the problem go away. Its how we work together to move the needle."
In true community organizing style, participants were asked to join as one voice and chant the stages of scaling up, to bring our many causes together as one.
"INCUBATION. MATURATION. EXPLANATION. LEAD THE NATION."
Pouring out of the room, out of chairs, nooks, and seats on the floor, we felt once again that this is our moment. The moment requires our best work to make possibility into reality. The future of the nation depends on us.