Strong Tenant Protections Critical to Make Oakland an "All-In" City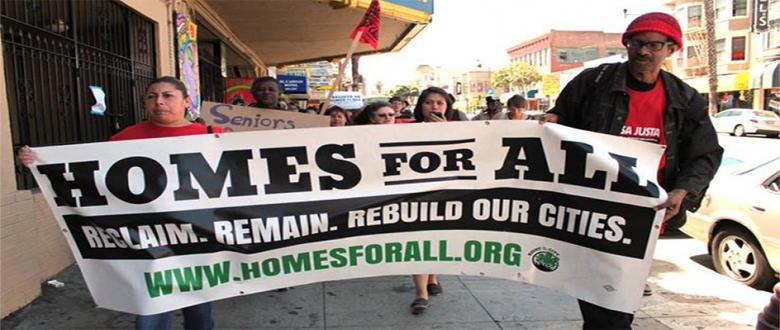 In the post-recession Bay Area, a new wave of urban development and investment is contributing to profoundly unequal economic growth. In Oakland, rents are skyrocketing (a 31 percent increase over the past three years according to the Oakland Department of Housing and Community Development). Formerly affordable neighborhoods are rapidly gentrifying and working-class people of color are being displaced—often to the outer fringes of the region where they are stranded from jobs, transportation, and services.
In the face of such inequitable growth, Oakland's many community organizations are working to forge a different trajectory for Oakland as an "all-in" city: a place where the residents of long-disinvested neighborhoods that are now gentrifying can not only choose to stay but also actively participate in shaping a brighter future for their communities and the whole region.
Our partners at Causa Justa :: Just Cause are among the leaders of this push, and they've been working to set up policies that make development without displacement the reality. (Check out their terrific report on this topic, chock-full of policy suggestions and relevant for other cities dealing with gentrification).
Their latest effort, in collaboration with Oakland City Council member Dan Kalb, is to put in place a strong Tenant Protection Ordinance. This ordinance creates a legal precedent to protect tenants, immigrants, seniors, and families with children from being evicted and displaced due to landlord harassment, including the neglect of basic repairs and maintenance and the threat of calling Immigration and Customs Enforcement.
PolicyLink strongly supports the ordinance and will be at tomorrow's hearing about the proposal. (You can see our letter here and get more information about the hearing here).
This is a smart policy for families, communities, and the city's future. Displacement is both unjust and threatens to reduce the diversity that makes Oakland so vibrant and is also—as more and more research is uncovering—a key driver of innovation and economic progress.
Oakland and all cities facing rising inequality and gentrification should take similar steps—and more—to ensure the residents who've been with them through tougher times can stay and benefit from urban resurgence.