Summit Snapshot: The Difference a Mile Makes — A Socio-Political Walk From Downtown LA to Skid Row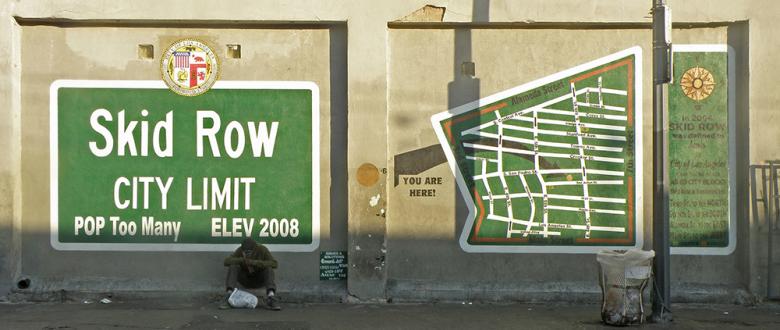 Over the next few weeks, Equity Blog will feature a dozen first-person accounts of Equity Summit 2015. Each guest blog post will focus in on a particular session, plenary, or workshop — offering readers insight into and reflection on the Summit experience.
Tiffany R. Robinson, Senior Planner, Alta Planning & Design, Los Angeles, CA
When planning my sessions for the Equity Summit, the first thing that caught my eye was the mobile workshop featuring a walking tour to Skid Row. As an LA Senior Planner, I've driven through Skid Row and watched countless documentaries on the area, so I was excited to this area of the city. The numbers shared by our guides were staggering. Skid Row is a 50-block area between 3rd and 7th Streets, bounded on the west by South Main and on the east by Alameda. It is home to approximately 12,000 residents — 8,000 of whom are homeless, living on the street, or in missions. While New York City has a higher total number of homeless people, Los Angeles has the highest population of unsheltered homeless in the country.
At the Skid Row History Museum and Archive and again at the Last Bookstore, we met General Dogon, a long-time advocate for Skid Row's residents and legend to anyone who has watched any documentary related to Skid Row. Dogon and a representative from Los Angeles Community Action Network (LA CAN) shared with us their views on how the planning efforts and policies — starting with the city's adaptive reuse ordinance and its City Center Redevelopment Plan — have made Skid Row what it is today.  Instead of revitalizing the area for the people that lived there, the city's adaptive reuse ordinance made it easier for property owners to convert properties to increase profit (changing apartments into condominiums, e.g.), which led to higher  rents and eventually evictions. After witnessing continual displacement of Skid Row residents, advocates sued the city, ultimately winning the Wiggins Agreement and the Residential Hotel Preservation Ordinance, which preserved all existing residential hotel units downtown and required the replacement of any converted or demolished units.
Dogon and the LA CAN representative also explained the negative impact on Skid Row residents of the militarization of drug policy and law enforcement under former LAPD Police Commissioner Bill Bratton, which made it commonplace  for a homeless person to spend days in county jail for something as simple as possessing a shopping cart or milk crate. One of the wins for the community, however, was the Jones Agreement that allows sitting, sleeping, or lying on a public street or sidewalk between the hours of 9:00 p.m. and 6:00 a.m. Though Dogon and the LA CAN representative were quick to point out that at 6:01am, the police are ready to give you a fine.
General Dogon made several valuable points about the city's disinvestment in Skid Row that hit home for me. When people hang out in city parklets — sidewalk extensions that the city has built into seating areas in more affluent areas — it's sanctioned, but when the homeless hangout on the sidewalk, it's considered loitering. There are no trash cans on Skid Row, though they are present on almost every block after Main Street. Even bike lanes stop once they hit Main Street. As an active transportation planner, I thought, "Where's the place-making for Skid Row?" The homeless here have no space.
On the other side of the spectrum, housing developments dedicated to housing the homeless are making a difference by taking a "housing first" approach, whereby those who have experienced homelessness, prolonged extreme poverty, poor health, disabilities, mental illness and/or addiction have can find safe and stable housing, instead of expecting them to solve their problems while living on the street.  For example, the Rosslyn Hotel Apartments, purchased by non-profit SRO Housing Corporation, houses over 100 formerly homeless, including veterans and those with severe mental illness. During the tour we got to hear from three formerly homeless residents now living in a Skid Row Housing Trust complex who discussed how securing housing was a crucial first step in getting them back on their feet.  
Throughout the tour, it became more and more apparent that the Skid Row we see today is the result of poor planning policies that displace existing residents in the name of "revitalization." The air of resentment for the planning process was palpable, especially in the way that it values "bona fide" expertise vs. "lived" expertise" to justify decisions. In the eyes of Skid Row residents, experts — including consultants such as myself — don't have to live with their decisions.  During the tour, I truly felt like I was an "undercover planner" and the reality of the impact of my professional planning tools was right before me. How many families in our communities are one tragedy away from being homeless? Do we not seek their opinion just because we can't send a community meeting notice to their home? They've already been stripped of their dignity — now do we no longer acknowledge them as productive members of our society?
The homeless people here are continually marginalized and treated as a nuisance rather than as equal members of our communities, but good planning and community outreach requires us to take into consideration all residents. That means including homeless advocates on our stakeholders lists, finding ways to communicate messages to people who don't get mail notifications or who don't have Internet access, and finding unique ways to host public meetings that they'll actually attend. Though Skid Row has come to be associated with poverty and despair, imagine if we started calling it by its rightful name: the Center City East Community. How might that change how we treat its residents — both housed and not?
This was one of the best mobile workshops I've been to and the experience has made me stronger as a planner as a result. Thank you PolicyLink!