The Return of the (100) Interns: Jonathan Malagon, Dedicated to Advocate for Boys and Men of Color in California (Class of '12)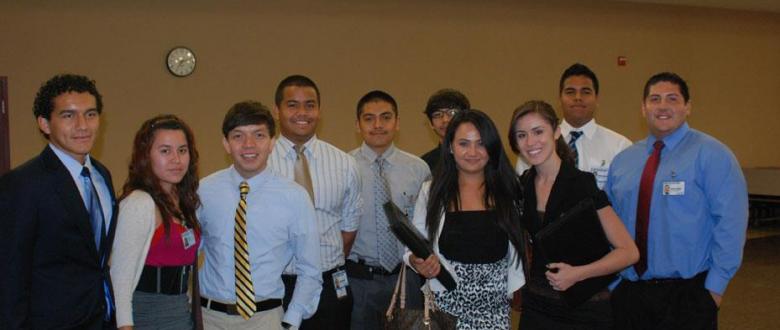 A culminating journey from the classrooms of East Los Angeles to statewide advocacy
Two weeks ago, hundreds of youth from across the state descended on the state capital to testify before and educate lawmakers about health, education, justice, and employment-oriented issues among young men of color. The legislative hearing, convened by the California Assembly Select Committee on the Status of Boys and Men of Color, along with more than four dozen organizations in the Alliance for Boys and Men of Color, is part of a joint endeavor with the Select Committee and the Alliance.  The BMOC initiative is a cornerstone PolicyLink program linking young people, grassroots organizations, advocacy efforts, and lawmakers together around the cause of equity.
Last year, around this time, it was Jonathan Malagon who was in the middle of it all.  In a stroke of "perfect timing" he was hired to work with the Boys and Men of Color (BMOC) initiative to prepare for an ambitious schedule of six legislative hearings and six working group meetings sponsored by the California Assembly Select Committee on the Status of Boys and Men of Color, to be held across the state. These events would bring together 2,000 youth, community leaders, and practitioners to discuss how to improve the lives of African American, Latino, Asian, and Native American males in California.
As part of his work, Jonathan combed through school district data and promising practice literature related to boys and men of color.  He researched for and helped prepare briefing documents and fact sheets for a hearing in the Coachella Valley.  He synthesized the findings and recommendations that emerged from the hearings and working groups, which became an integral part of the Select Committee's Final Report and Action Plan.  He traveled to Sacramento for the last hearing and organized a group of young men from Oakland, helping them prepare their testimonies before lawmakers— from rehearsing their speaking points to buying dress shoes and showing them how to tie ties.  He witnessed the youth advocate for the policy outlined in the Action Plan that would foster healthy, successful, and fruitful futures for young men of color.  Most of all, he had the chance to see "the writing in action."
"I started working with people locally and connecting with communities.  [In Coachella], I saw how rural poverty looks different than urban poverty.  People were sleeping in their cars in 115 degree weather and schools were across the street from big sources of air pollution.  The graduation rate in Coachella was better than the LA Unified School District, but of the 66 percent of Latinos who graduated, only 8 percent completed all the 'A to G Requirements' [needed to go to a 4-year public school in California]."
"Youth at Cochella Valley Hearing in 2012."
"Youth at Cochella Valley Hearing in 2012."
By the end of the whirlwind, 67 recommendations were made on how to improve the educational climate, neighborhood safety, and health infrastructure so that boys and men of color could thrive—including recommendations such as expanding services to undocumented males, reforming disciplinary procedures in K-12 education, and addressing bullying against minority LGBT youth. Given his personal and professional experience, Jonathan had found a great fit in PolicyLink.
A first-generation college student born and raised in the San Gabriel Valley, Jonathan was the director of retention for the Community Programs Office at the University of California, Los Angeles (UCLA).  While studying for his undergraduate and graduate degree in education, he directed student-led retention and outreach programs serving underrepresented minorities—visiting local high schools to give workshops about college to more than 1,200 students and organizing conferences for prospective UCLA students.  "We made sure that [students of color] graduate because many of them don't," recalls Jonathan of the work that illuminated the barriers that youth of color have in post-secondary education.  "It was then that I became interested in working with youth."
It was as a teacher in the diverse, low-income Watts Neighborhood of Los Angeles that Jonathan began to view injustice in the education system from a structural lens.  During his first year of teaching, the school was so underfunded that, rather than a classroom, he was given a cart with wheels.  Each period, Jonathan would push his supplies and classroom materials from one class to another, effectively consuming five to ten minutes of his instructional time teaching English as a Second Language (ESL).   To fill the void of ESL teachers, he taught three different levels of the subject, resulting in countless late nights of planning and grading.  And, although Jonathan believed that each student at his predominantly Latino and African American school could succeed, complacency had become the norm—only one-third of students graduated from high school.  "Despite the big challenges, it was very fulfilling," explains Jonathan on a teaching career that spanned nearly a decade.  "I can't say that I will have a more challenging and rewarding job than teaching."
Years before his internship, Jonathan was introduced to PolicyLink and place-based issues when he taught a special project-based class focused on community research.  Creating curriculum around race, class, gender, and sexuality, Jonathan and his students analyzed a pervasive problem in their own proverbial and literal backyards—the Latino community's lack of access to healthy foods.  Jonathan became as engrossed as his students and developed an interest in public health, particularly health disparities among different communities.  Through his research, he came across PolicyLink materials related to healthy food access—and used them as teaching materials.  In the process, Jonathan, the teacher, had become a student in an evolving field of interest:  "In the community work and research, I realized why students are not doing well in school.  They don't have a safe way to get to school.  There's an importance in physical activity for students, but you can't do that without safe parks.  I wanted to do something about these things and began to see the work beyond a classroom setting."
Today, inspired by his experiences as an educator, Jonathan is a dual-degree graduate student studying at the University of California, Berkeley in the schools of Public Health and Regional and City Planning.  He aspires to continue working on health equity issues on both a policy and advocacy level.  He also hopes to continue the lifelong work he began as a student and continued as a teacher and intern at PolicyLink—advocating on behalf of boys and men of color.  From his experience at PolicyLink and in the Coachella Valley, Jonathan witnessed countless "folks who are working hard and advocating for policies and programs that should be lifted up."  Jonathan is optimistic about what the future can hold for California's boys and men of color: "I have a lot of hope."
Ruben Lizardo, director of the BMOC program at PolicyLink, is quick to lift up Jonathan's own lifelong devotion to equity advocacy: "Jonathan came at this work not just as scholar but also as a community organizer.  The Select Committee and the Alliance we work with are committed to developing and advancing policy based on the experience and perspective of young folks, community and systems leaders that are working to realize a vision of healthy and successful boys and men of color.  Jonathan's experience working with youth in the classroom and parents and community leaders in East Los Angeles was a tremendous asset our team drew on time after time as we worked to translate the advice of over 2,000 Californians into the 67 recommendations that ended up in the Select Committees' Final Action Plan."