The Return of the (100) Interns: David Zisser: A New Orleans Research Project Comes Alive and Inspires a Career (Class of '06)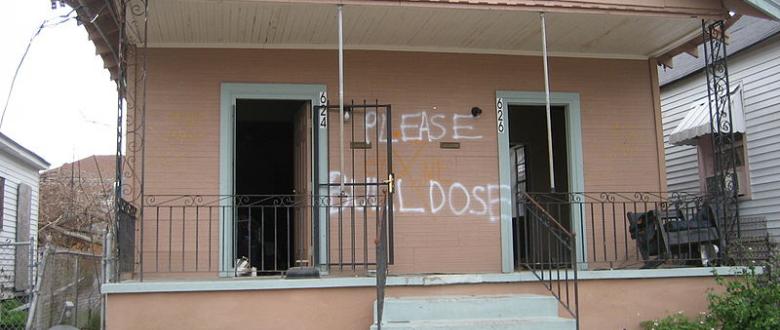 A first-time trip to New Orleans turns into a vibrant career serving the Gulf Coast
When David Zisser joined the Affordable Housing and Equitable Development Toolkit  team in the summer of 2006, Hurricane Katrina recovery efforts were nearing their first anniversary.  He was tasked with researching the scale of destruction of federally subsidized affordable housing and its role in the displacement of low-income residents in New Orleans. David took the task to heart, but knew that he could not accomplish it from the Oakland office. He wanted to learn more about the challenges of post-Katrina development from the experts—people working, living, and surviving in New Orleans.
So, he convinced his supervisor, PolicyLink Senior Director Kalima Rose, to send him to New Orleans.  There, he joined forces with colleagues affiliated with the PolicyLink office in New Orleans—a five-year, full-staffed initiative established immediately after the storm's aftermath to promote equitable development in the region. David interviewed nonprofit developers, government officials, organizers, and advocates dedicated to rebuilding affordable housing in the region. He visited every federally supported development and documented how much subsidized housing had been lost, how many people had been displaced, and what could be done to help families move back home.
"I remember going to the Lower 9th Ward and seeing cars flipped over and roofs torn off their houses and on the ground," recalls David, then a dual degree student at the UC Hastings College of Law and the UC Berkeley Department of City and Regional Planning, on his first trip to New Orleans and the physical and systemic devastation he had witnessed first-hand.  "[At the time] my brother was volunteering in the public defender system at the time.  Only, there was no public defender system.  After the hurricane, there were no court proceedings, no court fees, and so no system."
Upon returning from New Orleans, David and Kalima drafted an analysis of affordable housing displacement and destruction in the region.  Among the memo's initial findings was the disconcerting notion that nearly 60 percent of the low-income tenants displaced from New Orleans' Department of Housing and Urban Development (HUD)-assisted housing—a majority of whom were African American—wanted to go home, yet a vast majority of their homes had suffered major damage or were shuttered by the federal government.  David's research would lead to further work in this area and was a part of a consistent constellation of PolicyLink work in New Orleans – work that includes the landmark PolicyLink publication, A Long Way Home: The State of Housing Recovery in Louisiana, which delved into the discriminatory funding policies and delayed repairs associated with New Orleans' reconstruction efforts three years after Katrina.  Findings in that report contributed to a lawsuit filed by the NAACP Legal Defense Fund that led to a $50 million settlement to help many displaced African American families rebuild their houses and return home.
Flash forward to today where David is counsel in the Community Development Project (CDP) at the Lawyers' Committee for Civil Rights Under Law in Washington, DC, leading and expanding the organization's community development efforts in, fortuitously, the Gulf Coast.  Traveling to New Orleans and the Mississippi coast every other month, David is still working with some of the same people and organizations he had met years ago, coordinating multiple projects to advance justice in the region.  From helping hundreds of African American families show "clear title," allowing them to secure over $10 million to fix their homes, to supporting grassroots organizations with legal and policy research and advocacy, David is now one of the Gulf Coast affordable housing experts that people rely on for help.
Nearly seven years after his first PolicyLink-sponsored trip, David has observed vast changes in New Orleans – both good and bad.  In the Lower 9th Ward, an area that, pre-Katrina, had one of the highest African American homeownership rates in the country, debris, flipped cars, and overturned roofs have been replaced with vacant open spaces and very few returning residents.  In areas such as the Lower 9th Ward, work is still left to be done and "the remnants of Katrina still remain." This fall, David plans to continue to work on behalf of Gulf Coast residents while teaching the Public Interest Practice Seminar at American University's Washington College of Law with his twin brother—a culminating point in a career that, from graduate school to PolicyLink to New Orleans, has been filled with opportunities that seem to "build perfectly on one another."  His dream, he says, would be to start an organization that combines the best of his professional experiences: the legal and strategic expertise of community lawyers, the passionate and dedicated grassroots work of community organizers, and the equity-focused mission and data-driven research of PolicyLink.
"David always embodied all of those skills—an incisive mind, an organizer's sensibilities, and a drive for justice," said Kalima.  "He walked every single HUD-assisted property in the city to document what the federal government should be repairing that was on its own books. And he continues serving the city and its people with those same qualities today."