The Return of the (100) Interns: Joanna Trotter Brings Smart Planning and Investment to Underserved Chicago Neighborhoods (Class of '02)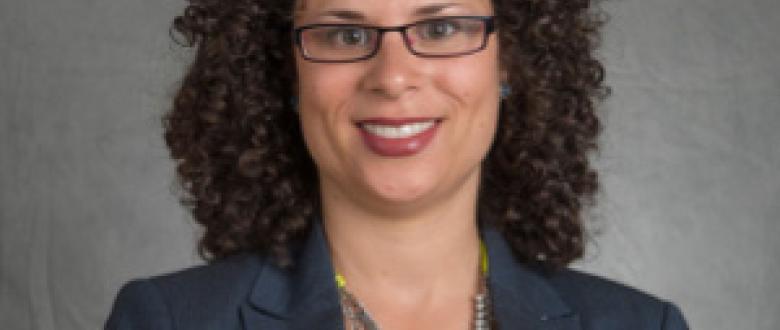 As a child, Joanna Trotter attended neighborhood block parties and spent time at her mother's nonprofit café.   Little did she know this would be perfect preparation for a career in urban planning.
Currently the director of Place-Based Initiatives at the University of Chicago's Office of Civic Engagement, Joanna was born and raised in Portland, Oregon— a city that deeply shaped her "ideas [about] smart planning."  In her mixed-income neighborhood where Section 8 housing was built alongside family homes and old mansions, Joanna recalls residents of all ages and incomes eating and mingling together at block parties.  Additionally, Joanna's mother, a tireless advocate for the homeless in Portland, helped found the award-winning Sisters of the Road Café—an organization that brings dignity and respect to serving people living with homelessness, where café-goers can barter for a meal, build relationships, and convene in a peaceful space.
Joanna reflects on garnering an early exposure to issues of equity and sustainability at a local level.  "My parents were always very intentional [about the places we lived]. That, plus our extended community around the café and the broader Catholic Worker movement, deeply shaped my worldview."
By the time she was an undergraduate focusing on African American Studies and Policy Studies at Georgia State University in Atlanta, Joanna had begun to think critically about the design of cities— from sidewalk access to neighborhood segregation.  She continued her schooling further at the University of California, Los Angeles in the Department of Urban Planning where, on one occasion, she attended a school-sponsored discussion about the newly built Staples Center and the resulting community benefits agreement.  The discussion, led by PolicyLink Senior Director Kalima Rose and PolicyLink alum turned U.S. Department of Housing Senior Advisor Dwayne Marsh, provided both a micro and a macro lens to community development.
"It was a national perspective on the issue," explains Joanna on the multifaceted discussion.  "I immediately contacted Kalima [afterwards].  I was dead set on interning with PolicyLink."
Joanna joined the Oakland-based PolicyLink team in the summer of 2002—at a time when the organization had grown to 25 staff members and was planning its first Equity Summit.  As a contributor to the organization's Equitable Development Toolkit, Joanna connected with other community-based organizations in the equity field and researched the ways in which communities effectively use data.  What began as her three-month summer internship project eventually became her two-year graduate capstone at UCLA and the foundation for a "solid lens in equity."
"At PolicyLink, I loved understanding the breadth of policy…and the exposure to national best practices.  It has helped me with the work that I am doing now."
Following an almost decade-long stint at the Metropolitan Planning Council in Chicago, today, Joanna directs economic and community development programming in neighborhoods surrounding the University of Chicago, where she also lives with her husband and son.  Leveraging the university's position as an anchor institution and the largest employer on Chicago's South Side, Joanna is leading efforts to bring smart planning and investment to many underserved Chicago neighborhoods.  In this capacity, she grapples with the complex tension between disinvestment and inclusionary development—attracting investment and maintaining the unique fabric of local neighborhoods.  Despite the challenges, Joanna remains committed to seeing positive, community-centered change in her neighborhood—a vision shaped by her experiences in Portland, at PolicyLink, and beyond:
"I want to invest and go through the process with my community.  I want to translate things into bricks and mortar.  And I want folks to invest in our neighborhoods."
"Joanna was able translate her best practice research at PolicyLink and her own experience as an African American leader into practice, policy, and real change for equity in communities of color," remarks PolicyLink Senior Director, Kalima Rose, on Joanna's theory into the practice career.  "Today, PolicyLink learns from her, and lifts up her best practices of helping older poor suburbs draw new investment and opportunity for their residents."