Union Strong: Interview with SEIU's Gerry Hudson and Laphonza Butler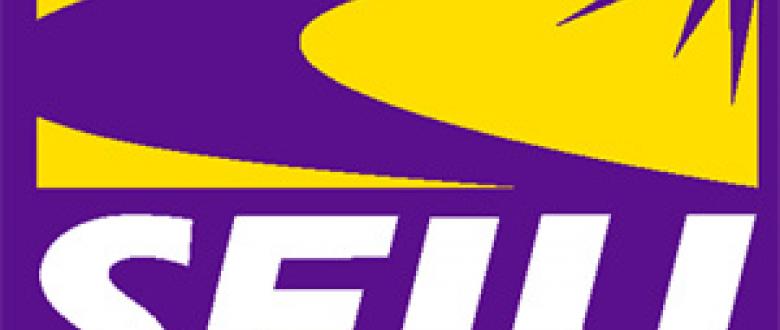 Happy May Day!
How do we create good jobs and ladders of opportunity for the health aides, domestic workers, and other service employees who rank among the fastest-growing, lowest-paid segments of America's workforce? And how can these workers — mostly people of color, women, and immigrants in traditionally non-union jobs — unite to strengthen their voice and power? Service Employees International Union (SEIU) leaders Gerry Hudson and Laphonza Butler have devoted their careers to addressing these questions. Hudson, SEIU senior executive vice president, and Butler, president of SEIU United Long Term Care Workers Union, spoke with America's Tomorrow about labor organizing in a changing economy, recent union setbacks and successes, and why multiracial worker solidarity is key to rebuilding the middle class.
Tell us about SEIU's organizing strategies and priorities.
Gerry Hudson: Long before the recession of 2007, SEIU began to organize workers in the service sector, which has historically been low-wage and non-union, and largely people of color and women. In the last few years, we've seen significant losses due to right-wing attacks on our public sector unions. In Wisconsin, we had a union of 14,000 homecare workers, which is now down to about 3,000. In Ohio, we had organized about 5,000 homecare workers, and we lost them due to the last election there.
But we also see the potential and the need for new organizing. With the passage of the Affordable Care Act, we are in a moment when we expect that the healthcare system is going to grow and change and need more workers. We're working to capture that moment. With a different kind of healthcare delivery system, we need to stabilize the employment of homecare workers, up-skill it, and create pathways for advancement.
Have you had any recent successes in doing this?
Laphonza Butler: In California, we worked with Governor Brown and President Obama's healthcare administration to create what's called a coordinated care initiative. What that does for homecare workers is provide a pathway for career development. They're playing a more integral role in not just the social aspects of the person for whom they are providing care, but also the medical aspects. A homecare worker who's spending 180 hours a month with a senior can be the front-line eyes and ears for a physician, avoiding unnecessary emergency room visits or medication complications. We are trying to use the opportunity presented in the changing of the healthcare delivery system to both protect the rights of workers and advance policies that positively impact the community at large.
What's most challenging about organizing the service sector and lifting workers out of poverty?
GH: It's the nature of the work. It's usually multi-employer with smaller units where the workers don't really know each other, or in homecare, where the workers work in isolation. You have to knit them together by geography. It's very different than organizing an auto plant that has thousands of workers. Most of the campaigns that we've run really draw on community support. You have to mobilize the community to own the project and put pressure on the employers.
How can equity advocates support such efforts?
GH: Let's together try to create a space in which restaurant workers, homecare workers, day laborers, and others can find their own voice and use it to build power up for the community. We're not just talking about worker organizations. We're talking about trying to create other kinds of community-owned economic agents, like co-ops. I like to think of this in a wild way as democratizing our economy. That draws people into a multiplicity of relationships to the economy, either through politics that regulate it, or ownership, or union organization. And it draws many people into the conversation about what kind of economy we want to exist in.
There is a complicated history of racism and exclusion among some unions and communities of color. How can we move past that and build multiracial labor solidarity?
LB: I don't think that we move past it without acknowledging that it is our past. Part of the challenge is that we don't acknowledge that some unions of old were exclusionary and exclusive clubs that you had to have the right color to belong to. We've got to do some real work inside of labor to really acknowledge the story of our movement and to appreciate that the future is going to look very different.
GH: I've always believed that the growing weakness of the labor movement was that it was racially divided, and that there was no path to re-growing and strengthening the labor movement that did not involve bringing together people of different races and of both genders.
How have your own experiences shaped your understanding of racial solidarity and unions?
GH: I came out of SEIU local 1199 [United Healthcare Workers East]. I grew up in the union – my mother was a housekeeper in a nursing home for 30 years and very active in 1199. That was a union made up largely of black and brown women, so I took for granted people of color being in leadership and bringing their own histories and unique social vantage points to the work. It wasn't until I came to the international here in D.C. and began working with folks trying to grapple with their situations elsewhere that I came to appreciate that it was a real battle to get folks to see that they needed to create solidarity across racial groups. And that workers of color brought their own histories and unique perspectives that were important in trying to figure out how to organize not only other workers of color but all workers period. Asserting that you need multi-racial labor solidarity is something that needs to happen not just by black workers but also by white workers.
LB: I came to SEIU from Jackson, Mississippi. I chose to go to a historically black college because I thought I should have the experience of having civil rights workers who were in jail serve as my teachers. All I knew in Mississippi was that you were either white or you were black. When I joined SEIU, two weeks after I graduated from Jackson State, my first assignment was in Milwaukee, Wisconsin, organizing private agency homecare workers who were Asian, Latino, everything. That was a whole new world for me. What I have learned is the union is not the goal. It is the means to the goal of social and economic justice. And in order to achieve that goal of social and economic justice, we have to be able to build across those racial lines and frankly across the institutional lines of what union you belong to or what membership you have in your community organization. We have to put all of those things together in order to build support for unionization, which is a way to build towards the broadening of the middle class and a way to bring together political power to effect policies on behalf of working people.
Read the rest of the April 24, 2014 America's Tomorrow: Equity is the Superior Growth Model issue.
Subscribe to the America's Tomorrow newsletter.