What must change so that not one more person of color is unjustifiably and indefensibly killed by the police?
Beyond Confrontation: Tools for Building Community-Centered Policing
On August 9, 2014, Michael Brown, an unarmed black teenager, was shot multiple times and killed by Darren Wilson, a white police officer, in Ferguson, Missouri. This tragic act provoked grief and outrage in Ferguson and across the country. We mourned the loss of an innocent young man, taken before his time, and recognized that his killing was the latest in a long and rapidly growing succession of cases involving police use of lethal force against unarmed people of color.
The disproportionate, militarized police response to subsequent community protests in Ferguson—including the use of tear gas and snipers, curfews enforced by armored trucks and tactical units, and the unwarranted arrest of multiple journalists—further incensed the country and, in conjunction with Michael Brown's killing, raised an urgent question: 
What must change so that not one more person of color is unjustifiably and indefensibly killed by the police?
While there are no definitive figures on how many Americans are shot by police every year, existing data point to grave differences by race. Between 1968 and 2011, a black person was on average over four times more likely to be killed by a police officer than a white person.  Similar racial disparities hold true among those injured by police. [2]
Local law enforcement units too often treat low-income neighborhoods populated by people of color—communities where people strive to live, learn, work, play, and pray in peace and harmony—as if they are enemy territory. Youth of color who should be growing up in supportive, affirming environments are instead presumed to be criminals and relentlessly subjected to aggressive police tactics that result in unnecessary fear, arrests, injuries, and deaths.
The militarization of police departments further erodes the trust that should exist between residents and the police who serve them. The proliferation of machine guns, silencers, armored vehicles and aircraft, and camouflage in local law enforcement units does not help police-community relations, the future of our cities, or our country.
It is also time for the country to acknowledge and counter the effects of systemic racial bias, which impairs the perceptions, judgment, and behavior of too many of our law enforcement personnel and obstructs the ability of our police departments and criminal justice institutions to protect and serve all communities in a fair and just manner.
In the aftermath of Michael Brown's death, PolicyLink, the Center for Global Policy Solutions, and over 1,400 social justice leaders, congressional members, faith leaders, artists, and activists signed an open letter to President Obama, urging federal action through the Justice Department to improve police-community relations through seven principles.
Since the letter was issued, the Justice Department launched the National Initiative for Building Community Trust and Justice. Funded with a three-year, $4.75 million federal grant, the initiative invests in training, evidence-based strategies, policy development, and research to combat distrust and hostility between law enforcement and the communities they serve. The initiative brings together a consortium of national law enforcement experts, including the John Jay College of Criminal Justice, Yale Law School, the Center for Policing Equity at UCLA, and the Urban Institute. [3]
Improving Police-Community Relations at the Local Level
While the above represents a promising first step at the federal level, local efforts and local leadership are also needed. The seven principles in the open letter to President Obama can guide actions by community leaders to help improve police-community relations at the local level. They represent one strategy that can help build mutual trust and respect, increase safety in communities, and reduce the number of preventable incidents of senseless killings and excessive-force cases at the hands of police. Several of these principles—derived from various police departments across the country—were highlighted in a report released by PolicyLink and Advancement Project in 2001, entitled Community-Centered Policing: A Force for Change:
Ensure Transparency and Accountability:

Police departments are funded by the public and are accountable to the public. Therefore, police departments in our communities will not investigate themselves. Enforceable accountability measures with a proven track record will be established that ensure impartiality in instances where police brutality, racial profiling, and/or improper use of force are in question. This will include launching effective independent review boards broadly representative of the community, not just municipal interests. The actions, investigations, and publication of all relevant information, evidence, and policy recommendations of these review boards will be transparent and enforceable. These boards will also ensure that data and summary information are properly collected and made publicly available on particular incidents, progress, and trends that relate to suspected police brutality and racial profiling over the years for the department.

Invest in Training: Racial and class bias is real. Whether implicit or explicit, it influences perceptions and behaviors and can be deadly. Law enforcement personnel will be required to undergo racial bias training in addition to building skills that exemplify problem-solving strategies, conflict mediation techniques, and de-escalation tactics. Officers will become adept at being responsive to community needs and voices, and achieving consistency and continuity in engaging community while enforcing the law.
Ensure Diversity: Police department personnel should be representative of our communities. Therefore, police departments will adopt personnel practices that result in the hiring and retention of diverse law enforcement professionals who are culturally sensitive, speak the communities' languages, and are residents of their patrolled communities. Departments will use diversity best practices established in this and other sectors, and will implement and monitor diversity hiring and retention guidelines for our local police departments to further community trust and partnerships.
Proactively Engage Our Communities: Too often, law enforcement personnel hold stereotypes about black and brown youth and vice versa. Lack of familiarity breeds lack of understanding and increases opportunities for conflict. Police departments will work to deconstruct stereotypes and bias by identifying regular opportunities for constructive and quality engagement with youth and others living in the communities they serve. Departments will therefore review and implement best-practice approaches that can help engender more trust with our residents, and partner with our communities in solving and preventing problems before they occur.
Reject Militarization: Police will not become an occupying force in our neighborhoods. Emergencies and terrorism are real concerns for our communities, but departments will not rely on military tactics to police everyday problems. Deterring petty crime, protecting our communities, and monitoring peaceful protests will not involve military weaponry. Departments will exercise extreme caution and closely examine the need for programs that transfer military equipment into our local police departments, as they negatively impact training and the use of unnecessary force that often incites charged community reactions and violence.
Examine and Implement Good Models: It is possible to develop police departments that respect, serve, and protect all people in our communities regardless of age, race, physical and mental ability, gender, or class. Departments will partner with other local, state, and federal entities to quickly identify and establish new policies and practices to improve policing in communities.
Implement Technology and Tools for Oversight: Departments will prioritize finding resources from private, local, state, or federal entities to equip all officers with body-worn cameras to help eliminate violations and discrepancies in tactical missions, traffic stops, and any other interaction with community residents. These and other tools will be used by departments to help investigate and hold officers accountable, and to help eliminate racial profiling and any other potential police misconduct due to a person's class, religion, gender, physical or mental ability, or sexual orientation.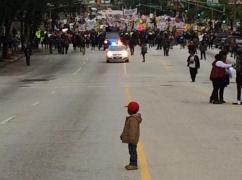 Shaping New Policies
The 2001 report presented information to help advocates, policymakers, and police officials understand existing models that addressed the myriad challenges facing police departments, police-community relations, and the advancement of community-centered policing practices. With the same goal, PolicyLink and Advancement Project have come together once more to collaborate on lifting up solutions, this time with a series of issue briefs that will update the examples and best practices originally presented in the following areas:
Neighborhood Problem-Solving: Engaging Communities as Partners

Community-Conscious Personnel Policies: Getting and Keeping the Right People

Community Oversight: Achieving Democratic Participation

Collaborative Information Gathering and Sharing: Getting the Facts

Additionally, since the original report, critical issues have emerged that deserve the same attention—we will be releasing new briefs on a rolling basis that share promising practices in the areas of:
Minimizing Police Use of Force
Demilitarization of Local Police Departments
Sustaining and Institutionalizing Best Practices and Strategies

The first brief explores promising practices to reduce police use of force. We hope these new and updated briefs will be tools for community leaders to use in conversations with local police forces and policymakers that can shape new policies to help communities—including low-income communities and communities of color—become healthier, more vibrant, and safer for all to participate and prosper.