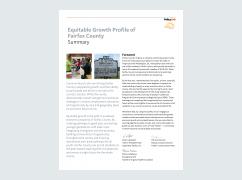 Equitable Growth Profile of Fairfax County (Summary)
With a median household income of $110,292, Fairfax County, Virginia is one of the wealthiest counties in the nation—but not all residents share in this economic prosperity. As its population has grown and diversified over the past 25 years, inequities in income and opportunity by race and geography have also increased. Given that communities of color are expected to increase from 45 to 72 percent of the population by 2040, taking concrete steps to create pathways for the communities being left behind to connect to education and good jobs is critical for the county's economic future. This study was produced in partnership with the County and other local leaders to support their efforts to build a stronger and more equitable county. Download the profile.
Find other equity profiles here.