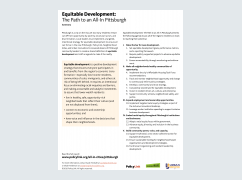 Equitable Development: The Path to an All-In Pittsburgh (Summary)
Pittsburgh is on the rise. After decades of decline following the collapse of the steel industry, the region has successfully transformed its manufacturing economy into one driven by knowledge and technology. This resurgence brings great potential to deliver long-awaited jobs, economic opportunities, and neighborhood improvements to the region's low-income communities and communities of color. However, the benefits of new growth and development will not automatically trickle down without a focus on equitable development. Produced by PolicyLink, along with Neighborhood Allies, and Urban Innovation21, this report presents a five-point agenda for realizing the vision of a new, "all-in" Pittsburgh, in which everyone can thrive, and highlights 16 specific recommendations for action. Download the full report.
Find other equity profiles here.