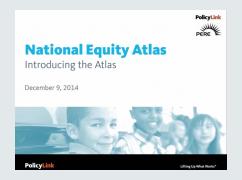 Introducing the National Equity Atlas
America's economic future depends on everyone being able to participate, prosper, and reach their full potential. The National Equity Atlas is a first-of-its-kind online resource for data and policy ideas to build an equitable economy in your region, state, and nationwide.
This webinar tour of the National Equity Atlas discusses how you can use this unique new data and policy tool to advance inclusive growth in your community.
Speakers include:
--Sarah Treuhaft, Deputy Director, PolicyLink
--Justin Scoggins, Data Manager, USC Program for Environmental and Regional Equity (PERE)