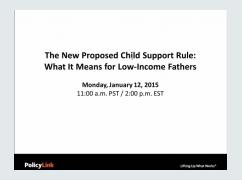 The New Proposed Child Support Rule: What It Means for Low-Income Fathers
On November 17, 2014, the Office of Child Support Enforcement issued a proposed rule entitled Flexibility, Efficiency, and Modernization in Child Support Enforcement Programs. The new rule proposes revisions to existing law that could significantly alter Child Support Enforcement program operations and enforcement procedures, especially for low-income fathers. Broad in scope, the changes touch on a variety of areas, including the establishment of child support orders, job services for low-income noncustodial parents, and the modification of support orders for incarcerated parents.
This call will discuss the proposed regulation, it's potential on impact low-income, noncustodial fathers, and steps you can take to weigh on the regulation before it is finalized.
Speakers include:
--Vicki Turetsky, Commissioner, Office of Child Support Enforcement
--Yvette Riddick, Director, Division of Policy and Training, Office of Child Support Enforcement
--Dr. Ronald Mincy, Ph. D., Maurice V. Russell Professor of Social Policy and Social Work Practice, Columbia School of Social Work
--Jacquelyn Boggess, Co-Director, Center for Family Policy and Practice
--Lewis Brown, Jr., Senior Program Associate, PolicyLink (moderator)
**The Office of Child Support Enforcement is prohibited from engaging in a dialogue about the proposed rule, and, therefore, will not participate in the webinar's question-and-answer session.**