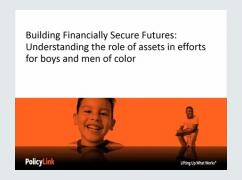 Understanding the Role of Assets in Efforts for Boys and Men of Color
Racial and economic inequities continue to challenge low-income communities and people of color. These challenges can be exacerbated for boys and men of color due to compounded histories of economic exclusion, school push-out, and criminal justice involvement. The compounded histories have also impacted their ability of many low-income people-including boys and men of color-to build the financial security needed to thrive in our economy. 
This webinar, the first in a series, highlights the role that financial insecurity plays in a range of issues that face low-income boys and men of color. The goal of this webinar is to open a dialogue among practitioners and advocates working to advance opportunity for this group and offer suggestions for how to best adopt a lens around financial security within their work. The series will also feature a range of guest speakers from both the asset-building field and the national field of work focused on boys and men of color and will touch on issues related to education, employment, health, and criminal justice. 
Featured Speakers for this webinar include: 
--Lewis Brown, Senior Program Associate, PolicyLink 
--James Bailey, Chief Executive Officer, Southeast Region, Operation Hope 
--Alexandra Bastien, Senior Program Associate, PolicyLink 
--Pauline Sylvain, Program Director, North Lawndale Employment Network