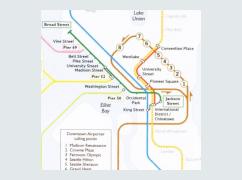 Strategies for Small Businesses Impacted by New Transit Investments
Across the country, new light rail and bus rapid transit (BRT) projects are creating faster and more affordable transportation options for low-income residents and people of color. In several cities, these projects are also expanding opportunities for small, local, minority-, women-, and immigrant-owned businesses to reach new customers and benefit from the streetscape and other new investments in their neighborhoods. However, these new transit lines can also bring challenges to local businesses, causing extensive disruptions during construction and long-term changes to the corridor and particularly to their customer base. Ultimately, the success of a new transit line is dependent on the success of these businesses to serve as destinations for riders, provide employment opportunities, and maintain the cultural fabric of the different neighborhoods and communities. And if the proper strategies are in place at the beginning, these new transit lines can be a benefit to many of these businesses, as well.
The PolicyLink Center for Infrastructure Equity developed a paper outlining successful strategies that have been used to help businesses survive and thrive in two cities—Seattle, Washington, and St. Paul, Minnesota—that have recently built extensive new light rail lines through neighborhoods rich with small, local, minority- and immigrant-owned businesses. This paper was researched and written in the summer and fall of 2013 for the Oakland Sustainable Neighborhoods Initiative with support from the California Endowment to inform the development of business impact mitigation strategies for a bus rapid transit corridor along International Boulevard in Oakland, California.