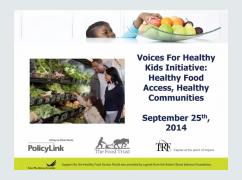 Voices For Healthy Kids Initiative Healthy Food Access, Healthy Communities
Advocacy efforts to improve access to healthy food at the local, state, and federal level have led to the creation of financing programs to support healthy food retail in underserved communities nationwide.
One key effort, Voices for Healthy Kids Initiative, led by the American Heart Association and The Food Trust, is advocating for state-wide policies to promote healthy food financing and corner store programs in key states across the country. This webinar will provide an overview of the Voices for Healthy Kids Initiative and discuss how advocates and community leaders can tap into resources to support state-level healthy food access efforts. Experts will discuss key successes from the field and share best practices.