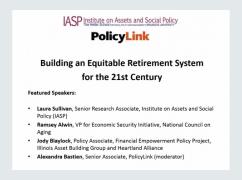 Building an Equitable Retirement System for the 21st Century
All families hope for lasting financial security, but today many families in the U.S. struggle to make ends meet, let alone prepare for their financial future. Looking ahead towards older age, families hope to pay off debts, give their children a secure start in life, and build a nest egg for retirement. However, these basic aspirations prove elusive for many, placing long-term financial security out of reach and the retirement they imagined now fraught with uncertainty.
Join IASP and PolicyLink for a webinar to discuss the newly released brief in the Leveraging Mobility Series, "Navigating an Unclear Path: Preparing for Retirement in the 21st Century." In this brief a mixed-methods approach is taken to analyze the long-term financial well-being of middle-aged households as they plan for the future and approach retirement. The Leveraging Mobility Study, utilizing a unique longitudinal qualitative dataset of families with children, reveal the available financial resources and challenges of families as they approach their later years. Combining the qualitative data with nationally representative data from the Panel Study of Income Dynamics captures the foreboding trends and pervasive inequalities that shape the future of retirement security in this country.
Notably this research suggests that establishing a secure, long-term financial position does not occur in a vacuum. Instead, neighborhood and family resources, as well as institutional setting, are key resources in creating a financial foundation for a family. By understanding the sources of security and the key vulnerabilities families face, policy can be proposed and structural solutions suggested that expand long-term later life security to a greater numbers of families.
Featured speakers:
--Laura Sullivan, Senior Research Associate, Institute on Assets and Social Policy
--Ramsey Alwin, VP for Economic Security Initiative, National Council on Aging
Jody Blaylock, Policy Associate, Financial Empowerment Policy Project, Illinois Asset Building Group and Heartland Alliance
--Alexandra Bastien, Senior Associate, PolicyLink (moderator)