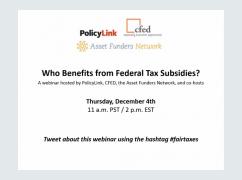 Who Benefits from Federal Tax Subsidies?
A national discussion is underway about the causes and effects of income and wealth inequality, including recent attention to the role of the U.S. tax code. The federal tax code contains more than $1 trillion in tax subsidies known to policymakers and economists as "tax expenditures" because they are a form of spending through the tax code. Of these subsidies, more than half a trillion, $540 billion, support some form of savings or investment (e.g., higher education, retirement, homeownership); but wealthier households receive most of the benefits.
This webinar hosted by PolicyLink, CFED, and the Asset Funders Network, and the co-hosts listed below, explores who benefits from federal tax expenditures by income, race, ethnicity, and zip code. The webinar features new data and insights from CFED, PolicyLink, and the Urban-Brookings Tax Policy Center, along with a discussion about how tax policy proposals expand savings and investment opportunities for lower-income households and households of color.
Speakers:
-- Lewis Brown Jr., Senior Associate, PolicyLink
-- Amanda Feinstein, Senior Program Officer, Walter & Elise Haas Fund & Steering Committee Member, Asset Funders Network
-- Jeremie Greer, Director of Government Affairs, CFED
-- Benjamin H. Harris, Fellow and Hamilton Project Policy Director, Brookings Institution
-- Heather McCulloch, Director, Tax Policy Project (moderator)
Webinar Co-hosts:
-- Center for Global Policy Solutions
-- Insight Center for Community Economic Development
-- Institute on Assets and Social Policy
-- Institute for Women's Policy Research
-- National Coalition for Asian Pacific American Community Development
-- Oklahoma Native Assets Coalition
-- UCLA Asian American Studies Center