California Policy Update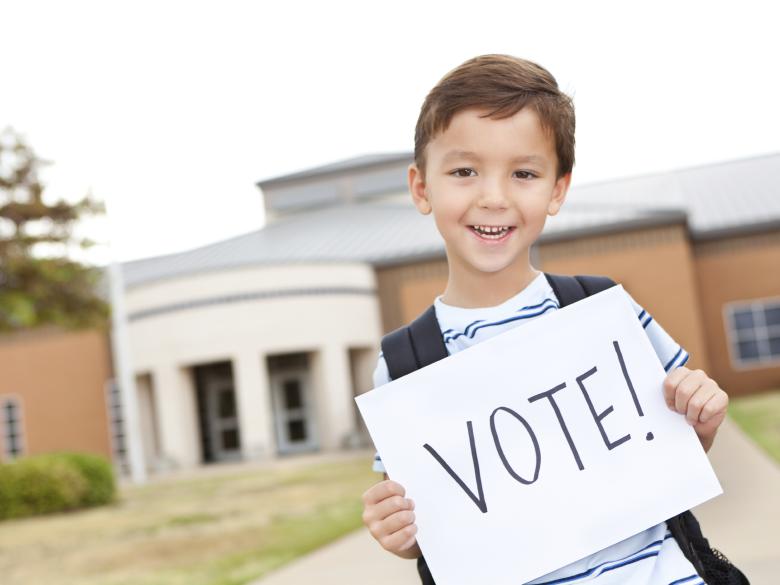 YES on Propositions 47 and 1
Election Day — Tuesday, November 4 — is just around the corner, and a number of statewide propositions on this year's ballot have important equity implications.
PolicyLink strongly supports Proposition 47, the Safe Neighborhoods and Schools Act. Prop 47 would reclassify six nonviolent felonies — such as simple drug possession and petty theft — as misdemeanors, shifting several hundred million dollars annually from California's broken prison system to schools, mental health and drug treatment, and victims' services.
Prop 47 would have a profound impact on California's communities of color — due to systemic racial bias, people of color are disproportionately arrested for minor crimes that Prop 47 would address. Prop 47 would reduce barriers to employment, housing, education, and public benefits faced by Californians with a felony record — a benefit made even more impactful because individuals currently serving a felony sentence for any of the included offenses could petition for resentencing.
While 62 percent of likely voters support Prop 47, its passage will depend on voter turnout and on equity leaders who are working across issue areas to rally their communities to the polls.
PolicyLink also supports Proposition 1, the Water Quality, Supply and Infrastructure Improvement Act, which would allow for much-needed investments in California's water infrastructure, ensuring that all of our state's communities — including the most disadvantaged — have access to safe and affordable drinking water, wastewater treatment services, and other water resources needed to support healthy outcomes.
For more on this year's statewide propositions, please click here.
California Renews its Commitment to Equity
The end of September marked the close of the legislative session, and the dedicated efforts of California's equity advocates continued to pay dividends. Governor Jerry Brown approved a range of bills that advance equity — the idea that investing in low-income communities and communities of color is essential to achieving a healthy and prosperous California.
The new policies continue a trend of improving the way California regards and embraces its most vulnerable populations. For example, to address crises caused by California's severe drought — especially in low-income communities lacking clean drinking water due to contamination or poor infrastructure — the state passed a package of bills that will help restore groundwater basins.
The state also led the nation by building on its inclusive approach to integrating undocumented Californians. New policies will reduce the possibility of deportation for minor infractions and allow undocumented immigrants to obtain professional state licenses — expanding last year's policy admitting undocumented attorneys to the California Bar. The state also created the California Dream Loan Program, allowing state public universities to administer loans to undocumented students, and allocated $3 million to provide legal services for approximately 4,000 unaccompanied refugee children in California.
Finally, a slate of new laws supported by the Alliance for Boys and Men of Color will help improve the lives of people struggling across the state. For instance, a new law will eliminate the unjust disparity between penalties for crack and powder cocaine possession — an infamous policy that unduly harmed communities of color. A series of bills will remove barriers to good jobs for Californians returning from prison, establishing technical education and workforce training programs and creating new opportunities to work as a certified nurse assistant or obtain a professional license. Other Alliance-supported policies focused on getting young Californians out of the school-to-prison pipeline will ease the transition back to school for young Californians caught in the justice system, protect the due process rights of involuntarily transferred students, and eliminate an unfair payment associated with student truancy.
Did we leave out any important equity-focused bills? Tweet at us with the hashtag #CAEquity and let us know!
On the Ground in Oakland: Oakland Rising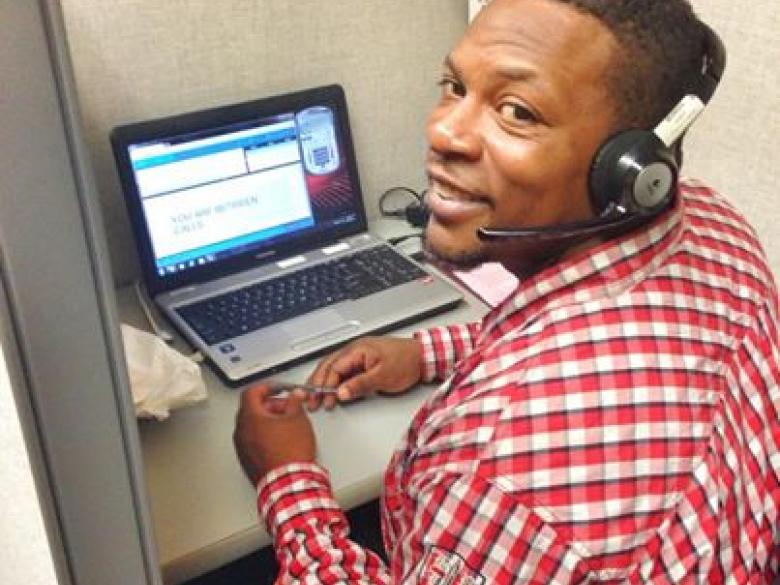 Image caption: John is a member of Oakland Rising's daily team and Causa Justa: Just Cause.
In 2006, several of Oakland's leaders of color — including Vivian Chang (Asian Pacific Environmental Network), Amaha Kassa (EBASE), and Van Jones (Ella Baker Center) — came together to evaluate why their organizations' local advocacy campaigns had been ineffective. They realized that even when they were able to mobilize hundreds of engaged voters to voice a position on an issue, the final outcome had often been pre-arranged in backroom deals.
These equity leaders decided that building a long-term infrastructure among voters from the flatlands of East and West Oakland was necessary to create a broader base of people in Oakland who wanted to see progressive change — and a way to understand and influence the decision-making process from the outset.
Today, Oakland Rising — a collaborative of social justice organizations born from that vision — is helping to mobilize Oakland's low-income communities, immigrant communities, and communities of color to work towards "health, happiness, safety and opportunity for all." Oakland Rising works to educate these communities about what is at stake on the ballot and at City Hall in four languages — English, Spanish, Cantonese, and Mandarin.
According to Oakland Rising Executive Director Esperanza Tervalon-Daumont, 2014 is a critical election year for Oakland. "This will be the first time in a decade we'll have five new city council members," noted Tervalon-Daumont. "The political direction of Oakland is hinging on this election."
To focus its advocacy efforts among the important choices voters will have to make this election — including selecting a mayor and other city officials, a governor and other statewide officials, and important local and statewide propositions — Oakland Rising prioritized three initiatives. First, Oakland Rising is educating voters about local Measure FF, which would increase Oakland's minimum wage to $12.25 per hour and guarantee paid sick days for workers.
"Measure FF would pump hundreds of millions of dollars back into the local economy," said Tervalon-Daumont. "As market rate housing continues to skyrocket, and rent and food costs go up, working class people would be able to better keep pace with an increase in their wages."
Second, Oakland Rising is talking with voters about local Measure DD, which would create an independent redistricting commission for Oakland, comprised of residents who are "reflective of the geographic, racial, ethnic, and economic diversity of the City of Oakland." The commission would redraw Oakland's district boundaries after each new census every 10 years.
"There's a real narrative in Oakland of mistrust of city government, and it's hurting our ability to move good policy," explained Tervalon-Daumont. "Good reforms like Measure DD create more structures for everyday citizens to take heavily politically charged decisions out of the hands of politicians so that we can have equitable results. We believe that's what Oaklanders want."
The third priority for Oakland Rising is ensuring that voters understand California Proposition 47, which would convert six nonviolent felonies into misdemeanors and have a huge impact on Oakland's formerly incarcerated people getting an opportunity to work — since it would also be retroactive, people who were formerly convicted of felonies reclassified under Prop 47 could legitimately indicate that they had not been convicted of a felony on job applications.
"Prop 47 is a real opportunity to reinvigorate our workforce," said Tervalon-Daumont. "It gives human dignity back to people who want to work and allows them to become part of the fabric of our society."
Aside from the three ballot priorities, Oakland Rising also crafted a policy platform which prioritizes Oakland's newly approved Tenant Protection Ordinance. The Tenant Protection Ordinance — sponsored by Causa Justa :: Just Cause, one of Oakland Rising's partner organizations — will expand the definition of harassment to include more methods landlords have been using to push tenants out of their homes in Oakland, including physical and verbal threats, the threat of calling ICE, neglect of basic repairs, and a number of other actions that will be punishable with administrative and civil penalties. It also gives tenants the ability to make complaints directly to the city and to take legal action against landlords who violate tenants' rights.
"We have a commitment to talking about the face of displacement," explained Tervalon-Daumont. "The Tenant Protection Ordinance is one critical step in a long-term fight to ensure that working-class folks can have a decent and affordable place to live in Oakland."
Click here to download the Oakland Rising voter guide.
Infographic: Yes on 47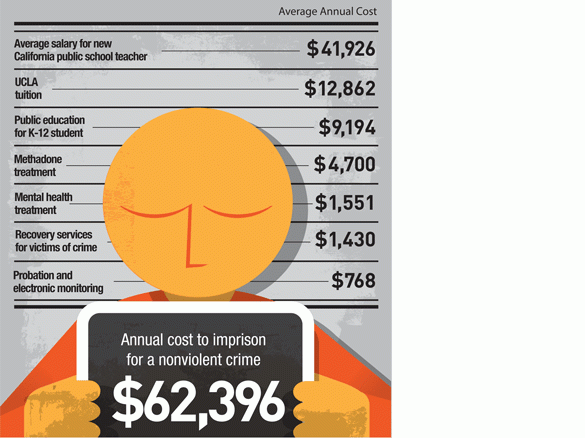 Proposition 47 makes sense for California from an ethical, practical, and fiscal perspective. This infographic enumerates different ways California could benefit from savings generated by Prop 47.
Celebrating Emerging Equity Leaders: Jasmine Jones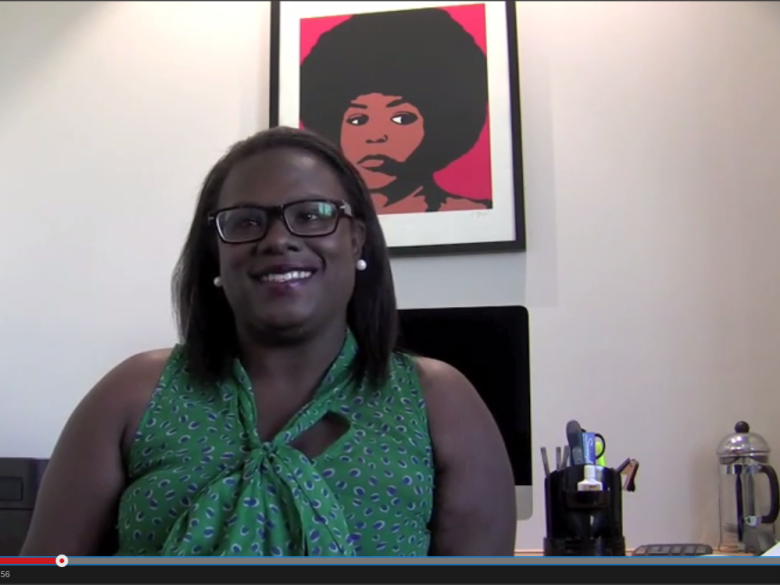 This quarter, we highlight the work of Jasmine Jones, lead organizer of Black Organizing Project in Oakland. Black Organizing Project works for racial, social, and economic justice through grassroots community organizing and policy change.
Watch a video interview with Jasmine.