Big Wins for Equity in California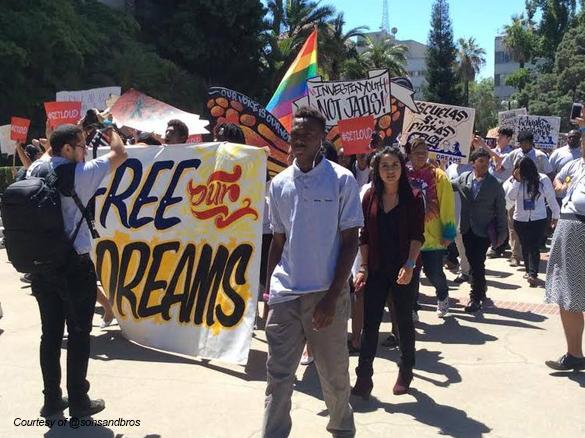 Big Wins for Equity in California
As this year's legislative season closes, we are thrilled to report that the legislature and Governor Jerry Brown have approved a number of bills that advance equity — just and fair inclusion into a society in which all Californians can reach their full potential. Through determination, collective action, and fierce commitment, equity advocates have achieved significant policy changes and spurred a momentous shift in the way California regards and embraces its most vulnerable populations.
Our WORKERS
We corrected historic injustices faced by our most disadvantaged workers. AB 1066 ends the 78-year exclusion of farm workers from overtime protections. The Domestic Workers Bill of Rights (SB 1015), passed in 2013 but set to expire next year, was made permanent, giving workers who care for and support individuals and families across our state overtime protections and improved working conditions.
We enhanced economic security for disadvantaged employees. The Fair Wage Act (SB 3) puts California on the path to a statewide minimum wage of $15 per hour by the year 2023 and expands paid sick leave benefits to qualified in-home support service workers. AB 908 increases the level of benefits workers may receive through the Paid Family Leave ("PFL") and State Disability Insurance programs and eliminates the seven-day waiting period for PFL benefits, ensuring that workers in need will receive benefits more quickly.
We created new opportunities for millions of low-income workers to prepare for their retirement. The California Secure Choice Retirement Savings Program (SB 1234) creates a state retirement savings plan for nearly 7 million workers, including nearly 5 million Californians of color, who do not have access to a retirement savings program through their employer.

Our YOUNG PEOPLE
We invested in keeping our young people in school. The Learning Communities for School Success Program (SB 527 and AB 1014) establishes a grant program to improve outcomes for public school students by reducing truancy and providing supports to youth who are at risk of dropping out.
We created a new path to college and beyond for our most disadvantaged students. The K-12 College Readiness Block Grant Program (SB 828) invests $200 million in preparing foster youth, English language learners, and students from low-income households for college. AB 1602 requires the University of California to develop and implement a plan to increase admissions, and provide support once admitted to students from schools with a high percentage of foster youth, English language learners, and youth from low-income households.
We brought new protections to young people in the criminal justice system. SB 1143 places strict limits on the use of solitary confinement in juvenile justice facilities; SB 1322 prohibits law enforcement agencies from charging minors for sex trafficking; and SB 882 ends the criminalization of youth for riding public transit without paying a fare.

Our IMMIGRANTS
We provided greater security to immigrants. SB 10 allows undocumented immigrants and DACA recipients to purchase health insurance through Covered California. AB 2159 ensures that in civil actions for personal injury or wrongful death, individuals would receive fair and just compensation for future income loss and medical costs regardless of their immigration status.
We protected undocumented Californians in the custody of law enforcement. The Transparent Review of Unjust Transfers and Holds (TRUTH) Act (AB 2792) brings needed transparency to immigration enforcement actions by requiring local law enforcement to notify individuals of their rights prior to being interviewed by U.S. Immigration and Customs Enforcement (ICE) officials, clarifying that records related to cooperation between ICE and local jails are subject to the California Public Records Act, and mandating that the governing body of a city or county hold at least one public forum regarding ICE, if a law enforcement agency within the city or county provides ICE with access to an individual.
We created a pathway to opportunity for undocumented students. SB 1139 allows all students pursuing health professions to be eligible for the state's scholarship and loan forgiveness programs regardless of their immigration status.

Our COMMUNITIES
We reaffirmed our commitment to addressing climate change and its impact on low-income communities and communities of color. SB 32 and AB 197 set a new, more equitable framework for reducing greenhouse gas emissions. The Transformative Climate Communities Program (AB 2722) will fund climate projects that bring public health, social, and economic benefits to the low-income communities and communities of color who are hurt first and worst by climate change.
We prioritized the creation of healthy, equitable communities. The Planning for Healthy Communities Act (SB 1000) requires city and counties to consider environmental justice in their General Plans. The No Place Like Home Program (AB 1618) will provide $2 billion to support the development of housing for Californians who are mentally ill and chronically homeless.
We increased transparency and accountability in our criminal justice system. SB 443 stops innocent people from having their assets unfairly taken, by prohibiting law enforcement from seizing assets before a conviction has been obtained. AB 2298 brings much-needed transparency to the CalGangs database (and other shared databases) by requiring law enforcement agencies to notify individuals when their name has been added to the database and giving them an opportunity to challenge being included. By extending the period of time in which an individual can apply for a sentence reduction, AB 2765, ensures that we are able to realize the full potential of Proposition 47.
We are humbled by the amazing partners and community leaders who made these wins possible. Together, we effected major policy changes that will improve the lives of all Californians.
California Ballot Guide 2016
California Ballot Guide 2016
In the upcoming general election on November 8, 2016, California faces an unprecedented number of propositions. Many of these propositions will have direct equity impacts on the state's low-income communities and communities of color. To help inform your decision making, PolicyLink has studied the issues and created a 2016 ballot guide available in English and Spanish. Please share it widely and encourage your families and friends to participate and vote. For further information, please see the Official Voter Information Guide, polling place information, and additional voting resources offered by the office of the California secretary of state.
California Policy Update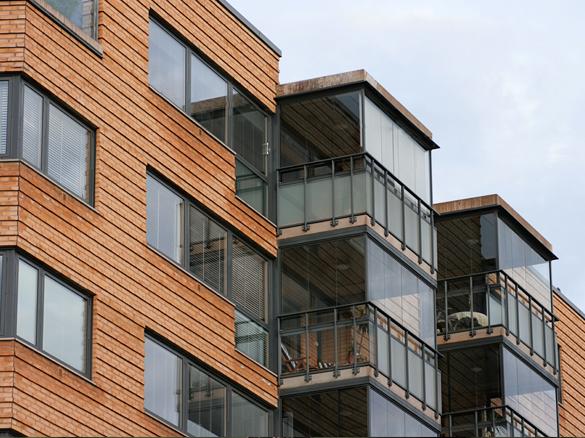 Protecting Renters During Statewide Housing Affordability Crisis
Low-income households in California face a staggering 1.54-million-unit shortfall in affordable and available rental homes. While state leaders in Sacramento could not come to an agreement to address the unprecedented increases in housing costs amid a statewide housing affordability crisis, cities are taking the initiative to address housing affordability across California. Los Angeles voters are being asked to approve ballot measures to fund housing for the homeless, as well as inclusionary zoning requirements to increase the preservation and production of affordable housing. Other measures include ballot measures in a half dozen Bay Area cities seeking to advance tenant protections intended to stem displacement and gentrification forces faced by many longtime residents. The statewide jobs and housing imbalance has created white-hot housing markets north and south, with California cities representing four of the top seven most expensive rental housing markets in the country (based on the median rental price for all available or vacant homes).
While bonds to preserve and produce affordable housing offer some hope down the line, millions of Californians, including 1 in 4 children, are living in poverty, a statistic exacerbated by the high cost of housing. In fact, when poverty measures are adjusted for housing costs, California leads the nation with the highest percentage of its residents living in poverty. The Department of Housing and Urban Development is not expected to disperse funding that matches the need for investments in housing affordability in the foreseeable future. Absent meaningful state or federal investments, these city-led housing affordability initiatives present a modest lifeline for the eight million Californians living in poverty, most of whom are renters.
On the Ground: RISE San Diego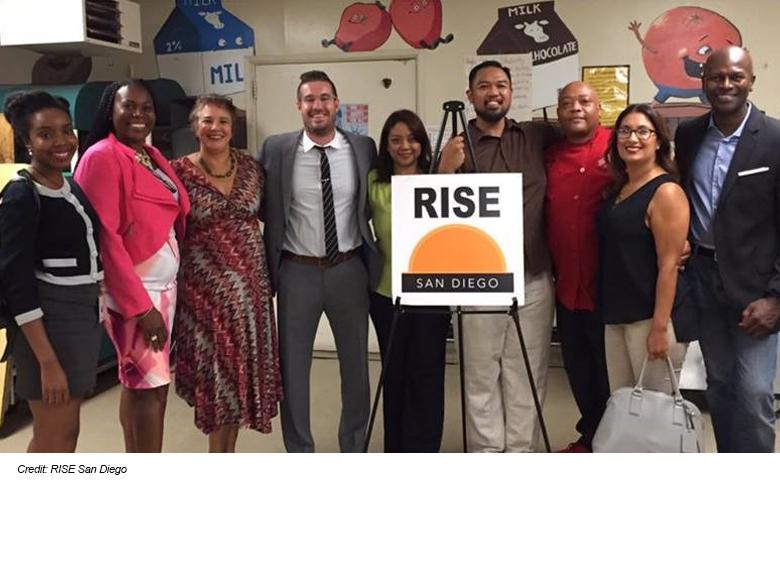 In 2014, Dwayne Crenshaw, a San Diego native, and his colleague Tony Young, former president of the San Diego City Council, saw an opportunity to change the way organizations and governments interact with the communities and individuals they serve. When Barrio Logan, a racially diverse, industrial, and commercial-heavy neighborhood of San Diego was getting ready to vote for its new community plan, Crenshaw and Young realized that "this conversation was happening without the input or engagement of the community whose lives would be affected." It was this concern that spurred them to launch RISE San Diego. Two years later, RISE is a nonprofit that partners with community organizations that share a common goal of developing San Diego's urban communities.
Crenshaw, CEO and co-founder, and Marissa Davis, leadership and civic engagement manager, are two of the team members leading the charge for community engagement and leadership development at RISE San Diego. They spoke to us about the unique work they do at RISE.
RISE seeks to create a more inclusive San Diego by empowering members of the community who have historically been excluded from the decision-making tables. RISE accomplishes this by focusing on three areas of work: leadership development, civic engagement, and nonprofit partnership.
While the San Diego region is majority people of color, Crenshaw points out that less than one-third of the elected representatives and members of boards and commissions are people of color. In partnership with the University of San Diego's Leadership Institute, RISE is tackling this problem and has initiated the Urban Leadership Fellows Program. Through this program, community members from a variety of backgrounds come together to engage in trainings and workshops that hone their leadership skills and build their capacity to take their work to the next level, all while improving and engaging with their communities.
"The Fellows call themselves the RISE Familia, and they become a close-knit unit," Crenshaw says. "It's important that these leaders don't see themselves as loners — they should be working together, looking at these issues in a systemic manner, and although individual projects are important, we're hoping the Fellows are thinking about how to come together and make systemic change to seemingly intractable larger issues in concert with one another," he adds.
A majority of the Fellows are people of color and represent a wide range of ages, issue-focus areas, and career levels. Crenshaw stresses, "We think diversity is important. We believe it will enrich and enhance the learning experiences they're taking advantage of. We wanted the class to reflect the diversity of San Diego and the future of San Diego in a way that we really haven't seen before."
Davis echoes the sentiment and adds, "Beyond making sure that politically the leadership is more reflective of the diverse community, we want to make sure that within the education and workforce space, the young people from these communities are competitive for the job market in the future."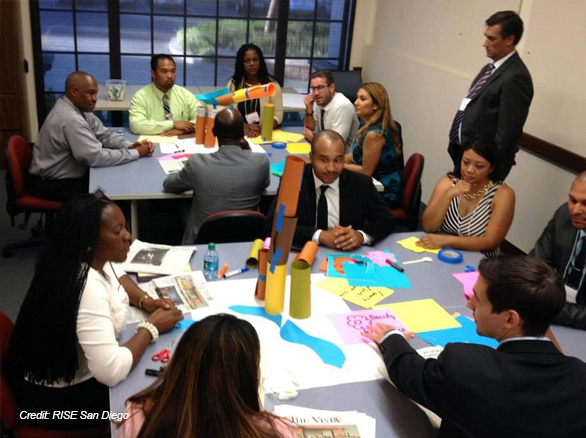 In addition to their focus on developing new leadership in San Diego, RISE is working to deepen civic engagement and strengthen networks among community leaders. RISE hosts a monthly Urban Breakfast Club, where resident, nonprofit, business, and civic leaders network and connect with one another. Davis points out that "at our breakfasts, there are community residents interacting with city staffers, which is something they typically wouldn't have the opportunity to do." This is just one way the staff at RISE facilitate relationship-building in San Diego.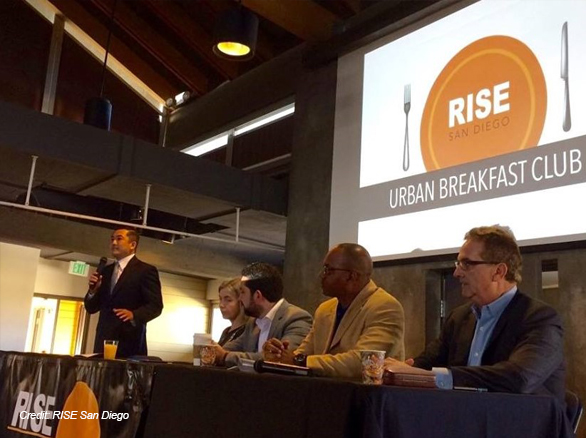 Another notable aspect of the program's civic engagement approach includes a series of events entitled "Exploring Race, Equity and Inclusion in San Diego." According to Davis, "This series is intended to bring the conversation of race within the context of San Diego; make it relevant to the experience here; address issues that are unique to the city; compare it to what's happening nationally; and be able to unpack all of this."
RISE offers free trainings on civic engagement, where San Diego residents develop their skills to effectively engage with elected officials and decision makers to help urban communities grow and succeed. RISE also conducts trainings on nonprofit advocacy, where nonprofit leaders share resources and tools to be stronger neighborhood advocates.
RISE, in partnership with other nonprofit, business, and community leaders, is working toward the goal of a more community-oriented San Diego, and, in turn, a more equitable California. Learn more about the incredible work of RISE at risesandiego.org.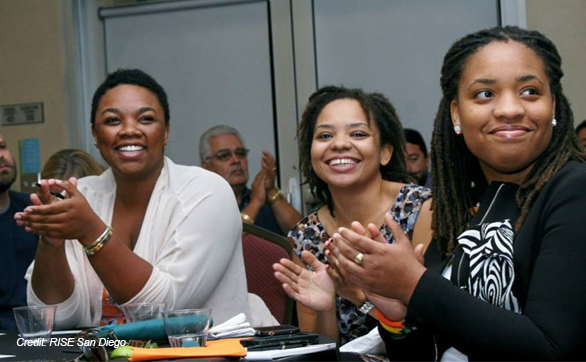 Emerging Equity Leader: Marcus Duarte Smith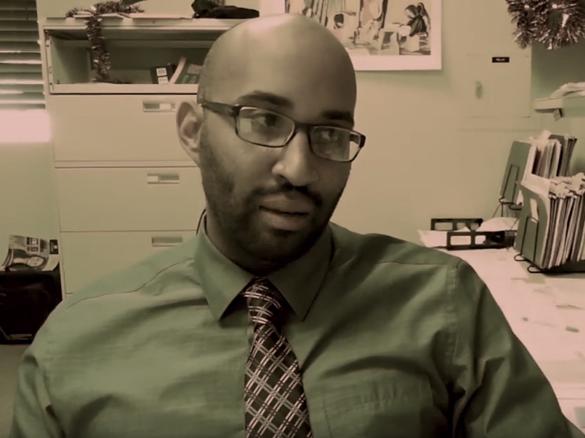 This quarter, we highlight the work of Marcus Duarte Smith from Faith in Action Kern County. Faith in Action is a member of the PICO National Network and works to build power for families and bring justice to Kern County. Smith works on issues of restorative justice, immigration, and education and shared some of his struggles and success stories with us. Read more about Faith in Action Kern County on their website.