California Policy Update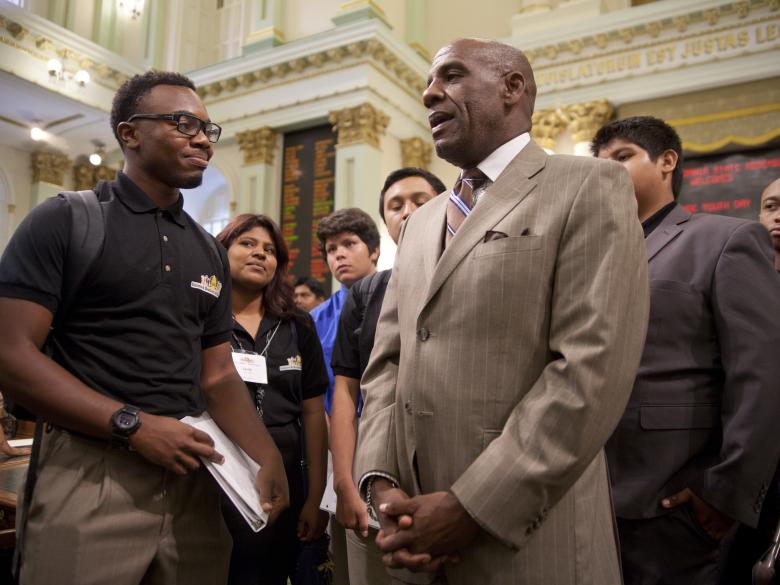 Youth Leaders Thrive at the Capitol
In early August, close to 300 young leaders of color and allies from communities across California traveled to Sacramento and met privately with nearly 100 legislators, representatives from Governor Jerry Brown's office, and high-level administrators, such as State Superintendent of Public Schools Tom Torlakson, to advocate for policy change. These meetings were part of the Alliance for Boys and Men of Color's third annual Education and Advocacy Days at the Capitol, an inspiring week of trainings, activism, and celebration.
The week's events included a rally on the Capitol steps, where youth leaders called for an end to willful defiance and advocated for access to health care for undocumented Californians. During the rally, several lawmakers signed a petition to implement restorative justice models and Positive Behavior Intervention programs by the year 2016, end the use of willful defiance by the year 2018, and reduce all suspensions by 80 percent by the year 2020.
Youth leaders also presented Governor Brown's staff with a thank you letter, expressing appreciation to the governor for engaging in a conversation to limit willful defiance, a school disciplinary standard that can be applied arbitrarily, does not address root causes of misbehavior, and results in disproportionate suspensions and expulsions for students of color.
The week culminated in the Select Committee on the Status of Boys and Men of Color's progress hearing, held annually to evaluate efforts by state agencies to implement recommendations in its 2012-2018 action plan to improve outcomes for California's boys and young men of color in the areas of health, education, employment, juvenile justice, and youth development.
"We have a youth leader movement in this state that no other state has," said Dr. Robert Ross, president and CEO of The California Endowment, during the hearing's opening remarks. "They have been walking the hallways of the Capitol, speaking with their passionate and profound voices."
Also during the hearing, Assemblymember Steven Bradford (D-62), chair of the Select Committee, announced AB 914 — a bill that would create a statewide, interagency taskforce to improve outcomes for California's boys and young men of color, modeled after the federal taskforce created within the White House initiative, My Brother's Keeper.
Over the next month, the Alliance will push the governor to sign its other identified priority bills. It will also work to increase support for Proposition 47, a ballot initiative that would change the status of several nonviolent offenses from felonies to misdemeanors and could change the lives of millions of Californians.
Watch youth-produced videos about a young leader's experience in Sacramento and an overview of Education and Advocacy Days at the Capitol.
Read more about the Alliance's week in Sacramento.
Take action to support the Alliance's statewide policy priorities.
Investing Cap-and-Trade Revenue in California Communities
Equity leaders across the state are preparing for an opportunity to allot greater benefits from cap-and-trade revenues for investment in California's disadvantaged communities. These revenues, generated by quarterly auctions held by the Air Resources Board, are deposited into the Greenhouse Gas Reduction Fund with the goal of reducing California's greenhouse gas emissions to 1990 levels by the year 2020.
The 2014 state budget allocated $130 million of the Greenhouse Gas Reduction Fund to the Strategic Growth Council to develop and administer the Affordable Housing and Sustainable Communities (AHSC) program. Additionally, SB 862, accompanying legislation recently signed into law, requires that 50 percent of AHSC funds — $65 million this year—be utilized to provide housing opportunities for lower-income households.
Over the next few months, the Strategic Growth Council will refine the Affordable Housing and Sustainable Communities program. To maximize the program's equity potential, community leaders are urging the Council to establish a robust grant review process, solicit community feedback in a meaningful and deliberate way, and provide technical assistance to underresourced applicants to help develop high-quality grant proposals. Grant proposal support is critical, since disadvantaged communities often lack the experience, resources, and capacity to submit competitive proposals despite overwhelming needs.
Equity advocates have also recommended that the Council prioritize projects that meet multiple needs of disadvantaged communities, consider the specific needs of rural communities, and require all affordable housing projects to include provisions to prevent displacement. Other recommended guidelines for grant proposals include rewarding jurisdictions that already have policies to maximize greenhouse gas reductions or co-benefit policies, such as those that target hiring for disadvantaged residents.
In addition to the Affordable Housing and Sustainable Communities program, state and local agencies must make significant Greenhouse Gas Reduction Fund investments in "disadvantaged communities." The Air Resources Board is currently holding public workshops to help finalize criteria to help define a "disadvantaged community." The California Environmental Protection Agency has also developed CalEnviroScreen, a screening tool that identifies disadvantage based on 19 environmental and demographic indicators. Some equity coalitions, concerned that CalEnviroScreen does not qualify certain marginalized communities as "disadvantaged," are developing alternative tools and measures.
Click here to read Public Advocates' primer on the Greenhouse Gas Reduction Fund.
Click here for Strategic Growth Council and Air Resources Board meeting dates.
On the Ground in Fresno: Faith in Community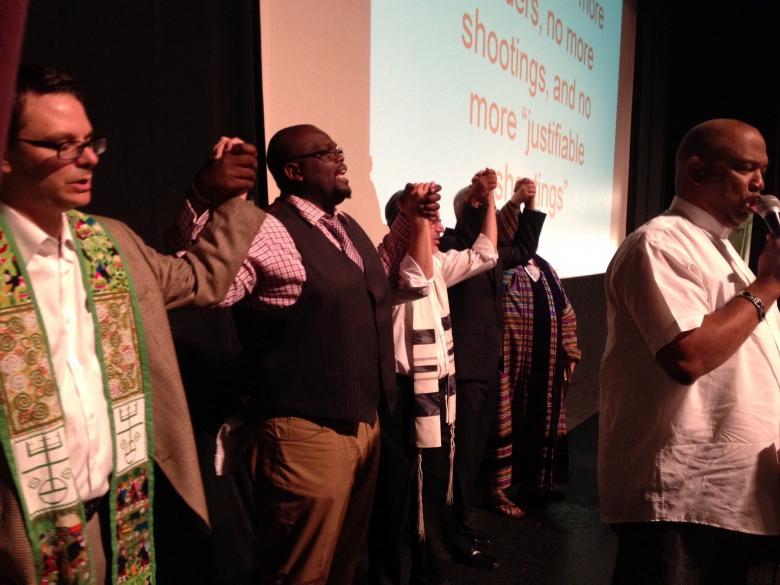 In the heart of California's Central Valley, a growing number of equity partnerships are working to organize Fresno's marginalized communities to advocate for equitable change. One such coalition — Faith in Community — is finding success by engaging faith-based congregations on issues ranging from economic justice to ending the mass incarceration epidemic.
"All faith traditions have something to say about living equitably," explained Bryson White, a community organizer with Faith In Community. "Our goal is to put human dignity at the center of public life."
A member of the influential and extensive PICO National Network, Faith in Community works with 20 congregations across Fresno's faith communities on various social justice campaigns. Although most of its members belong to more traditionally liberal Protestant churches, Faith in Community also includes more conservative churches as member congregations.
"Most faith language has been dominated by the political and Christian right, but this needs to be a collective conversation," warned White. "We can't afford to leave the sphere of civic involvement to any one religious group."
Faith in Community also partners with Fresno Interdenominational Refugee Ministries (FIRM) and Fresno State University's Humanics program, which develops courses that align with Faith in Community's ongoing campaigns.
One of Faith in Community's main focus areas is achieved through its participation in PICO's "Live Free" campaign (also called "Lifelines to Healing"), which aims to dismantle the system of mass incarceration and reduce gun violence. An urgent priority is bail reform — according to White, many individuals in Fresno County jail are impoverished blacks and Latinos awaiting trial.
"In Fresno County, 70 percent of the inmate population is there pretrial, so they haven't been convicted, but they can't afford bail," said White. "It's class warfare. We need more efficient pretrial expansion programs, so people don't have to sit in jail for something they haven't been convicted of doing."
Faith in Community partners with clergy and churches for its successful Night Walks program, also part of the "Live Free" campaign. As part of the program, participants walk through struggling neighborhoods to converse and pray with residents and hone in on community members identified as perpetrators or victims of gun violence. They engage in a dialogue with these residents, asking questions intended to stoke a sense of pride in and responsibility to the neighborhood, such as "what do you like about your community?" and "what would you like to see changed?" In one neighborhood, reports of violent crime went down by nearly 50 percent after a year and a half of Night Walks.
The Night Walks neighborhood dialogues also help to identify critical community issues, such as blight caused by abandoned properties. After the Great Recession, 22 Fresno neighborhoods were identified as areas of concentrated poverty, where 40 percent or more of the residents lived below the federal poverty line. The many foreclosures in these neighborhoods, largely caused by predatory lending and other schemes, prompted slumlords to further exploit these communities by buying up foreclosed properties for pennies on the dollar. The vast majority of these properties were boarded up and left vacant — a proven factor in causing neighborhood blight, violence, and toxic stress experienced by children.
To address this problem, Faith in Community partnered with Fresno State University to canvass and catalog these properties, and is currently working with the city to ensure that codes already in place are enforced, and that new property owners pay appropriate fines for blighted properties. They are also pressuring the city to force the handover of abandoned properties to community organizations that would match them with families in need.
"We are trying to build a power base led by residents and people of faith to disrupt politics as usual in Fresno," said White.
The abandoned property campaign falls under what Faith in Community calls a focus on "concentrated usury," or the exploitation of impoverished communities. Another campaign under this umbrella is one to limit the number of new payday lenders in Fresno. Currently, there are 66 payday lender stores, densely concentrated in the same 22 distressed neighborhoods. Faith in Community recently had a victory in this campaign when the Fresno City Council passed an ordinance to limit the opening of any new payday stores within one-quarter mile of another, effectively a hard limit on any new stores in working poor neighborhoods.
As for what's next, Faith in Community is planning a civic engagement campaign focused on Proposition 47, a statewide ballot initiative that would reclassify nonviolent felony convictions as misdemeanors and use the savings to improve jails and fund drug and mental health treatment programs. Faith in Community plans to target low propensity voters — registered voters who typically do not vote in midterm elections — by canvassing and phone banking, with a goal of turning out 5,000 new voters to the polls.
"We can't continue this rabid pace of incarcerating — it's destroying our communities," urged White. "Prop 47 would rectify the failure of the War on Drugs and get people the help they need."
Infographic: Election Calendar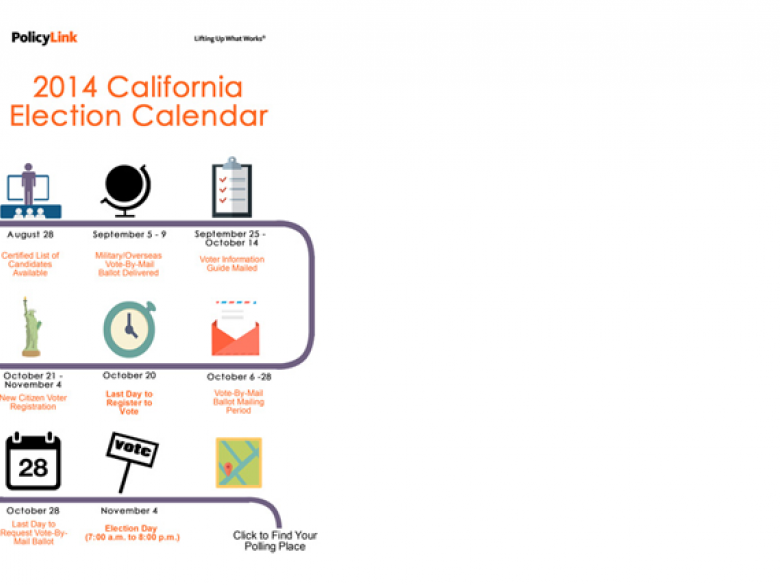 Infographic: 2014 Election Calendar
Increasing and engaging California's voter base is essential to the equity movement. This quarter, we present a calendar of important dates leading up to the November 4 election, including the deadline to register to vote. Please share widely!
Emerging Equity Leader: Veronica Garibay