California Policy Update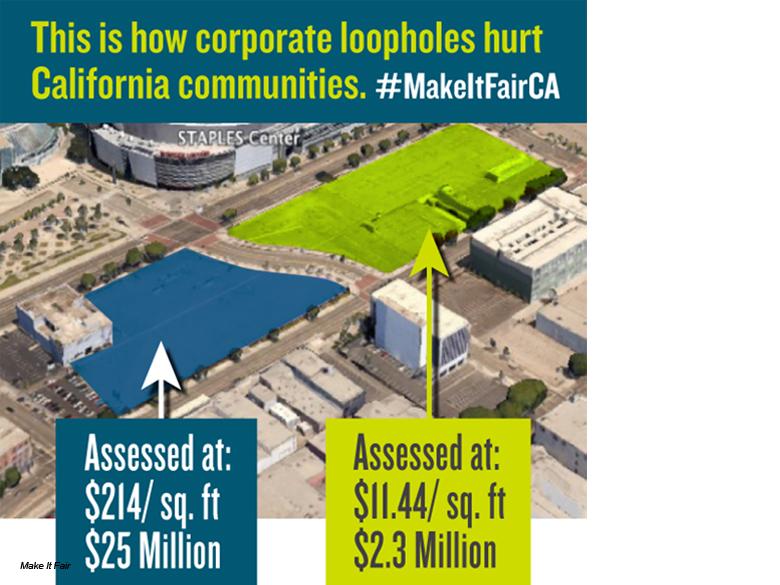 Tell Your State Senator: Tax Fairness Is an Equity Priority
Making our tax system fair should be a top priority for people who care about shaping an equitable California — where revenue comes from can impact equity just as much as where we choose to invest it. And at a time when California is searching for new revenue to make up for cuts in education, housing, and the social safety net, a new coalition of civil rights, religious, community, and labor groups is dedicated to rebuilding our state by working to close tax loopholes and make the commercial property tax system more fair.
Make It Fair has determined that the best way to create a revenue stream for the state to help close gaps in funding for essential programs and expand opportunity is to assess commercial and industrial property at fair market value. Taking this step will close loopholes and ensure that big corporations and wealthy commercial properties pay their fair share of property taxes.
Indeed, a recent report by the USC Program for Environmental and Regional Equity (PERE) found that reassessing commercial property at its current value would generate up to $9 billion in additional revenue each year for our state. This is based on recalculating the current market value of land owned by companies like Chevron, whose Richmond refinery was last assessed almost 40 years ago. Right now Chevron is paying taxes on the 1978 value of that land — not what it's worth today. Statewide, Chevron's underassessment alone shortchanges our communities by $100 million every year.
State Senators Loni Hancock and Holly Mitchell recently introduced an amendment to the state constitution that will correct this loophole. Act now by contacting your state senator today and expressing support for Senate Constitutional Amendment No. 5 (find out who your senator is by clicking on this link).
Going up against big companies and wealthy commercial property owners will be a challenge. But the large amount of money at stake can help increase equitable investment in California's low-income communities and communities of color and will make a real difference for kids, seniors, and our shared future.
Learn more about Make It Fair and add your name to the growing list of endorsers.
Final Budget Deal Supports Some Programs for Equity
California's final approved budget plan for the next fiscal year provides much-needed investment in programs to support the state's low-income communities and communities of color. The budget deal includes funding to increase equity in higher education, support for California's immigrant communities, and more investment to ensure that people returning from prison can access job opportunities.
The final budget provides funding for enrollment growth in public colleges and universities and greater support for affordable higher education. Highlights of the budget include a $60 million investment for the Basic Skills and Student Transformation Program — which expands the use of proven practices that significantly increase the number of underprepared students who successfully complete community college — and $33 million to restore the Extended Opportunity Programs and Services financial aid program to pre-recession levels. The budget also increases the number of Competitive Cal Grants for University of California students by 3,250 awards.
The budget also includes $55 million in resources to reduce barriers for immigrants throughout the state. The governor and legislature have agreed to a $40 million Medi-Cal expansion that will allow all children 19 and under to enroll in Medi-Cal, regardless of immigration status. The expansion will increase to $132 million annually upon full implementation, and is expected to cover 170,000 children. Additionally, $15 million was allocated for One California, which will support qualified nonprofits with resources to provide education, outreach, and legal services to lawful permanent residents eligible for citizenship and immigrants eligible for administrative relief under the Deferred Action for Parental Accountability (DAPA) and Deferred Action for Childhood Arrivals (DACA) programs.
In another important investment that will benefit low-income communities and communities of color, an additional $265 million was allocated for preschool and state-subsidized child care. The deal also includes $380 million for an Earned Income Tax Credit that allows the working poor to keep more of their paychecks. Finally, the budget includes additional funding for the Supervised Population Workforce Training Grant Program to help formerly incarcerated people access employment.
The budget agreement did not resolve a number of outstanding issues, however, and the governor has called special legislative sessions on health care and transportation to look for ways to finance the Medi-Cal program as the state gets ready to pay a larger share of expansion costs and fund repairs to the state's roads, bridges, and highways.
On the Ground: PODER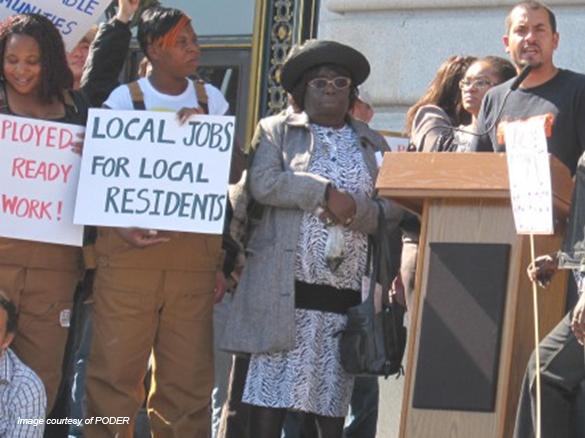 Since 1991, PODER — People Organizing to Demand Environmental and Economic Rights — has worked to improve the lives of low-income communities and communities of color within San Francisco's Mission and Excelsior districts, with a particular focus on Latino immigrants. PODER brings people-powered solutions into the community to support local economies, nurture individual leadership, and speak to community power and culture.
According to PODER Organizational Director Antonio Díaz, PODER's origins can be found in the neighborhood's need for community organizing. "As we got to know the Mission, we realized there was an amazing number of community-based organizations and a wealth of community-serving organizations," Díaz noted. "However, we got the sense that there weren't institutions focused on initiating community organizing, engaging folks at the door, and focusing on community priorities by working on solutions together."
PODER's unique environmental justice approach organizes low-income communities to recognize and challenge the disproportionate impacts of environmental hazards on their neighborhoods. PODER works on issues such as land use, affordable housing, community planning, and other aspects of the built environment as potential avenues for change.
"Environmental justice organizing has been important, in that we're able to really speak to different neighborhoods," said Díaz. "We've been especially instrumental in urban areas, which are impacted by poor planning decisions and environmental inequities."
Most recently, PODER responded to the "tech boom" gentrification in the Mission by working to impede displacement-causing development projects and to bring new affordable housing projects to the Mission and Excelsior neighborhoods. Other PODER initiatives distribute resources to construct urban parks and gardens on publicly owned land, fund urban farming projects, and support and foster local co-ops.
PODER focuses on practical solutions: "As much as it's important to fight and try to get rid of the bad, we also need to take a proactive stance to bring in the good. That's manifested in building projects and other people-centered solutions that address the needs of current residents," he noted.
PODER supports local economies as the key to thriving, sustainable neighborhoods. Through its Working Together Initiative, PODER fosters economic resilience and environmental sustainability by training community members to launch social enterprises or community cooperatives. With the use of a community educational toolbox and advisers from a diversity of sectors, PODER has been able to launch a Co-op Academy and help individuals learn about working cooperatively and to potentially start their own co-op or social enterprise.
Another strength of PODER is the involvement of the community. In order to sustain local leadership, PODER prioritizes recruitment of new members and develops community leaders to support the work through its numerous leadership programs and trainings, such as caminos de lidergazo, convivios, and art and resistance events. PODER also runs civic engagement programs to address immigration rights and engagement, as well as language access.
"Based on past organizing, it isn't enough to win. How can we continue to ensure community involvement and faith? We engage community stewardship and work to foster community assets in the neighborhood," said Díaz.
PODER's maturation has included advocating for government funding to ensure that community members have access to programs that develop their skills and connect them with their neighbors. It has also strengthened its network by joining groups such as San Francisco Rising, the California Environmental Justice Alliance, the Our Power Campaign, and the Grassroots Global Justice Alliance. These alliances help PODER develop tools and stay informed on relevant local and state policies, as well as sustain momentum for further community involvement.
"People recognize the issues in their neighborhood, and when given the opportunity, they step up," Díaz noted. "This speaks to the rich history of organizing."
Learn more about how PODER is mobilizing the Latino community for upcoming elections.
Sign up for updates and learn about volunteer opportunities with PODER.
Celebrating Emerging Equity Leaders: Marc-Anthony Johnson
This quarter, we highlight the work of Mark-Anthony Johnson, director of health and wellness with Dignity and Power Now, a grassroots organization based in Los Angeles that fights for the dignity and power of incarcerated people, their families, and communities. Dignity and Power Now has several campaigns, including establishing comprehensive and effective civilian oversight of the Los Angeles County Sheriff's Department and allocating the money from the $2 billion jail plan into mental health diversion programs and community health centers.
Infographic: Make It Fair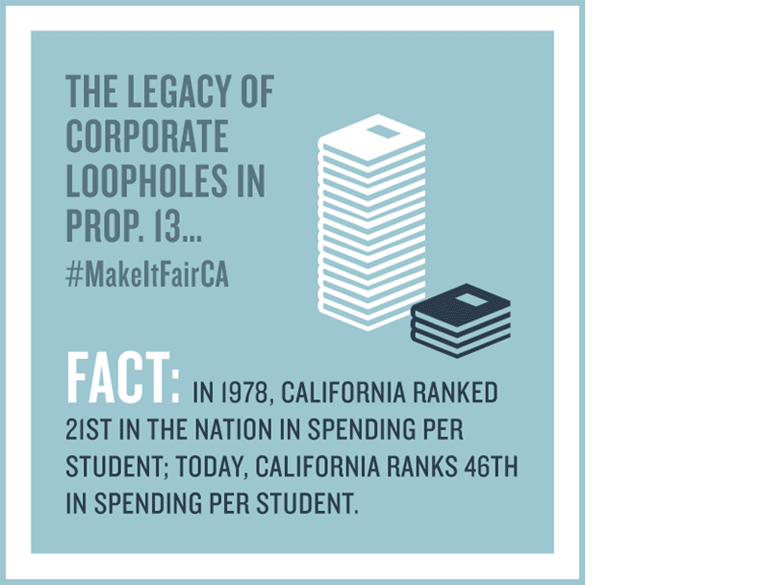 The Make It Fair coalition is dedicated to making California's tax code fair to all by phasing out loopholes that have allowed a handful of giant corporations and wealthy commercial property owners to dramatically lower their obligations to California's families. The image above illustrates the urgent need for more school funding — resources that would be provided by making the tax code more fair. See above story for more details.