California Policy Update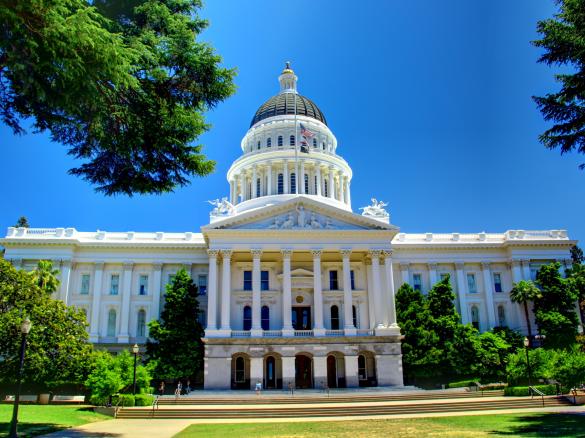 Equity Advocates Celebrate Policy Victories
As we approach the end of 2015, we celebrate the committed efforts of California's equity advocates whose work led to important policy victories this year, including a number of bills that advance equity — understanding that focusing on low-income communities and communities of color is essential to achieving a healthy and prosperous California.
The new policies further cemented California's status as a national leader in embracing traditionally marginalized populations. For example, the state built on its inclusive approach to integrating undocumented Californians by expanding Medi-Cal to include undocumented children ages 18 and younger. The state also strengthened workers' and women's rights by passing the California Fair Pay Act, requiring employers to prove that any disparity in worker pay is due to factors other than gender. Governor Jerry Brown also signed bills strengthening environmental regulations — including mandating that half of the state's electrical power come from renewable sources by 2030 — and a motor voter law, automatically registering all Californians who register cars or take driving tests at the DMV to vote (unless they opt out).
A slate of new policies supported by the Alliance for Boys and Men of Color will help improve the lives of people struggling across the state. For instance, the state will hold police more accountable to communities by requiring collection of race-based data, increasing penalties when police officers tamper with digital evidence, and eliminating grand juries in cases of excessive force by police officers. The Alliance was also successful in supporting Californians returning from prison, including a bill that directs Prop 47 savings toward programs that address the root causes of recidivism among those formerly incarcerated — the urgent need for housing, mental health services, and substance abuse disorder treatment — and a bill that funds workforce training for people returning from prison.
Finally, Alliance partners also secured important wins in the state budget: $10.3 million to support school climate — including funding for a statewide network of trainers, training programs and coaching, and grants to school districts to create a multitiered system of schoolwide social emotional and positive behavior support, restorative justice, and training in cultural competency — and $60 million in competitive grants allocated to California community colleges to implement innovative best practices aimed at improving the delivery of remedial education.
Did we leave out any important equity-focused bills? Tweet at us with the hashtag #CAEquity and let us know!
Advancing Policy and Culture through Art
At first glance, arts and policy might not appear to have a direct connection; one is a fluid and abstract notion involving creativity and spontaneity, and the other a firm concept formed by strict rules and regulations. But Tanzila (Taz) Ahmed offers an intriguing example of how these elements can intersect seamlessly. Earlier this fall, Ahmed — along with dozens of other socially conscious poets with diverse backgrounds — graced Equity Summit 2015, reciting skillfully crafted poems that sobered, electrified, and captivated each room. The goal was to complement the technical policy issues that were being addressed with thought-provoking art that tapped into people's emotions, aiming to emphasize the importance of arts and culture as a part of the policymaking process.
Ahmed is a Los Angeles-based activist, writer, and politico who addresses South Asian and Muslim community issues in her policy work and in her art. She writes nonfiction, blogs, hosts podcasts, and creates mixed media art pieces — she also started her own nonprofit at age 24 to create political power for South Asian youth and continues to organize and empower her community through her work with 18 Million Rising.
According to Ahmed, art is about culture shifting — pushing society to think differently and to engage in something it otherwise would not have been exposed to. Similarly, her work mobilizing the Asian community to engage in voting and electoral processes is rooted in calling people to action.
Ahmed's podcast, #GoodMuslimBadMuslim (co-hosted by her friend, comedian Zahra Noorbakhsh), contains social and political commentary infused with personal anecdotes that shed light on the present day experience of being an American Muslim. Through this medium she uses the art of personal storytelling to explore the current socio-political climate.
"The fan mail is really inspiring," Ahmed explained. "Super young, brown girls who didn't have a voice before and are feeling alone — they tell me they relate to my stories. This is what keeps me going."
To her dismay, the most prominent subject she has had to address is the latest wave of Islamophobia polluting the airwaves. According to Ahmed, "We're going to talk about it, but we don't want to talk about it. It's tough being put in this position, but it has to be done."
Ahmed has discussed Islamophobia in her podcasts, written about it in her blogs, and even created art pieces from recycled anti-Islamic signage, which she said was a cathartic experience for her. "There's a certain power in making people feel uncomfortable and disrupted," she said. According to Ahmed, movement building through art may eventually influence decision makers to create policies that reflect the values of the communities they serve.
Ahmed is part of a movement of social media activists, highlighting the strong bond between arts, media, and policy. Platforms like the Equity Summit provide the opportunity to have artistic voices heard in spaces that traditionally only value technical, analytical concepts. More bridging between these realms would allow artists and policymakers to work together to shift the culture and foster real change.
Ahmed believes everyone should be a part of this movement, that art shouldn't be an exclusive club. "Art isn't just something for elite people to look at, it is in how we all live our lives," she explained. "If we reframe art, we can all be culture shifters and culture makers and create the world we want to create."
On the Ground: Pilipino Workers Center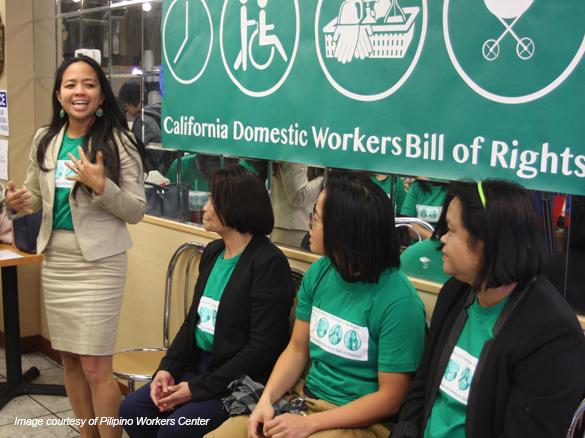 Over the past 50 years, the Filipino American community has grown from 105,000 in 1960 to 1,844,000 in 2013. 1.5 million Filipinos reside in California alone, making them the largest Asian community in the state. Located in Historic Filipinotown, Los Angeles, Pilipino Workers Center advocates for humane immigration reform, including ending the exploitation of working immigrants. The organization, composed of around 1,000 worker members — mostly domestic workers and care givers — was founded in 1997, when a number of Filipino students working for other worker centers wanted to see a similar organization in their own neighborhood.
According to Executive Director and Co-Founder Aquilina Soriano Versoza, "When people thought of Pilipino workers, they would think of workers in the field or professionals. We wanted to uncover what low-wage Pilipino workers were doing. What are their struggles? Can we bring life, leadership, and visibility around that?"
After establishing a relationship with the local Filipino community, Pilipino Workers Center identified health care, housing, employment, and immigration as top issues, with a focus on care workers, many of whom worked in vulnerable conditions with bad wages. Today, Pilipino Workers Center provides education and trainings to workers about their rights, advocates for workers' back wages, and coordinates collective programs for care workers who want to organize. In the mid-2000's, when the threat of gentrification was prevalent, the center also established an equitable development task force to examine affordable housing issues and launch worker-owned cooperative homecare agencies to provide better working conditions. In fact, the organization also established their own housing while working to combat illegal evictions.
Pilipino Workers Center also partners with Public Matters to incorporate arts and culture in their work to give community members a sense of empowerment and dignity. Pdub Productions, a youth media group, has been documenting an oral history of Filipinotown through video and audio, bringing together neighborhood youth and increasing the visibility of the community. The center also developed historical Filipinotown tours highlighting cultural icons, and partnered with UCLA HyperCities to populate an online platform with publicly accessible oral archives.
"Filipinotown is not as visually identifiable [as other communities] and is more spread out, but we have a need to share the stories of our people," said Versoza.
The center also provides trainings on topics other than workers' rights and immigration, such as classes on daily living, working with Alzheimer's and dementia, communications skills, body mechanisms, and individual health while working as a care worker.
"We had to develop trusting relationships [with the community], especially since there is a lot of fear due to immigration," said Versoza. "Our work is a combination of persistent interaction, ongoing services that keep our organization relevant, and a larger dialogue that connects daily experiences to the larger issues."
In the coming year, Pilipino Workers Center will be working to sustain the momentum of recent wins, such as advocating to remove the sunset provision in the California Domestic Bill of Rights, a new law which allows caregivers to secure overtime pay. The organization is also working on equitable development in Filipinotown and aligning with Filipinotown organizations to launch a public campaign against a health-care agency that has paid its workers less and has placed them in dangerous situations.
"If you create an environment for people and show that you care, you break down that isolation," explained Versoza. "A community that is more able to organize is less likely to be invisible and gentrified."
Celebrating Emerging Equity Leaders: Tamika Butler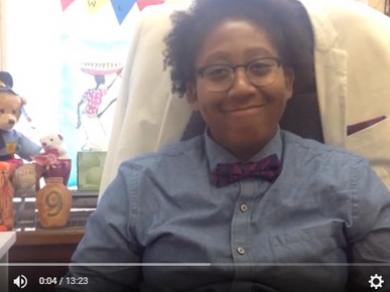 This quarter, we highlight the work of Tamika Butler, executive director of the Los Angeles County Bicycle Coalition, an organization committed to healthy communities and transportation equity.
Infographic: #Health4All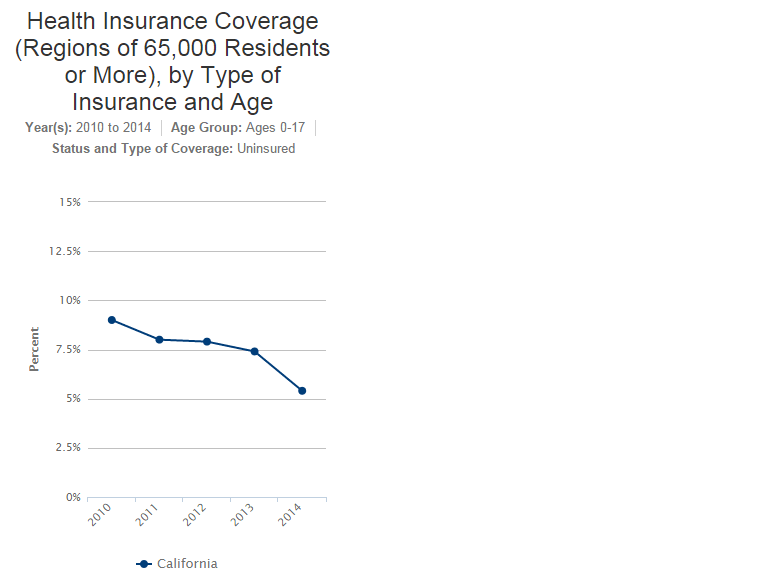 According to recently released data by KidsData.org, the number of children in California without health insurance has dropped by 40 percent over the past five years. This year's passage of SB 4 — which provides access to the Affordable Care Act for California's undocumented children — will insure even more of our state's children as we continue to fight for equity and #Health4All.