Five Ways to Vote for an All-In Economy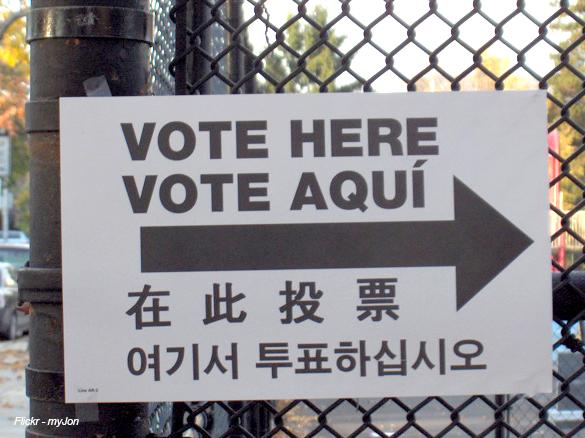 Equity and opportunity are on Election Day ballots around the country, giving millions of Americans the chance to vote for policies to build a just and inclusive economy.
Here are five ways that you can vote to put our cities, states, and the nation on a path to equitable growth and shared prosperity.
1. Improve wages and jobs
With Congress stalled on raising the minimum wage, cities and states across the political spectrum are putting the issue to voters. Ballot initiatives in Arkansas, Nebraska, South Dakota, and Alaska would raise wages up to $9.75 an hour. San Francisco's Proposition J would raise the minimum wage to $15 by 2018, putting the city even with Seattle for the nation's highest minimum wage. Illinois, New York, and cities from Los Angeles to Portland, Maine, are considering legislative action to raise wages.
Oakland's Measure FF considers both pay and job quality: it would set a $12.25 minimum, require sick leave, and allow hospitality workers to keep all wages and tips. Many small business owners have voiced support, saying these provisions would stimulate local spending, spur job creation, increase tax revenues, and boost their bottom lines. "As a restaurateur, I know that better salaries produce higher morale and lowers turnover rates," said downtown proprietor Eduardo Balaguer.
The Alliance for Business Leadership in Massachusetts has cited similar reasons for supporting a paid sick leave initiative, Question 4. It would allow employees to earn and use up to 40 hours of paid sick leave a year.
2. Eliminate barriers to economic inclusion
African Americans are nearly four times more likely than whites to be arrested for drug possession, even though both groups use drugs at similar rates. Criminal records for nonviolent offenses like these create life-long barriers to getting a job, attending college, obtaining a loan, or taking other basic steps toward self-sufficiency and success, hurting our communities and economy overall. That's why PolicyLink strongly supports California's Proposition 47, which aims at dismantling the system of harsh and disproportionate sentencing by reclassifying six low-level nonviolent crimes, including drug possession, shoplifting, and check forgery, from felonies to misdemeanors. Prop. 47 would cut prison costs by hundreds of millions of dollars annually and redirect approximately $1 billion over the next five years to K-12 school programs, substance abuse and mental health treatment, reentry support, truancy prevention, and services for crime victims.
3. Invest in human capabilities
Oregon could become the first state to create a permanent fund to finance student aid for post-secondary education, opening up opportunities for low- and middle-income students and strengthening workforce development. The Opportunity Initiative, Measure 86, would amend the Constitution to create an investment fund whose income would be dedicated to student assistance programs. To maximize the impact of those programs, administrators would be able to design incentives in three areas: critical degrees such as science and technology fields, vocational training, and on-time graduation to reduce college infrastructure costs for the state and student debt. Like most governments, Oregon already sells bonds to finance infrastructure projects like roads. Measure 86 is a novel strategy to allow the state to sell bonds to invest in human capital.
4. Connect communities to opportunity
More than one-quarter of a million residents of Clayton County, Georgia, south of Atlanta, could regain full public bus service, under a measure that would levy a one-cent sales tax to raise $46 million a year for public transportation investments. This has been a priority issue for equity advocates since 2010, when the county — where one in five residents is poor — ended the bus service that so many people relied on to get around. The move sent the community into an economic tailspin: businesses closed, jobs vanished, and property values fell. New transportation investments would help people connect to shopping, services, and employment, revving up the economy.
In San Francisco, where the economy is booming, Proposition G aims to make sure that lower-income residents can participate without being priced out. The measure would create a tax on housing speculation, to be imposed when multiunit properties are bought and resold within five years. The goal is to preserve affordable housing and the vibrant, diverse neighborhoods that have always been the city's lifeblood.
5. Protect voter rights and strengthen democratic participation
A wave of recent laws across the country have restricted voting rights —particularly for low-income residents, people of color, and students —undermining voter participation in important decisions, such as the ballot measures listed above. Two states are voting on Constitutional amendments to strengthen voter rights and participation. Connecticut's Question 1 would expand early voting by allowing greater access to absentee ballots. And in a far-reaching response to growing voter restrictions, the Illinois Right to Vote Amendment would prohibit any law that disproportionately curtails the rights of citizens to register to vote or cast a ballot based on race, ethnicity, language, national origin, religion, gender, sexual orientation, or income.
Can Having a Say in City Budgets Create More Economic Inclusion?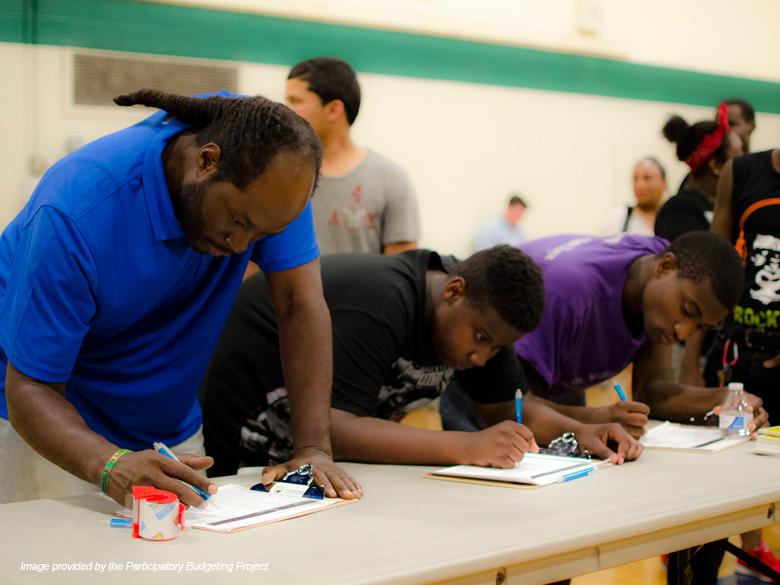 More than 1,500 young people in Boston, ages 12 to 25, recently voted on how to invest $1 million in city funds to improve opportunities for youth in lower-income communities.
In Vallejo, California, nearly 4,000 residents recently voted to spend $3.2 million in sales tax revenue to fund 12 community-designed projects, including neighborhood gardens, youth scholarships, and neighborhood infrastructure improvements.
And residents of nearly half of New York City's council districts are directly deciding how to allocate $25 million in public funds to strengthen their neighborhoods.
These initiatives are part of a rapidly growing movement called participatory budgeting (PB). Designed to empower communities and deepen democracy, PB engages people who have historically been excluded from political processes in determining public investment priorities. The process has the potential to expand economic opportunity where it is needed most.
Most PB initiatives so far have involved relatively small pools of money in municipal budgets, many of them restricted to infrastructure investments. However, a participatory approach was recently approved for money flowing to communities through Community Development Block Grants. Giving local residents control over federal investments in job creation, business expansion, affordable housing, and other opportunities supported by these grants could be a game-changer for low-income communities.
"As more people want to adopt participatory budgeting, it is moving into communities that have the highest needs, and I see the real potential it has to address inequity," said Maria Hadden, the Midwest Project Manager at the Participatory Budgeting Project, a nonprofit organization that works with communities to implement PB.
Residents write the rules
Started in Brazil 25 years ago, PB has expanded to more than 1,500 cities worldwide. A half-dozen cities in this country have implemented the process in the last five years and many more are considering it. The details of PB vary from place to place because residents and leaders in each community write their own rules about what kinds of projects qualify and who may vote. But the process uses a consistent structure across communities:
Residents, business owners, and elected officials work together in budget assemblies to identify neighborhood needs and brainstorm ideas to address them.
Community volunteers research the ideas, meet with city staff, and develop specific proposals that residents vote on.
Residents vote, generally choosing eight to 12 projects for funding from 20 to 30 proposals.
Voting is typically open to anyone over 16 regardless of immigration status, felony records, and other traditional barriers to political participation. In Vallejo, where nearly three-fourths of residents are people of color, about 20 percent of PB voters would not be eligible to cast a ballot in a government election, said Ginny Browne, a project manager of the Participatory Budgeting Project.
The source of the funds allocated through participatory budgeting is one of the most important factors in its impact. In Chicago, where PB first took hold in this country in 2009, several wards have used the process to decide on funding for infrastructure improvements like street repair and traffic-calming measures. But now, in a groundbreaking effort, the largely low-income African American community of West Humboldt Park is using PB — with $2 million in flexible tax-increment financing (TIF) funds — to add their voice to projects on workforce development and micro-lending. The community will vote early next year.
Youth take the lead
The process also has potential to inspire youth engagement. In January 2014, the City of Boston launched the nation's first youth-run PB initiative, Youth Lead the Change. Young people —the majority from low-income neighborhoods and of color —collaborated with youth advocates and community-based organizations to establish ground rules, create and review project proposals, and organize a youth vote on $1 million in capital investments.
Young people responded with excitement to the opportunity to take charge of public spending. They stayed after school for meetings and devoted late nights to debating the pros and cons and trade-offs of countless ideas. A digital platform, Citizeninvestor, allowed youth to participate online at every stage. Thousands offered opinions.
"PB has given hope to young people and importance to their voices," said Aslin Perez, a 19-year-old Youth Worker with The City School, and co-chair of Youth Lead the Change.
Project winners included laptops for several high schools, "art walls" to publicly showcase the work of young artists, and renovations in and around a few parks and playgrounds. Deeming the process a resounding success, Mayor Martin Walsh has committed another $1 million for a new round of youth-led PB in 2015.
The impact of PB is likely to reverberate for years to come — for the young participants and for the city.
"PB raises people's expectations," said Browne. "It's so different from how they're used to interacting with government. It gives people a sense of what is possible and it raises their expectations about what government should be doing."