"What Do You Need to Employ Rochester's Low-Income Residents?": A Conversation with Mayor Lovely Warren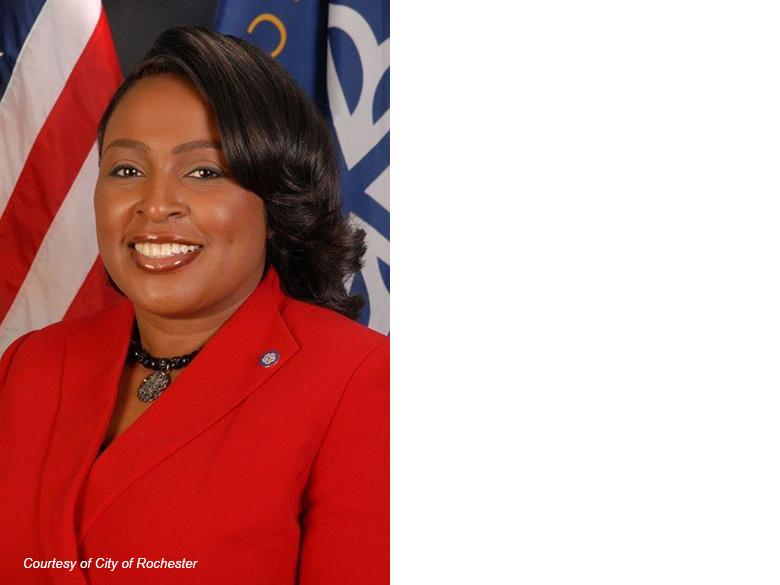 By Alexis Stephens
Like many cities across America, Rochester, New York, is a city of striking economic and social contrasts: inside the city limits the population is 62 percent people of color, while the metro area is 66 percent White. According to the National Equity Atlas, 20 percent of students of color within the city attend high-poverty schools compared with 2 percent of White students, and more than 40 percent of Blacks and Latinos live in the city's high-poverty neighborhoods compared with 10 percent of Whites.
Rochester's Mayor Lovely A. Warren has made alleviating poverty in neighborhoods a priority in her administration. Many of the programs she has spearheaded have focused on building community wealth. One effort, the Market Driven Community Co-op Corporation, is seeking to create a network of worker-owned cooperatives overseen and coordinated by the Democracy Collaborative. America's Tomorrow spoke with Warren about getting public buy-in for her initiatives, activating commercial corridors, and more.
Q: What are some of your goals for the co-op initiative?
A: Last year, the Democracy Collaborative came in and asked our anchor institutions questions like, "What are you outsourcing?" and "What types of businesses would you want to develop as a co-op?" The next phase will be to really drill down and decide what businesses we want to create. We'd like to replicate the success of Evergreen Cooperatives in Cleveland, but maybe not target the same types of businesses. For example, we know that the laundry co-op is not going to work in Rochester because we already have a laundry co-op model here. In Buffalo, they have a solar energy cooperative, so we wouldn't want to be in direct competition with one of our sister cities.
Q: Where have you seen the most job growth for low-income residents?
The hospitals. Rochester Regional and University of Rochester are really strong. They have opened up the door to low-income residents. We are starting to see growth in manufacturing as well. We have a program we started calling YAMTEP [Young Adults Manufacturer Training Employment Program] that helps prepare participants for careers in manufacturing. There are 22 people in our second class, and we have businesses that are eager to hire these people once they're done.
When you look at our most challenged neighborhoods, many of the people who live in them aren't working. And many of those that do are in service and non-living wage jobs. So we are supporting the movement to raise the minimum wage to $15 an hour as a start. We also want to build worker-driven co-ops within neighborhoods, so people can have places to work close to where they live. We also think about the barriers to owning businesses. Could childcare be a factor? Our work with the Anti-Poverty Initiative empowers our residents to look at what we need to do to build communities and community wealth.
Q: You've spoken about public buy-in being challenging in Rochester, because not everyone acknowledges or agrees that poverty is a serious issue. How do you make sure they support your work?
My administration tries to bring these issues to those other folks that generally wouldn't automatically see them, and to do it in a way that makes it real for them. We work with our business community to ask them, "What do you need to employ Rochester's low-income residents?" and, "If we give them the skills that you're talking about, will you hire them?" That's what YAMTEP is about.
This is everybody's problem. What we are noticing is that poverty is starting to grow in our suburbs as well. And what happens in the city of Rochester affects the surrounding Monroe County, because we are the regional center. We can tell what's happening by looking at the number of children who have qualified for free and reduced lunches in schools. A lot of times, people don't want to deal with this until it hits home.
Q: Can you tell me about the plan to activate commercial corridors and make sure communities of color are part of business creation?
On our commercial corridors, often there are only corner stores and many of them don't have fresh fruits and vegetables and are not providing healthy foods to our community. When we talk to the residents, they want different types of businesses: bakeries, coffee shops, florists. As a city, we want to bring in the types of businesses the neighborhood wants in a way that is beneficial for them — businesses that they will frequent — so that we're not being part of the problem.
We are looking at how many empty storefronts we have and what types of façade improvements we need to make. We want to know who owns the buildings and whether they are people of color. Do the buildings have some contamination issues that we need to deal with? We're really working with landowners and building owners to bring these buildings up to a different standard, so different types of businesses will be attracted.
We're also looking at Kiva and other organizations that do micro-loans, so that we can help people who might have a business idea but have not had the opportunity to open up a business on a commercial corridor yet.
Q: How do you change economic development from within and strategically shift the way that city government does its business?
When I became mayor, I said we could both redevelop our downtown and be supportive to our community development corporations, even though their needs can be completely different. When I look at my budget, I'm looking at how I can help children and families. In the beginning, our investment goals were our recreation centers, our libraries, and our neighborhoods. Of course, you have to provide essential services, like police and fire, but there is also discretionary money I can use to provide for our most challenged areas to uplift them.
One of the things that our former mayor was doing was focusing on a residential real estate investment strategy — trying to improve the housing stock in neighborhoods and giving support to landlords and homeowners to fix up houses. I thought that was a great investment, but my focus is more on investing in people. As I start to look at my budget, that's the question I asked myself: "How are we investing in people so that they can be a part of the economic recovery of our city?"
PHOTO ON HOME PAGE: Welcome sign on Clinton Avenue. Photo Credit: Communications Bureau, City of Rochester
In New Fellowship, Peer Cities Grow Equitable Economic Opportunities Together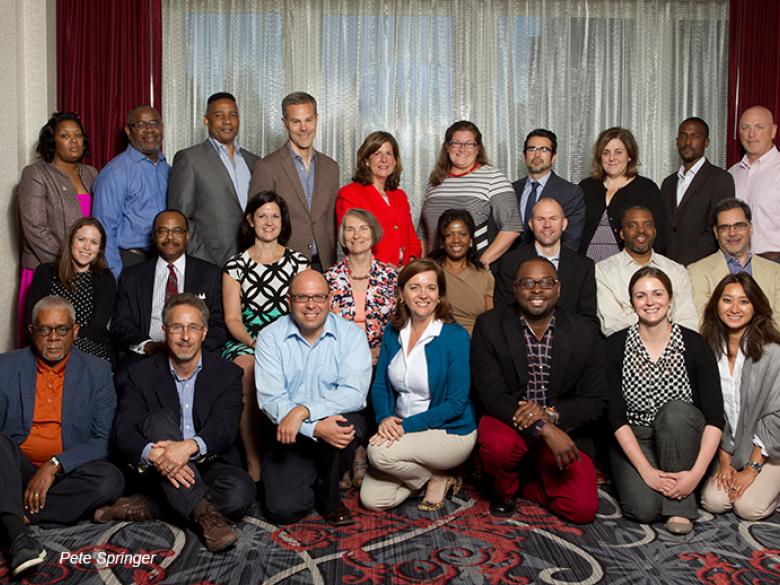 2016-2017 Fellows and Equitable Economic Development Staff.
By Alexis Stephens
"We do not want to neglect or ignore our underserved population," said Gwendolyn Tillotson, deputy director of the Department of Economic Development in Houston, Texas. "Rather, Mayor Sylvester Turner and his new administration have made it very clear that it is important for us to be smart and equitable in how we use our resources — to ensure that every community has an opportunity to have access to a good education, to good work opportunities, and to build wealth."
Last week, Tillotson and two other representatives from Houston traveled to Portland, Oregon, to attend the opening retreat of the Equitable Economic Development Fellowship, a two-year, $1 million effort from the National League of Cities (NLC), PolicyLink, and the Urban Land Institute (ULI) to help equity, transparency, sustainability, and community engagement become driving forces in local economic development efforts. Six cities were chosen to participate in the inaugural year of the fellowship: Boston, Charlotte, Houston, Memphis, Milwaukee, and Minneapolis.
While in Portland, each city team identified particular equity challenges to focus on during the course of the fellowship. Tillotson said that Houston is looking to prioritize social and economic equity in the implementation of the economic development components of Plan Houston, the city's first-ever general plan. And in 2010, the city began proactively using the Department of Economic Development as a resource for the private sector and the city's smaller communities.
"Historically, many communities have not seen the benefits of local government economic development policies and programs," said Jess Zimbabwe, director of the Daniel Rose Center for Public Leadership in Land Use at NLC and ULI. "It isn't difficult to find examples in cities and states around the country where local governments have particularly shortchanged people of color, immigrants, and low-income neighborhoods."
During the fellowship, cities will receive support, leadership development, and technical assistance from NLC, PolicyLink, and ULI — in addition to peer-learning opportunities — to address diversity and inclusion challenges. Another class of six cities will be invited to participate in the second year of the program in 2017.
"The fellowship is a real opportunity to learn from equity experts and our peer cities," said Martha Brown, deputy commissioner of the Department of City Development in Milwaukee, Wisconsin. The city owns a large portfolio of distressed commercial buildings in neighborhoods with few employment and small-business opportunities. The city is looking to position that inventory to maximize opportunity for start-up small developers and entrepreneurs. "With the help of staff from NLC, PolicyLink, and ULI, we hope to create a model for ownership, renovation, and management of these buildings, and develop a pipeline of entrepreneur tenants," added Brown.
"We see the equitable economic development fellowship as an opportunity to evaluate and improve practices," she continued, "so city government plays a positive role in growing prosperity among all its residents."
"Cities are recognizing that creating equitable and sustainable economic prosperity for all should be the goal of their activities across the board," said Angela Glover Blackwell, PolicyLink president and CEO. "We are excited to be working with economic development leaders who are eager to integrate an equity approach into their efforts to grow strong local economies."