A Seat at the Table: Through Community Participation, New Orleans Leads the Fair Housing Movement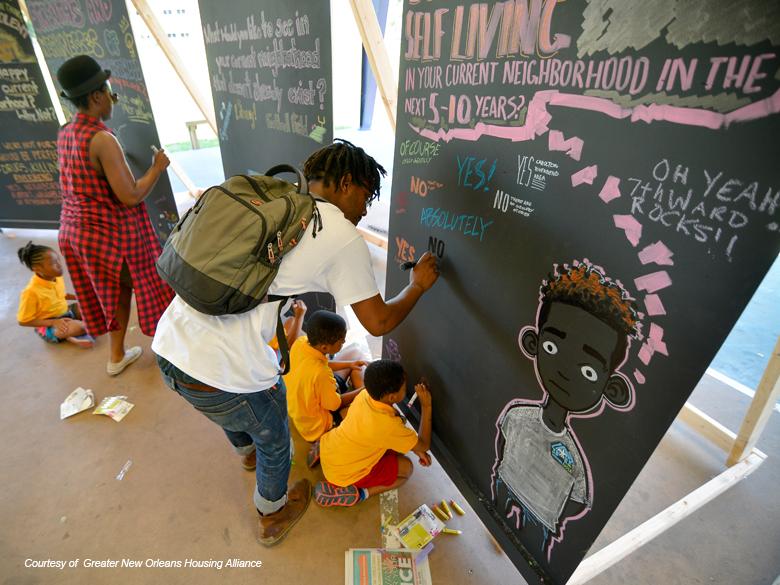 Caption: At Housing NOLA Summit 2015, residents envisioned the future of their neighborhoods. 
By Alexis Stephens
Isabel Barrios, a program officer at the Greater New Orleans Foundation, recently facilitated a conversation with young people in New Orleans in which they were asked what health and public safety mean to them. They responded by saying things like: "It means not hearing gunshots when I'm playing on the basketball court," and "I would be able to ride my bike somewhere and not have to worry about it being stolen," and "Health means having water fountains in our neighborhood, because it can get very hot out and I want to be able to drink water when I'm playing outside."
"There were all of these great things that all of these kids brought up that barely fall within into what people call public safety in city planning processes," said Barrios. "There is an incredible opportunity if you have meaningful engagement and really hear people out." She mentioned that when residents asked to return to their public housing developments after Hurricane Katrina, their calls were translated by politicians into requests for more "affordable housing" in the form of vouchers — signifying that filtering may still affect their trust.
Last week, the City of New Orleans and the Housing Authority of New Orleans (HANO) made a concerted effort to respond to city residents' specific appeals for improved housing and greater connection to opportunity in the joint Assessment of Fair Housing (AFH) plan they submitted to the U.S. Department of Housing and Urban Development (HUD). By submitting this plan, New Orleans became one of the first of 20 jurisdictions in 2016 to adhere to the update to the Fair Housing Act released in 2015 requiring federal housing funding grantees to "Affirmatively Further Fair Housing" (also known as the AFFH rule). Over 100 more will follow in 2017, and all remaining HUD jurisdictions in the following years. The revamped AFFH rule lays the foundation to ensure that HUD resources are being effectively used to foster communities of opportunity. The framework helps cities, counties, regions, states, and housing authorities examine historic patterns of segregation, expand housing choices, and foster inclusive communities free of discrimination.
Community outreach that builds on past efforts
Over the course of the summer and early fall, HANO and the city met with residents, housing, transportation, and health advocates, and community organizations to get their input on the housing opportunity plan. They also coordinated with the Greater New Orleans Fair Housing Action Center (GNOFHAC) to hold sessions to train community-based groups on the more technical aspects of the AFH plan, and to engage communities not usually at planning tables. Seven partner groups (including PolicyLink) served as a coordinating committee that synthesized community input, guided research, addressed gaps in the data that were being gathered, and drafted the Assessment of Fair Housing that set goals for healthy communities of opportunity and prioritized actions to be pursued over the next five years.  The plan's development was guided by equity, as defined by PolicyLink: "just and fair inclusion into a society in which all can participate, prosper, and reach their full potential."
The plan includes a summary of residents' concerns gathered during the community participation process channels, such as escalating housing costs within proximity of new hospitals (making both health care and job access more difficult), criminal background checks limiting employment opportunities, and transportation services prioritizing tourists over transit-dependent residents. It also reports on demographic trends in the city and where racially/ethnically concentrated areas of poverty exist. The numbers were revealing, with 66 percent of the more than 75,000 renter households classified as low-income, and 77 percent of those households reporting housing problems.
The factors contributing to disparities in access to opportunity informed the development of the AFH plan's key goals, which include expanding affordable housing in high-opportunity areas, reducing housing segregation, and prioritizing public investments in transit, quality schools, housing, parks, and other amenities in underserved communities. (Read more about the plan's goals here.)
The AFH plan is building on recent community-based planning efforts, including: HousingNOLA, a 10-year strategy and implementation plan launched in August 2015 as a partnership of community leaders and public, private, and nonprofit organizations working to solve New Orleans's affordable housing crisis; Housing for a Resilient New Orleans, a five-year strategy for the city to build or preserve 7,500 affordable housing units by 2021; and a rental housing assessment released in March 2016 — conducted by the Center for Community Progress and commissioned by the New Orleans Redevelopment Authority — which found that nearly four out of five low-income, cost-burdened renter households in New Orleans are Black.
"Redlining is not a thing of the past"
The community engagement groundwork laid through these other strategic processes had a direct impact on the AFH plan, and will enable concrete federal resources to be invested in results. Andreanecia Morris, executive director of HousingNOLA, related how the HousingNOLA community review team recommended that the AFH plan look to leverage more private investment in low-opportunity neighborhoods through encouraging banks to spend their Community Reinvestment Act (CRA) money in those places — fulfilling the banks' obligation to meet the credit needs of low- and moderate-income neighborhoods.
"Redlining is not a thing of the past," said Morris. "We called for an assessment of where lenders are working in New Orleans. The community took advantage of the opportunity to participate in the Louisiana Reinvestment Summit and submitted and integrated those comments into the AFH plan and HousingNOLA's 2017 Action Plan."
"Racial discrimination undergirds a lot of the discrimination that we see"
In addition to leading the community engagement work of the AFH plan, the Greater New Orleans Fair Housing Action Center provided data to the city and HANO about both public sector barriers and private acts of discrimination to fair housing choice.
"Racial discrimination undergirds a lot of the discrimination that we see," said Cashauna Hill, executive director of the Center. "When we conducted an investigation of landlords discriminating against housing choice voucher program participants, we found that 80 percent would not accept voucher holders, which is still not illegal in New Orleans or in the state of Louisiana. We found that racial discrimination was at the root of some of the refusals to accept vouchers."
The Center receives daily calls from people being discriminated against: families being told that landlords will not accept children, people with disabilities finding limited choices for accessible apartments, renters living in substandard living conditions and struggling to get their landlords to treat mold or repair sewage lines.
"The good news is that we've got some leaders at the local level who are really interested in making living conditions better for renters in the city and in enacting policies to address the affordability crisis that's going on," said Hill. "We're working with a coalition that includes public health advocates to continue to raise these issues. What we need is a mechanism or framework that is going to require housing providers in the city to live up to their end of the deal to provide healthy and safe housing for the tenants." Adopting health and safety standards for occupied rental housing in the form of a citywide rental registry ordinance is listed as one of the short-term goals of the AFH plan.
Staying close to "the gumbo you like"
Barrios from the Greater New Orleans Foundation added that the release of New Orleans's AFH plan will have implications not only for HUD's decisions but also for the foundation's own grantmaking. As she said, if the Foundation wants to support a transit advocacy organization like Ride New Orleans, "the AFH plan will help us get a good sense of how Ride New Orleans is working along with housing advocates and workforce development folks to keep them abreast and informed. In that sense, the AFH plan is a great way to create a space for Ride New Orleans to be more connected with housing folks who may not have been making those connections before," she added.
"The people of New Orleans are pretty clear on their own sense of well-being," Barrios concluded, emphasizing once more the importance of meaningful community engagement in making far-reaching decisions about making places more opportunity-rich. "It's not only just connecting places to health care. Our sense of well-being can also be closely related to proximity to our families and friends — the things we've always known and cherished," said Barrios. "It can even be where you can get the gumbo you like — it's all part of what makes people feel good."
Earlier this year, PolicyLink and the Kresge Foundation released Healthy Communities of Opportunity: An Equity Blueprint to Address America's Housing Challenges. It explains how health, housing, and economic security policies must be aligned to achieve equitable housing outcomes and discusses how the AFFH rule presents a key avenue to advancing opportunity. PolicyLink played a supportive role in developing the Assessment of Fair Housing (AFH) plan in New Orleans.
Fueling an Equitable Labor Movement: A Conversation with Jobs With Justice Executive Director Sarita Gupta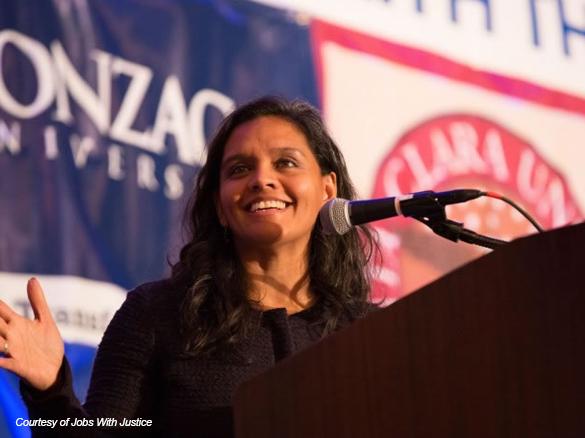 By Courtney Hutchison
Named one of Bill Moyers's "19 Young Activists Changing America," Sarita Gupta, executive director of Jobs With Justice, is a driving force for economic and social justice within today's labor movement. Drawn to the labor movement as a student activist at Mount Holyoke College, Gupta has spent her career fighting for the rights and dignity of working people, especially low-wage earners and workers of color.
Under Gupta's direction, Jobs With Justice has helped to win wage increases for 10 million low-income New Yorkers and Californians, secured overtime and wage protection for two million home-care workers, and helped update overtime regulations that affect 12.5 million workers. Gupta also serves as co-director of Caring Across Generations, a national movement working to transform the growing care-giving sector.
Here, Gupta shares her vision for a healthier economy and brighter future through advancing the rights, voice, and power of America's workers.
You began your career in advocacy as a student activist, and you served at the United States Student Association from 1996 to 1998 first as vice president, then as president. How did this early work in education set the stage for your transition into the labor movement?
As a student activist, I witnessed friends and fellow students having to drop out of school because they couldn't afford tuition. I began to see systemic issues at play. You can't achieve educational success without having economic stability, and without attaining a higher level of education, your job options are limited. So, I was moved to get involved and help break this cycle.
During my tenure at the United States Student Association (USSA), I realized that the forces moving an agenda to privatize and corporatize higher education, cut taxes, and limit student voice in shaping policies in their states, were many of the same special interests who stood against the rights and opportunities of working people. It was clear to me that the only way to counter the attacks on students and working people was to build a joint movement.
Given that the fight to increase worker power in the United States is often in opposition to powerful corporate interests, how can advocates meet the challenge of changing the culture of labor in the U.S.?
There will always be antagonism between corporate interests and working people's interests, so it's healthy and honest for there to be conflict and differences. And one should be suspect if someone argues otherwise. In the history of the United States, working people have struggled for all the protections that we have earned — from the safety net to child labor laws, to the eight-hour workday. These bedrock protections weren't handed down to Americans out of the charity and benevolence of corporations or our government. Thirty years of neoliberal policy in this country led to corporations holding an extreme concentration of wealth and power. If we are ever going to achieve the type of equity that is necessary and healthy for the economy, we need to shift the balance of power back into the hands of working people and ensure that the voices of unions of working people are respected, as they are in many industrialized nations.
Is it going to be culturally challenging? Of course, but by joining for a common cause, we can have more of a say and negotiate more for ourselves, as well as the next generation. Corporations are not immune from the pressure of a rising tide of public outrage and a groundswell of critique from employees. We also can look to the growing movement of socially responsible business models, like B corporations, as evidence that there are American businesses striving to reconsider their relationship with their employees. They are proving that businesses thrive when they listen to and invest in people who make them successful.
In your opinion, what is the relationship between workers' rights and the overall strength of the economy?
In recent decades, much of the discourse around the economy has focused on the needs of corporate interests, which only addresses one part of the whole economy. As a result, policies that address the economic security of families are often cast as a threat to economic growth. But, if people lack the means to participate in the economy as workers and consumers, then the economy suffers.
At Jobs With Justice, we believe a strong and vibrant national economy is one in which the needs of both families and firms are met. Our economy is off-balance with too much power and money in the hands of too few. When working people can come together and negotiate over the terms and conditions in the workplace, and can have input over their communities, we can rebalance the economy.
How will labor movements help the United States navigate the dual demographic shifts facing our economy: the increasing size of our aging population and the rapidly growing majority of color?
This is an exciting time for our nation. We have the opportunity to write new rules to address the future of our communities, the future of work, and future generations. But by failing to implement solutions, we're allowing some profitable employers to push people of color into low-wage jobs with no opportunity for advancement. Many hardworking moms, dads, and young people aren't earning enough to sustain their families, despite working in booming sectors of society like home care, restaurant and food services, child care, and retail, to name a few.
Thankfully, the growing Fight for $15 and a Union movement, the movement for Black lives, adjunct professors pushing back against poverty wages, and countless other campaigns for change are all fueling the demands for a better life and a new social contract.
Given the growth of our aging population, we're in the midst of an unprecedented boom in the need for care providers. At the same time, the baby boomers are living longer than any previous generation, thanks to advances in technology and health care. While care is the work that makes all other work possible, caregivers like nannies and home care aides who look after our elders and children work under strenuous, highly vulnerable conditions, while earning poverty wages.
We have a tremendous opportunity to meet the soaring need for high-quality caregivers and ensure these jobs are good jobs — ones that offer stability and opportunity for the millions of people who do this work every day. To meet that challenge, the campaign I co-created called Caring Across Generations, is mobilizing millions of people to place care at the forefront of the national conversation, and move policies that make care affordable and accessible.
As grassroots organizations work to shape U.S. workforce policies, how should they decide where to focus their energy?
Deploying energies locally would be smart, as generally, we have the most opportunity to win at the state and municipal level. Local wins are foundational. By winning a new policy demand, organizations can set in motion more change by inspiring other communities to follow suit and demonstrate what's possible. Regardless of the gridlock in DC, the campaigns that are most transformative have been focused locally, modeled a new policy approach, and built momentum across the country.
For example, we led the charge with Jobs With Justice San Francisco to enact the first set of comprehensive and meaningful standards to address unstable work schedules and stop employers from assigning employees too few hours on too short notice, which jeopardizes their ability to provide for their families. Now 40,000 people who work in large retail and restaurant establishments in San Francisco have stronger guarantees of a fair and consistent schedule. Our friends at Working Washington were coordinating and learning lessons from us as they mounted a similar campaign, and just last month the Seattle City Council passed their robust scheduling legislation, which the mayor has committed to signing.
Grassroots organizations also should focus their energies on shaping the public conversation about the policies they want to enact. Grassroots groups and policy groups too often fall back on doing what they know best — talking to their bases and constituencies in the language that speaks to them. It's not enough. We have to build the muscle of connecting with people who aren't already on board with us.