Equitable Innovation Economies: Cultivating Diverse Leadership and an Inclusive Start-Up Culture in Portland, Oregon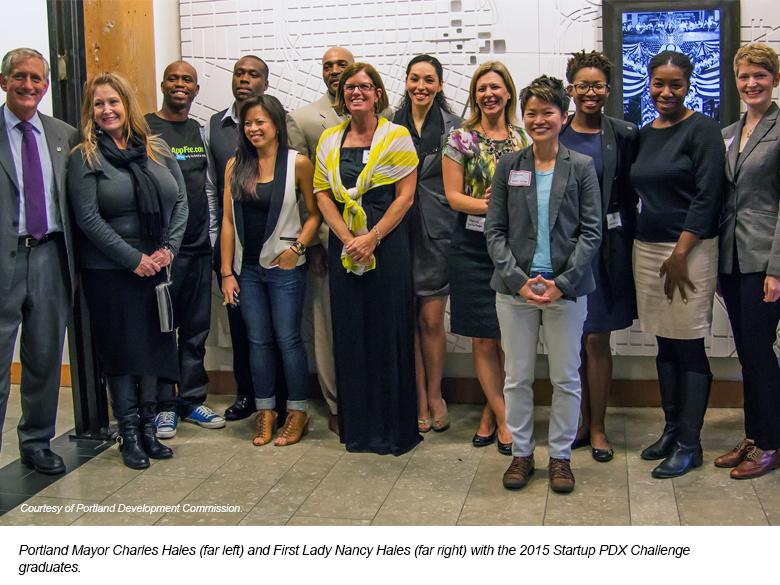 By Alexis Stephens
The Equitable Innovation Economies initiative is a multiyear effort led by the Pratt Center for Community Development in partnership with PolicyLink and the Urban Manufacturing Alliance to help cities pursue inclusive growth strategies to advance more equitable outcomes in their innovation and manufacturing sectors. Portland, Oregon, profiled below, is one of the four cities involved in the pilot phase of this initiative. Read more at http://www.prattcenter.net/eie.
"We're a very White, progressive city," said Katherine Krajnak, senior industry liaison at the Portland Development Commission (PDC). At 72 percent non-Hispanic White, Portland's White population ranks among the highest in ratio among America's 50 largest metros. "But there's diverse talent and diverse leadership in our community that we need to be supporting."
PDC, Portland's redevelopment, urban renewal, and economic development agency, has acknowledged that change is coming — according to the National Equity Atlas, by 2040, 42 percent of the city's population will be people of color. Recognizing that Portland's economic future is tied to growing the wealth of the city's communities of color, the agency made equity and inclusion the central themes of its five-year strategic plan, adopted in 2015.
The agency hadn't shifted its thinking and approaches in isolation. Activist organizations and affinity groups in the city laid some of the early groundwork. Krajnak cites studies done in the early 2000s by the organization Coalition of Communities of Color as generating powerful and unsettling data that helped city agencies recognize how the city has historically contributed to structural racism and how to take action to reverse inequities.
Since Portland began participating in the Equitable Innovation Economies (EIE) initiative, Krajnak said that "the level of focus on inclusion has been amplified times 10. It was already there, but it's been more institutionalized in to our strategic planning process."
Read the rest of this story at the Pratt Center for Community Development.
Community Artists Envision a Thriving Baltimore without Displacement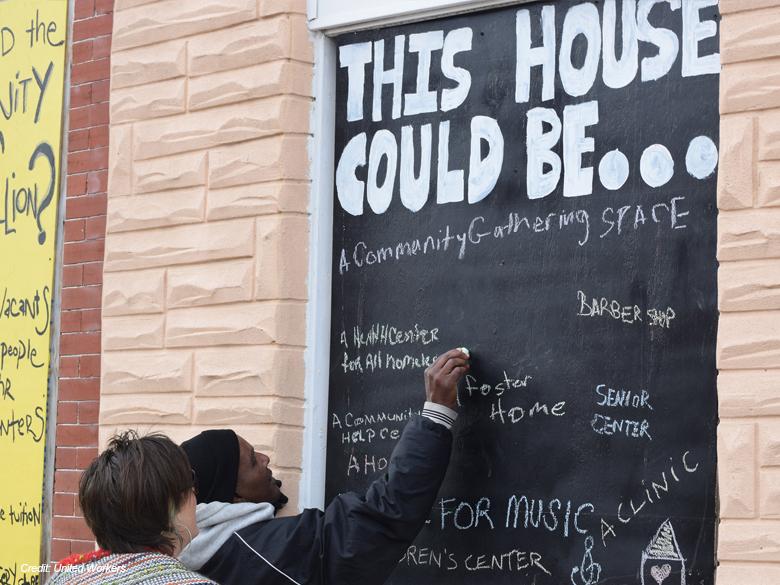 By Alexis Stephens
"Robust, democratically controlled community-based organizations have the capacity to drive development locally," said Greg Sawtell, a leadership organizer at Baltimore's United Workers. The human rights organization is gearing up for a month-long exhibition of the community's multiple visions for local development, opening in September. The Development Without Displacement art show will highlight works focusing on neighborhood revitalization efforts that aim to protect the city's vulnerable low-income residents from displacement, eviction, and alienation.
United Workers' arts and culture projects are intertwined with their campaigns: the projects are tools to critically engage with issues of housing, labor, and environmental injustice and draw attention to the lived experience of locals. "The arts — in the form of music, painting, storytelling, and more — are a strength that we have on the ground," said Sawtell. "We've used art both to shine a light on untold stories, and as a way to ignite the collective imagination to think beyond what seems possible in the everyday."
Free Your Voice and the fight against an incinerator
One of United Workers' most successful and well-publicized recent campaigns was an effort to block the building of a trash-to-energy incinerator in the Curtis Bay neighborhood of South Baltimore. Proposed in 2010, the 90-acre site was planned to house a plant that would burn 4,000 tons of trash a day. The complex would have been less than a mile from two public schools, in a neighborhood already beset by multiple toxic pollution burdens.
The anti-incinerator campaign was largely youth-led, spearheaded by one of United Workers' human rights committees, Free Your Voice. Young people conducted research about the impacts of the incinerator, canvassed neighborhoods to disseminate information about the plans, and organized protests and events. The students discovered that Baltimore City Public Schools (BCPS), other city government agencies, and local entities — including several arts-based institutions — had signed contracts to purchase energy from the proposed incinerator. Students launched a divestment campaign to put pressure on these entities to demonstrate their commitment to environmental justice and equitable development. Sisters Audrey and Leah Rozier wrote and performed the song "Free Your Voice" for the Baltimore City School Board in 2014, singing: "It'll all get better/We can save the world/And it starts with music/Get your message heard."
In 2015, BCPS and the Baltimore City Board of Estimates terminated their contracts with the incinerator developer, Energy Answers. In spring 2016, the Maryland Department of the Environment and the Public Service Commission both declared the incinerator's permit to be invalid, halting the project indefinitely. For her leadership in the campaign, high school student Destiny Watford became the 2016 North American winner of the Goldman Environmental Prize, which honors grassroots environmental activists.
Sawtell said that local residents initially supported Free Your Voice as a nice research project and leadership development activity, but didn't have much faith that young people would be able to stop the construction of the incinerator. "Those weren't cynical adults," he explained, "Those were people who felt like they were managing the expectations of young people. Free Your Voice went from hearing those responses to their efforts to steadily building power and a campaign, and now this is recognized as one of the most successful environmental justice campaigns currently in Maryland."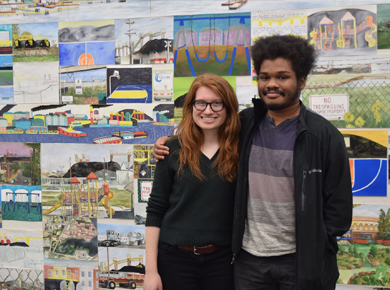 Artists, arts organizations, and shared responsibility
The Baltimore Museum of Art and the Walters Art Museum were among the Baltimore arts institutions that ultimately divested from contracts with Energy Answers in response to pressure from the Free Your Voice campaign. Valeska Populoh, chair of the fibers department at Maryland Institute College of Art (MICA), said that the incinerator campaign, the uprising following the death of Freddie Gray, and other recent events have resulted in an evolving conversation among artists, cultural workers and producers, and arts institutions in Baltimore about how they can be more accountable to the communities in which they are living and working.
"My sense is that we have endeavored to be more self-aware about the power that we have," said Populoh, "and how to responsibly use that power and share that power with the communities that exist in Baltimore that are endeavoring to create and sustain social movement work."
She added that the Baltimore uprising, in particular, had artists, "once again really being asked to be self-reflective so that they were not overtaking situations, that they were not being insensitive to what was actually happening to communities, and that they were really there to record the work of the community and to provide resources, expertise, and skill sets when possible."
As an artist, Populoh has collaborated on works with young leaders from Free Your Voice, and added that their work is successful because it creates "touchstones for people to celebrate positive victories and powerful stories."
Fair development without displacement
Sawtell explained that the fundamental thread between United Workers' environmental justice, housing, and community development work is land and how it is valued and transacted. "The model of development that we see here — in Port Covington, Harbor Point, or elsewhere — is that you pump lots of public resources into large private projects that are already heavily financed and capitalized with the promise of jobs. But these projects don't serve communities, they actually starve them of basic resources, like fire stations, schools, public safety, rec centers, and arts programs.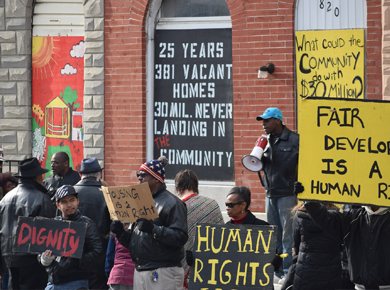 Land is also a focal point of how the organization uses arts and culture to uplift its various efforts. United Workers' upcoming Development without Displacement art show lays out a critique and positive vision for development in the city, exhibiting a new set of community-designed priorities around affordable housing. The organization is a member of the Baltimore Housing Roundtable, a coalition of groups focused on community development. In late January, the coalition released a report, Community + Land + Trust: Tools for Development without Displacement, which argues that "authentic community participation and a commitment to development without displacement can be a viable strategy to help revitalize Baltimore's disinvested neighborhoods."
The Roundtable has created a "20/20 vision for fair development" asking the city to commit $40 million annually: $20 million in public bonds to an affordable housing trust fund to create permanently affordable housing, and $20 million in public bonds that would go to hiring residents to deconstruct vacant structures, build green space, and provide opportunities for urban agriculture. On August 8, United Workers and the Baltimore Housing Roundtable supported Housing for All Baltimore in submitting over 18,000 signatures to put the creation of a city housing trust fund on the ballot. If over 10,000 are deemed valid, the issue will be put on the ballot in the November 8 election.
Free Your Voice's June 2016 video, "A Fair Development Vision for Baltimore"
So far, United Workers has received over 100 submissions to the Development without Displacement art show. "Many works will be by artists and residents directly impacted by displacement," said Sawtell. The show will run from September 1 to 30, with an opening reception on September 9, 2016 from 6 p.m. to 8 p.m. at Chesapeake Arts Center.
"United Workers are really good students of social movements," said Populoh. "They study the role arts and culture have played historically, when it has been effective and appropriate, how it has been used strategically, and how it has told stories that people might otherwise have difficulty accessing."
All photos courtesy of United Workers.