It Takes a City: How Detroit Is Making a Homegrown Comeback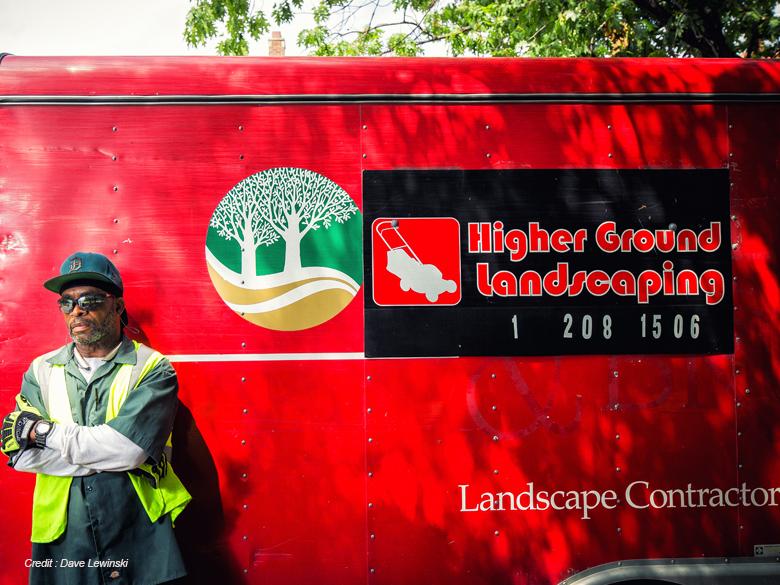 Craig Grissom of Higher Ground Landscaping.
By Alexis Stephens
Conjuring a mental image of Detroit is easy if you've been paying attention to some of the comeback stories that have been streaming out of the city: it is the Rust Belt's chrome mecca coming back from the brink, with daring restauranteurs and visionary start-ups injecting new life into ghostly factories and disinvested working-class neighborhoods. But these predominant narratives only tell part of the story: economic growth is concentrated in pockets close to the central core, and has benefited outsiders more than locals. In 2007, 36 percent of jobs in the central business district were held by Detroiters, but by 2013, that number dropped to 23.7 percent.
"The condition that Detroit is in has created a can-do, collaborative, maker culture," said Kevin Ramon, business coach at Central Detroit Christian Community Development Corporation. "But there are a lot of people in Detroit's underserved communities that don't have the financial capacity or skill sets to get their businesses off the ground as fast as others outside of those communities." But a network of organizations in the city is working to change that.
Ramon provides marketing and general business coaching support for Central Detroit residents through the business development work of Central Detroit Christian, which is part of a cottage industry including foundations, nonprofits, incubators, and co-working spaces that provide Detroit's low-income residents and people of color with resources and opportunities to launch successful small businesses.
Detroit is proving what can happen when a robust business ecosystem — one that is committed to inclusion — sprouts up to combat the economic inequality that too often accompanies a city's comeback. Below are three examples of companies owned by Detroiters that are tapping into the new business resources available to grow and ensure that Detroit's renaissance is built on a foundation of success for local residents of color.
From Returning Citizen to In-Demand Business Owner
When Craig Grissom returned to Central Detroit after 14 years of incarceration, he turned to landscaping work to make money. "I couldn't get hired anywhere, so I had to create my job," he said.
In 2009, Grissom started to build his own small clientele. Two years later, Lisa Johanon, who oversees Central Detroit Christian's portfolio of 10 businesses, offered Grissom the job of managing one of them, Higher Ground Landscaping. "I had been making a couple of dollars on my own, but it wasn't steady," he said. "With that opportunity, I had a steady income."
In return, Grissom has tried to hire other returning citizens from the neighborhood. "Somebody gave me a chance," he added. "Lisa helped me out and if I could help someone else out, sure enough, I would. I hired someone this past summer who was just a new release and I gave him the opportunity."
Through Central Detroit Christian, Grissom completed an entrepreneur training class at ProsperUS in 2014. He was able to purchase Higher Ground Landscaping in 2015 and obtained working capital through loans from ProsperUS and Southwest Solutions (both of which have since been paid off). Grissom's contracts now include Henry Ford Health Center and the Woodward Avenue Streetcar project.
Both Central Detroit Christian and ProsperUS receive funding from the New Economy Initiative (NEI), a collaboration of 13 national and local foundations founded in 2007 that has grown into one of the largest philanthropy-led regional economic development initiatives in the United States. A recent report from NEI outlines the impact of its grantmaking, and the results are impressive: through $96.2 million in grants, NEI has helped to launch 1,700 new companies, creating more than 17,000 jobs.
The success of Grissom and other entrepreneurs like him speaks to the power of Detroit organizations working together and collaborating to build a network of entrepreneurs of color — especially those with a passion for training and employing locally. According to Matthew Lewis of NEI, the initiative wants to focus its grantmaking efforts to ramp up local hiring to ensure that Detroit residents reap the benefits of their city's comeback. The results so far are promising: the 2016 NEIdeas winners were 75 percent people of color and 60 percent women-owned businesses, and NEI has received applications from every Detroit zip code.
From Selling out of a Trunk to the Shelves of Whole Foods
Nailah Ellis-Brown, another local entrepreneur, feels frustrated about the way that Detroit has been portrayed in the media. "A lot of people think you can just buy a building in Detroit and grow a $1 million business," said Ellis-Brown. "Detroit has been portrayed as this wide-open market, but people are just coming in and not providing jobs or training. They are bringing in the workers they want to use. It doesn't make sense to come in and fix downtown, midtown, and a couple of blocks along Woodward. That's not the entire city."
Ellis-Brown began selling her grandfather's hibiscus iced tea recipe out of the trunk of her car in 2008. Today, Ellis Infinity Beverage Company drinks are being sold in over 300 retailers throughout the Midwest, including at Whole Foods, and she was named one of Forbes magazine's "30 Under 30" in the manufacturing industry. Along the way, Ellis-Brown found resources throughout the region, including from Michigan State University Product Center, "which has been amazing as far as labeling and the random stuff like barcodes and nutritional information," and Michigan Minority Supplier Development Council, which helped Ellis-Brown with contracting. But she is proud of how much she's been able to do on her own.
"Being a Detroit native, I've never been the type to wait on handouts," she said. "If there's something you want, you've got to go get it yourself. That's how I was raised and how things tend to be for people within the Black community." She's committed to hiring local residents, and nine of her 15 staff members on the production line have special needs. She works through a program called Services to Enhance Potential and also hires walk-ins, online applicants, and over social media. "No one really takes the time to work with individuals with special needs. With the passions they have and the joy I see when they come to work, it makes all of the difference in the world to me," said Ellis-Brown. "One of my passions and aspirations is for my company to provide job support and job opportunities for Detroit natives."
A Master Plumber with a Vision
One of NEI's grantmaking programs, NEIdeas, challenges entrepreneurs to come up with ideas to help grow their businesses. Businesses that gross under $750,000 annually compete for one of 30 $10,000 awards; businesses that gross between $750,000 and $5 million compete for one of two $100,000 awards.
Benkari Mechanical, a plumbing enterprise, won a $10,000 award in 2015. Founded by Adrienne Bennett, said to be America's first Black female licensed master plumber and Michigan's first and only female licensed master plumber and plumbing contractor, the company was looking for a way to grow to its next level.
"We are small, we are minority, and we are just trying to fit in," said Bennett. "Until now we have been self-funded. Now we are at the point that for us to grow, we have to pursue larger projects. Banks literally want your life for the money they want to loan you." With the NEIdeas grant, the company purchased software and training to help automate its contract bidding process. The first time Benkari used the software, it won its biggest contract to date — for the new Detroit Red Wings arena currently under construction.
"It would have taken a much longer time to estimate without the software," said A.K. Bennett, Adrienne's son and project manager for the company. "We see this project as being a stepping stone to larger projects'"
One of Benkari's biggest growth challenges is finding qualified local union workers. The union provides a five-year apprenticeship program, but with the growth of the central business district and an executive order that projects are required to have 51 percent of local trade labor to qualify for city financing, Benkari Mechanical's labor pool is often dry. "After the 2008 crash, there was no push to open the apprenticeships and a big loss of people to retirement," said Bennett, the business owner. "Now since the boom has come back and it has come back so fast, there aren't that many people with talent or experience to do the work. Now there are people who have never had a hammer in their hands on a construction site."
Even so, the business is poised to meet Bennett's vision for growth. "We have set goals as far as where we would like to be financially — owning our own office space with a pre-fabrication facility and developing a fleet of company vehicles. As far as the things we see as happening in the city, we think this is all attainable."
"Decolonizing the University": Race, Research, and Resisting Displacement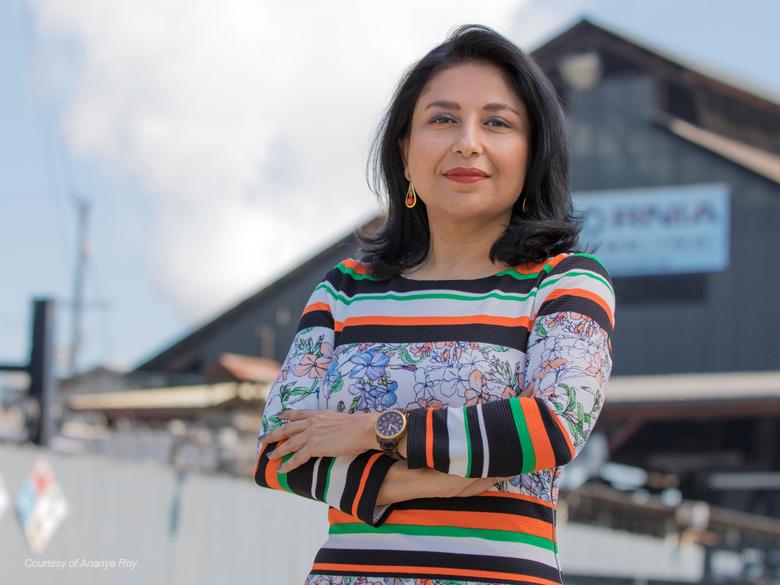 By Fran Smith
The inaugural event of the Institute on Inequality and Democracy at UCLA last year was not your standard ivory-tower affair. "I could have simply invited an economist to come give a lecture, and we'd be done," said Ananya Roy, the Institute's founding director. Instead, she invited anti-displacement activists from Chicago, Los Angeles, and Cape Town, South Africa, to talk about race, inequality, and the urban future. "The intellectuals we wanted to learn from were precisely these activists at the front lines of these struggles in cities,'' she said.
Roy — author, scholar, activist, and a leading voice on urban transformation in the global South — hopes to build the Institute into a platform for an emerging global movement for more equitable cities. She believes displacement is a central issue for that movement because it goes to the heart of so many equity issues, including race, inequality, economic development, and financial security. Roy's most recent essay is "Divesting from Whiteness: The University in the Age of Trumpism." She spoke with America's Tomorrow.
You recently wrote that the widespread use of the term "inequality" bothers you. That's surprising coming from someone leading a new institute on inequality. What's your critique?
I'm somewhat cynical about the extent to which inequality is in the headlines. In academic and policy debates there's a way in which inequality has come to focus on income inequality. That's partly because economists have led the debates. This has led to a revolution in economic thought, but what remains out of view — and what Black Lives Matter and other movements have brought into view — is that persistent racial inequality cannot be resolved simply as a result of economic restructuring. It cannot be reduced to economic disadvantage. The Institute is explicitly focused on racial inequality as a way of thinking about enduring structures of discrimination and social inequality.
Why is the issue of displacement central to your thinking about inequality?
The question of displacement has become an entry point to think about broader issues. At the Institute, our research has coalesced around three key areas. One is eviction. Second is financialization — financial insecurity and what we call financial disobedience, and the incredible organizing work happening around debt. Third is mass incarceration and decarceration — for example, what housing rights, employment rights, and other rights might look like for returning citizens. A racialized logic runs through all three of these issues.
How does your expertise as a scholar of global poverty globally influence your work on displacement?
My current research has been with the Chicago Anti-Eviction Campaign. They occupy foreclosed homes and block evictions, but also they're in the process of creating a community land trust. The campaign was influenced in many ways by the Western Cape Anti-Eviction Campaign, one of South Africa's most important urban social movements. So when we launched the Institute, we focused on activists not only from the United States but also from South Africa. The South African movement really placed us in a global context of displacement and dispossession; it created a different narrative around land but more importantly, I think it made available to activists here a new set of tactics. To see all of this as globally interconnected is very powerful.
How is the Institute addressing displacement challenges in its hometown, Los Angeles?
Eviction is not just a story of landlords evicting tenants who can't pay their rent. There is a systematic process by which evictions are unfolding and there's a systematic vulnerability of certain tenants. We don't have robust databases that tell us the extent of the situation. My colleagues and I are hoping to start with Southern California and build up such a database. We take our cues here from colleagues in Brazil. The top public universities in Rio de Janeiro and Sao Paulo have incredible databases that map and record every eviction, every demolition. The availability of this data has been an extraordinary asset for social movements. It has also made possible a set of important policy shifts and debates around evictions and displacement in those cities. I don't know if we can pull off anything at that scale but it is quite important for us to consider how the lack of data means that we are not having the sort of policy conversations we need to have about evictions.
How did your experiences as a child in India inform your thinking about inequality in cities?
I grew up in Calcutta, India, and moved to Oakland, California, at the age of 18 to go to school. It took me several years to realize, wow, I'm actually an immigrant. In many ways, that move sparked my interest in cities. The inequality that was so evident in Oakland prompted me to make sense of the city I'd grown up in. And to think about the spatial manifestations of inequality. And to think about the sort of change that can be made.
You've engaged Los Angeles activists in shaping the scope and priorities of the Institute. Describe that effort.
I wanted to learn from what they were doing, but most importantly, the question I repeatedly posed to them was, in what ways could this Institute be an ally and be of use to them? They had a very specific response: "Do the research; do the theory." Now, the relationship between powerful universities and social movements can be fraught. We've set out an intention to journey with social movements and to journey with particular forms of activism and organizing. This is part of a broader framework for us. The term we've been using is decolonizing the university. It's sort of turning the university inside out — taking ourselves outside of the bubble and thinking about how those whose voices have often been marginalized in the canons of academic knowledge might have a place.
The Institute on Inequality and Democracy has joined with several other departments, centers, and collectives at UCLA to issue a call for educators, students, and researchers across the country to make January 18 (#J18) a day of action against policies of violence, disenfranchisement, segregation, and isolationism. To learn more or commit to organizing an event, visit teachorganizeresist.net.