From Buses to Honey Bees: Creating Job Opportunities on Chicago's West Side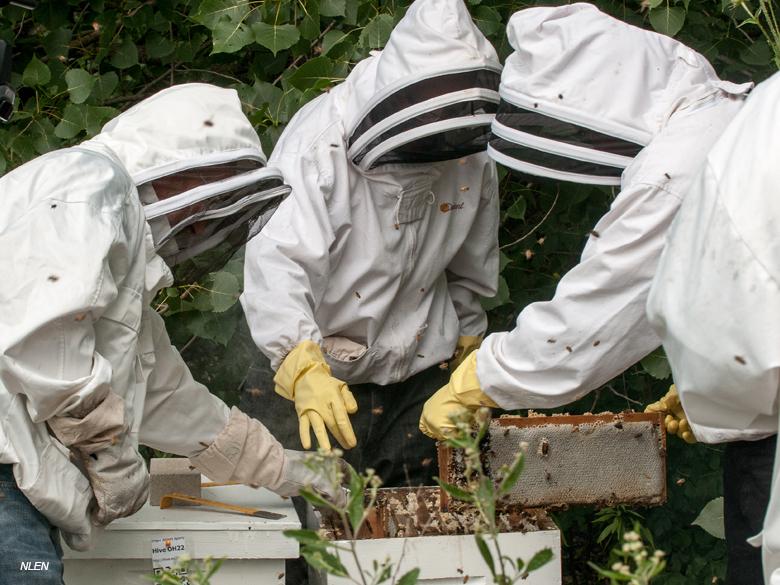 In the first years after his release from prison Mark Cross struggled to find work. Today he's on a career track with the Chicago Transit Authority, earning $23.26 plus benefits as a union mechanic.
How he got there is more than a story of one's man determination. It's also the story of an innovative community-driven nonprofit working to expand economic opportunity for residents on Chicago's West Side. The North Lawndale Employment Network (NLEN) bundles job training, financial counseling, hands-on work experience, and wraparound supports for people facing significant employment barriers, particularly formerly incarcerated people. And the agency does it with a focus on data, accountability for results, policy change, and growth through partnering with public agencies and scaling its own social enterprise — in honey production.
By improving the earnings and asset-building potential of a significant number of residents, the agency aims to transform a largely Black neighborhood hurt by mass incarceration, deindustrialization, and the Great Recession into a thriving community with a strong, sustainable economy. At 40 percent, the 2011 unemployment rate in the North Lawndale neighborhood was triple the rate in Chicago overall. NLEN serves 2,000 clients a year, and about 70 percent have criminal convictions. Last year alone, 599 people found employment and nearly 100 improved their credit score.
"Honestly, North Lawndale helped me to realize the potential I never knew I had," Cross said.
Guided by community priorities
NLEN was founded in 1999 through an 18-month community planning effort to identify ways to meet the severe employment needs of the neighborhood. Residents prioritized job training for people returning from prison, because everyone seemed to know someone struggling to overcome the bias and stigma of a record. The agency began with a single program, U-Turn Permitted, which teaches strategies and skills to equip adults for work and life after serving time for a felony.
The four-week program emphasizes team building, conflict resolution, and financial literacy along with practical job-hunting skills such as résumé writing and interviewing. A component — rare in the world of reentry support— focuses on racial healing and building bridges with the police. The goal is to change the mutual animosity and mistrust that feed the cycle of recidivism, which can devastate the economic stability of families and communities. NLEN also has influenced changes in police department training procedures.
The recidivism rate among U-Turn Permitted graduates is 6 percent, according to the agency — a striking contrast to the statewide recidivism rate of 47 percent. The agency now offers a similar program, U-Turn Express, for hard-to-employ residents without felony records.
The agency continually updates its services in light of lessons learned. Early on, NLEN experienced the frustration of watching clients complete U-Turn Permitted, ready and motivated to work, only to hit a dead end on the job market because of their histories and lack of workplace experience. NLEN decided to become the first employer of its clients by starting a business to create transitional jobs.
Matching training to job-market demand
After considering various business possibilities, NLEN settled on bee-keeping and honey production. That may seem unlikely in an urban setting, but the work turns out to fit beautifully with the agency's mission and its clients' needs.
"There's something very special about working with nature," said Brenda Palms-Barber, NLEN executive director. "It slows you down. You can't be impulsive. And honey bees draw the good out of plants and transform it into something sweet. That's exactly what we're doing here."
Sweet Beginnings LLC, a wholly owned for-profit subsidiary of NLEN, began in 2005 with a few hives in the neighborhood. It expanded in 2011 through a partnership with the Chicago Department of Aviation that provided vacant land at O'Hare Airport for an apiary. The company now has more than 75 hives and one million bees there. It sells honey and honey-based skin care products at an airport shop and through major retailers such as Whole Foods. More than 400 NLEN clients have worked at the company since its inception.
But transitional jobs are only part of what's needed to put clients — and the community — on a pathway to prosperity. Many workers who thrived at Sweet Beginnings went on to land permanent jobs, but in low-wage occupations. NLEN leaders realized two things. First, they had to help low-wage workers become financially secure by assisting them to build credit, manage money, save, and access public benefits.
Second, NLEN had to strategically design programs and craft partnerships to connect clients to good jobs that are in growing demand in the region. Weatherization is one area — the agency now provides free accredited training in home energy auditing and installation. Last year, 51 people became certified in these fields.
Another initiative, in partnership with the Chicago Transit Authority (CTA), provides training in mechanic skills. It's a promising career path in one of the nation's busiest hubs for passenger and freight transportation.
"We understood that baby boomers are retiring in the not-too-distant future, and there are not a lot of folks in the pipeline who are skilled mechanics," Palms-Barber said. "When an industry or a country starts to feel pain around supply and demand, that's when they're more receptive to hiring people who they might not otherwise consider."
NLEN played an influential role in CTA's policy to "ban the box" on employment applications. NLEN also works with CTA's Second Chance Program, which has hired hundreds of formerly incarcerated people as bus and train cleaners. The program opens doors for careers and advancement in transit, and Mark Cross walked through.
Knocking down barriers
Cross studied auto mechanics at a community college. But his skill and associate degree did not blot out the stigma of incarceration, and he could not find steady employment. He participated in several other reentry programs but got nowhere. "Basically, I would finish the programs and none of them kept in contact," he said.
NLEN changed his life. The agency taught him how to shine in interviews — and how to talk frankly and comfortably about his time in prison. The agency also connected him to CTA, where he started as a cleaner at $9.50 an hour. He eventually took — and passed — the CTA test for car repairer and moved into that job in April 2014, at $16 an hour. On his one-year anniversary, he received a raise to $23.26. He plans to move up the CTA ladder, either to engineer or instructor.
All the while staff of NLEN checked in with Cross, to guide him, cheer him on, or simply listen. "They kept in contact," he said. "They still call me now. They're just like family. They're like the big brother you can turn to anytime."
In a nation where 700,000 people are released from state prisons annually, efforts like NLEN's are critical for our economic future.
"If our nation is to build a stronger economy, we must ensure that every American who wants to work is working, earning a family-sustaining wage, and has a pathway into the middle class," said Michael McAfee, NLEN board president who is also a senior director at PolicyLink. "The staffs at NLEN and Sweet Beginnings are providing this pathway for the residents of the North Lawndale neighborhood, and for many, a sweet beginning."
National Journal Series Highlights Racial Education Gaps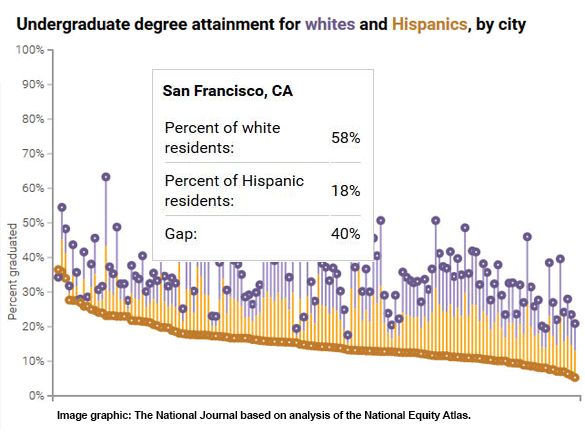 The National Journal is publishing a series of stories exploring the skill and education gaps between Whites and communities of color in the workforce based on data from the National Equity Atlas, a resource developed by PolicyLink and the Program for Environmental and Regional Equity at the University of Southern California. The first article in the series, published last week, examines high school and college graduation rates, and found the largest gaps between White and Black and White and Latino college attainment are in some of the nation's most thriving metros: San Francisco, New York City, Washington DC, and Boston. Sarah Treuhaft, director of Equitable Growth Initiatives at PolicyLink, spoke with writer Ronald Brownstein about these findings. "It is clear that growth alone does not solve these issues, and we really need to look at structural issues," she said.
The second article in the series explores how many of the fast-growing regions with large racial education gaps are recruiting college graduates from other states, which could lead to long-term economic and social instability.
Look for more stories in the coming weeks as a part of this series.