Connecting Black Men to Jobs in New Orleans's Anchor Institutions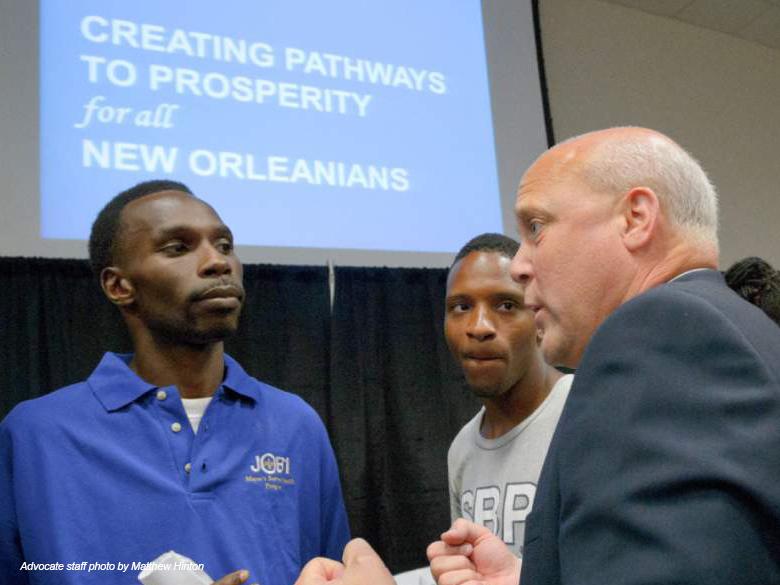 In the face of startling racial economic disparities, New Orleans Mayor Mitch Landrieu recently announced a far-reaching strategy to connect tens of thousands of unemployed African American men to career-path jobs in the region's rapidly growing anchor institutions.
The strategy recognizes that equity and inclusion are essential not only for residents who have been left behind, but also for the growth and prosperity of the city as it continues rebuilding after Hurricane Katrina. Just a few weeks after announcing the strategy, the city has raised more than $10 million to begin implementation.
"I have spent my whole life in New Orleans and there have been many economic development plans," said Ashleigh G. Gardere, senior advisor to Mayor Mitch Landrieu and director of The Network for Economic Opportunity. "This is the first time our business leaders signaled they were ready to have a conversation about equity and find ways to provide real access to economic opportunity for everyone."
Shifting attention to equity
Two simultaneous processes spurred the change. The first was a federal Sustainable Communities planning process underway for the Claiborne Corridor. When the city engaged African American communities along the corridor, residents called for jobs as the top priority. Gardere started documenting the workforce needs and hiring practices of the anchor institutions in the corridor, and cultivating a strategy that could deliver on jobs.
The second was a 2013 report revealing that 52 percent of the city's working-age African American men — 35,400 people — did not have jobs. Forty percent were not in the labor market, meaning they had become discouraged and stopped looking for work. The report also showed major wage inequities: the median wage of white men in New Orleans, $60,075, was nearly twice that of African American men, $31,018.
The data was collected by the Lindy Boggs National Center for Community Literacy at Loyola University and The Data Center, and leaders released it strategically, to get the right attention from decision makers. "There was a lot of data that we pulled together and it took some strategy not to release all of it," said Allison Plyer, executive director of The Data Center. "We wanted to highlight those pieces that really speak to the specific concerns and issues that leaders are thinking about and shift their attention to equity issues."
The two strategies succeeded. Calling the unemployment rate "unacceptable," the mayor launched an ambitious effort to figure out what it would take to ensure that all African American men have opportunities to reach their full potential and contribute to the economy. Rather than focusing solely on the corridor, the mayor reached out to the New Orleans Business Alliance and key anchor institutions throughout the city.
As the mayor later wrote: "Who are the 52 percent? What are their barriers to employment? How can we ensure that the people who need work are matched with employers who have jobs? What types of skills are employers looking for? And, how can we ensure the people of New Orleans rebuild New Orleans so that we do not leave anyone behind?"
The city hired men returning from prison and trained them as surveyors to interview hundreds of men on the street about their experiences in the job market. The city also convened focus groups with unemployed residents, workforce training providers, social service agencies, and large employers. The efforts uncovered a variety of employment barriers, including training, education, and conviction records.
The efforts also uncovered unexpected opportunity: large institutions, anchored to the city, such as universities, health systems, and the airport, collectively have hundreds of entry-level jobs to fill every year. And successful models exist for connecting residents to these career-path jobs.
In a pilot program, Delgado Community College and Ochsner Health System, the city's largest health-care employer, recruited 50 women with high school diplomas for a 16-week training program that included wraparound services and career coaching. Forty-seven women graduated and moved immediately into jobs as medical assistants, earning $10.30 to $11 an hour. After the foundation-funded pilot ended in 2013, Ochsner continued medical assistant training, because it improved workforce skills and employee relations, and reduced turnover.
The mayor's fact-finding mission helped him develop the Economic Opportunity Strategy to harness the hiring and purchasing power of anchor institutions. And it helped these institutions embrace the strategy, "both because they wanted to contribute to solving the challenges that New Orleans faces and because they have workforce needs," Gardere said.
New ways of working
Large employers and anchors that have stepped up as partners include LCMC Health, Louis Armstrong New Orleans International Airport, Louisiana State University Health Sciences Center, Ochsner, the Sewerage and Water Board of New Orleans, Southeast Louisiana Veterans Health Care System, Tulane University, and Xavier University of Louisiana.
Implementation has begun this fall, with five far-reaching strategies:
Establish a collaborative of local anchor institutions to determine effective ways to match their procurement and workforce demands with the needs and capabilities of disadvantaged job seekers and minority-owned businesses. As a first step, the collaborative is conducting a three-month assessment of opportunities in health-care procurement.
Create a workforce intermediary that connects job seekers to employment opportunities through anchor institutions, providing case management, foundational skills training, and supportive services. Already, this effort has resulted in strong provisions in the pre-construction contract for the new airport terminal, to ensure that local residents have access to opportunities created by the $826 million project.
Launch a procurement intermediary that connects qualified minority-owned businesses to contracting opportunities in New Orleans.
Create a worker-owned cooperative that connects job seekers to employment by leveraging procurement and purchasing opportunities through anchor institutions.
Establish and align customized job training based on employer needs that prepares disadvantaged job seekers for in-demand jobs through anchor institutions and major infrastructure projects. The U.S. Department of Labor recently announced $8.2 million in grants to support workforce development in the city. Additionally, a $1.5 million foundation grant is funding a pipeline for training unemployed residents for hundreds of jobs that soon will be available at the Sewerage and Water Board.
With momentum for economic inclusion growing, other industries are approaching the city to participate in the mayor's strategy. "Nobody wants to not be in the conversation," Gardere said. "We're in such a different moment in New Orleans, and folks want to be on the right side of history."
America's Inequitable Tax Code — And How to Fix It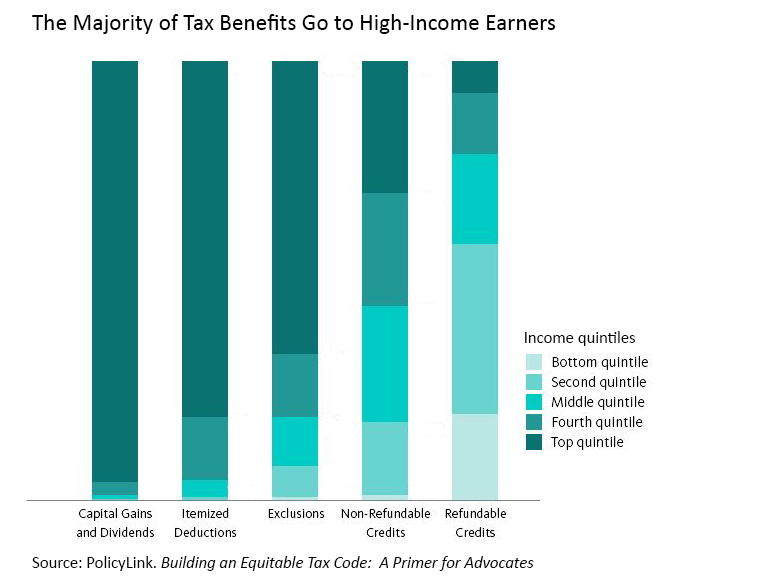 The top 1 percent of households receive more benefits from the tax code than the bottom 80 percent combined, according to a new PolicyLink brief, Building an Equitable Tax Code: A Primer for Advocates. And the majority of households of color do not benefit from the largest tax subsidies, such as lower tax rates for capital gains and dividends, itemized deductions, and exclusions. The report provides policy recommendations to make the tax code more equitable, such as turning deductions into refundable credits and providing savings incentives.
Read the report and sign up for the December 4 webinar on who benefits from federal tax subsidies.