Investing in Second Chances for Formerly Incarcerated People: An Interview with Department of Justice Fellow Daryl Atkinson
By Courtney Hutchison
Sixteen years ago, Daryl Atkinson was like many of the 600,000 Americans leaving prison each year — excited to return home, but worried about the welcome he might receive as a formerly incarcerated person. Though his family refused to define him solely by his past mistakes and supported him as he pursued college and law school, society was another story. Not only did he face social stigma because of his past, he lost his driver's license, making it difficult to find work; was barred from receiving federal financial aid for college; and, perhaps most importantly, is still denied the right to vote in his home state of Alabama.
It is this type of structural and cultural discrimination — the many ways that society forces those with a criminal record to continue to "serve time" even after they are released — that Atkinson now fights as the inaugural Second Chance Fellow at the U.S. Department of Justice (DOJ). Prior to this appointment, Atkinson was recognized as a White House "Reentry and Employment Champion of Change" for his work as a senior staff attorney at the Southern Coalition for Social Justice, where he advocated for the rights and needs of people with criminal records. America's Tomorrow spoke with Atkinson about his many years working to shift the narrative about those who have been incarcerated, connecting them with the support, respect, and opportunity necessary for them to thrive.
You are the first Second Chance fellow at the DOJ, and you are a founding member of the North Carolina Second Chance Alliance. Can you explain what a "second chance culture" entails?
I often relate it to my personal experience after prison. I served 40 months in prison, much of it in a maximum security institution when I was in my twenties, and when my mom and my stepdad came to pick me up, they rented a Lincoln Town Car. I didn't pay any particular attention at that time because I was so excited to get away from that place, but a couple of years later I asked my stepdad why. He said they wanted to make a grand gesture to send the message that my experience in prison didn't completely define who I was and what I could be. They continued to support me — offering food and shelter and financial support — throughout college, and the combination of support and physical investment is a large part of what I view as a "second chance" approach. We need to invest in people's success, so that they can be contributors to their community and society.
The Obama Administration has been instituting a number of policy solutions to cultivate this concept. The Second Chance Act, signed into law at the end of the Bush Administration, has resulted in more than 700 grants totaling over $400 million to reduce recidivism and improve outcomes for people returning from state and federal prisons, local jails, and juvenile facilities. These investments help people with criminal records by providing basic needs like housing assistance, job training, and substance abuse treatment. More recently, the Department of Education started the Second Chance Pell Program, which will allow over 12,000 eligible incarcerated students to pursue postsecondary education while in prison. These kinds of programs aren't enough to meet the needs of the entire formerly incarcerated population, but they are helping the Administration build the evidence base for how powerful these programs are, which will aid in advocating for more funding for this work.
When you were at the Southern Coalition for Social Justice, you helped to pass a "ban the box" policy in Durham, North Carolina, that had incredible results. Can you describe how that campaign developed?
The Southern Coalition for Social Justice (SCSJ) is a civil rights advocacy organization that follows a community-lawyering model, meaning that we provide general counsel for the most vulnerable communities across the southeast, and we let them set the agenda of what issues are most important. Engaging the community around these issues is something that has guided my work at SCSJ and informs my work at DOJ. For instance, a few years back we were working on voting rights for those with criminal records in North Carolina, but when we engaged the community we realized that barriers to employment were the most pressing need. We were aware of the "ban the box" movement that had started in Oakland, California, and started a similar campaign in Durham, North Carolina, to remove criminal history questions from job applications and prohibit the use of a criminal record as an automatic bar to employment.
We knew that to successfully shift the narrative around employing formerly incarcerated people, we needed to ensure that people with criminal records were integrated into the policy-making process throughout. When there were city council meetings, we engaged with community partners to train local spokespeople who could speak in their own voice about the impact of not being able to work and how that affected their families. We reached out to faith-based organizations to put a moral force behind our campaign. We got some notable endorsements from the sheriff about how ban the box was consistent with public safety, because keeping people with criminal records from employment opportunities can force them back into an underground economy.
We also made the economic argument, pointing out that there are 1.6 million adults with criminal records who shouldn't be sitting on the sidelines of the economy. By sharing these messages and engaging community members to tell their stories, we were able to convince the city and the county governments to pass ban the box policies that have had a huge effect. In the city of Durham, for example, the total percentage of city hires of people with criminal records was 2 percent in 2011, the year the policy passed; by 2014 it was over 15 percent — a greater than seven-fold increase.
How does the work you're undertaking at the DOJ continue this work and connect to your larger goals of building a second chance culture?
In my fellowship at the DOJ's Bureau of Justice Assistance (BJA), I advocate for the rights and needs of those with criminal history, and I also work to ensure that DOJ is hearing from the stakeholders most directly affected by the justice system. This part of my work draws heavily on the lessons I've learned at the local level. Having this bridge between the policymakers and those most affected by the policy is a game-changer. Not only does it provide important feedback on the effects of policy, it also helps change the temperature of the exchanges between communities and the federal government. When policymakers have real exchanges with folks from the community, and hear about their family obligations and experiences — like dropping their kids off at daycare — it diminishes the "us versus them" dynamic that can make it easier to enact negative public policies. In general, I think we need more open dialogue about how common interactions with the justice system are, and how it is not just some fringe part of society that deals with these issues.
Ten to 12 million people in the U.S. cycle in and out of city and county jails, and one in three Americans have an arrest or conviction history. This is a huge segment of our adult population, and to continue to marginalize them through stigma and discriminatory policies has significant consequences for our society as a whole. That is why part of my fellowship includes qualitative interviews with formerly incarcerated people who have gone on to become highly successful. I want to identify which interventions changed the trajectory of their lives, and lift up these successes to the federal government for future policymaking. I am also going to create a digital story bank of their stories, so that the public can access these stories and see that people who have been in prison can go on to be active, positive, influential members of their community. Both the public and policymakers need to hear these stories and realize not only the hunger for opportunity that people who are leaving prison have, but the potential they have to go on to great things.
Putting Power in Tenants' Hands: DC's Unique Opportunity-to-Purchase Programs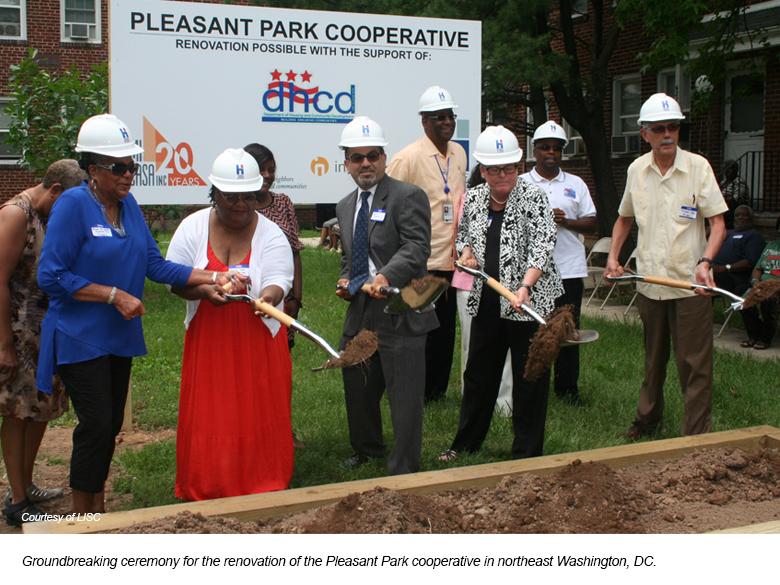 By Alexis Stephens
You don't have to look far to find evidence that low-income people and people of color are struggling to weather Washington, DC's housing crisis. According to a study by the DC Fiscal Policy Institute, the number of apartments renting for less than $800 a month fell by almost half from 60,000 in 2002 to just 33,000 in 2013. Meanwhile, DC has gone from almost 70 percent Black in 1980 (hence, the nickname "Chocolate City") to around 50 percent Black in 2010. Despite strong rent control laws, rising rent costs are squeezing low-income families out of historically Black neighborhoods like Columbia Heights, where the Black population dipped more than 25 percent and the Latino population dropped 20 percent between 2000 and 2010.
Despite these troubling numbers, there is a unique safeguard in place that is helping to slow the rate of displacement and empower low-income renters to both preserve housing affordability and make decisions about the current and future development of the buildings and fabric of the neighborhoods where they live.
Giving low-income renters choice
The Tenant Opportunity to Purchase Act (TOPA) has been on the books since 1980, but has taken on a new importance and urgency in the current white-hot real estate market in DC. When a rental property of five or more units in the District is put up for sale, the landlord is required to inform tenants that they have the first right of purchase to buy the building for the landlord's asking price.  Tenants have either 30 or 45 days to register for their rights, depending on whether or not they already have a tenant association or need to form one (single-family housing and 2–4 unit buildings have different requirements).  If the owner has already received a third-party offer, the offer must be declared and the tenants, through the tenant association, has the option to match it. The association can also assign part or all of its rights to a nonprofit or for-profit developer. The process required by TOPA is fairly bureaucratic. Tenants who have gone through the process have complained that the process is confusing and challenging without the help of attorneys and technical assistance providers.  However, tenant associations that are able to navigate it successfully have a wide range of options: they can choose to convert the building to a condominium, a market-rate or limited-equity cooperative, or to preserve it as a rental property.
"I think it's debatable whether the processes that we have in place here in DC are the absolute best way to be preserving affordable housing," said Talia Brock, a tenant organizer for the Latino Economic Development Center (LEDC). "But without TOPA, a lot of buildings, specifically the ones that we work with, would be turned over to landlords who don't necessarily have an investment or a mission in affordable housing." LEDC has four organizers focused on helping tenants avoid displacement and providing them with technical assistance throughout the TOPA process.
Because tenant associations do not have the collective financial resources to purchase their buildings and may not be able to quickly pull together the necessary financing, the DC Department of Housing and Community Development (DHCD) offers low-interest, long-term loans to tenant associations to help with "good faith" deposits, acquisition costs, and construction costs. The First Right Purchase Program requires that 80 percent of its funding be used to provide housing for households at less than 50 percent area median income. Between 2002 and 2013, the First Right Purchase Program helped to preserve 1,400 units of affordable housing (the large majority in limited-equity cooperatives), representing $130 million in investments. The average development costs were just under $165,000 per unit.
Sixty-three percent of First Right Purchase Program investments came from the DC Housing Production Trust Fund (HPTF); another 29 percent came from Community Development Block Grant funds. Since 2002, the HPTF has provided $320 million in investments and produced and preserved over 7,500 units of affordable housing, according to a report by the Coalition for Nonprofit Housing and Economic Development. Its own funding comes from a dedicated revenue stream from the DC Real Estate Recordation and Transfer Tax and annual appropriations.
"Renovation is always a factor in these small, multifamily buildings going through the TOPA process," said Elin Zurbrigg, deputy director at Mi Casa Inc. Mi Casa is a nonprofit affordable housing developer that works with tenants to purchase, develop, and renovate buildings, mostly as limited equity co-ops, with financing from the Housing Production Trust Fund. "There is often deferred maintenance and poor housing conditions. Tenants often have to put up with a lot in exchange for affordable rent."
Limited-equity co-ops provide many of the benefits of property ownership to low- or fixed-income residents, with some restrictions in place to guarantee affordability when units are sold. According to Zurbrigg, Mi Casa is currently working with 15 limited-equity co-ops in various stages of development and renovation, representing more than 500 units of housing. "As housing developers that are looking at keeping housing affordable long-term, community health, and quality of life, we have to talk tenants through the development plans, which often involve significant rehab," she added. Mi Casa is also working in partnership with tenant associations at four buildings to purchase the properties through TOPA and maintain them as affordable rental properties.
"We think that tenants are often better off with developers who are mission-oriented, often nonprofit developers who have the desire to keep DC diverse and to keep rents low for those who have limited income," said LEDC's Brock. "That, or tenants are given the opportunity to become owners themselves, putting the complete power over the operations and management of the building into their hands."
Many local housing advocates have pointed out that the volatility in the availability of financing for TOPA projects through the HPTF, especially in the post-recession years, reduced the potency of the Act. More recently, however, the HPTF has rebounded from its nadir of $1.8 million in 2009. In 2015, it reached $73 million, and last year, DC Mayor Muriel Bowser committed to support an annual allocation of $100 million to the HPTF, starting with allocations for that amount for FY2016 and FY2017.
Taking the next step
Meanwhile, another tool is on the horizon that would allow the District to step in if tenants are unwilling or unable to purchase their building through TOPA. The District Opportunity to Purchase Act (DOPA) would give the District rights similar to TOPA to purchase a building if at least 25 percent of the units are affordable to very low-income households. TOPA would trump DOPA, meaning that tenants would continue to have the first right of purchase. DOPA actually became effective in 2008, but the DHCD has not published any regulations laying out how they plan to administrate the law. The DOPA process cannot be used until there is a public comment period. Polly Donaldson, director of DHCD, told the Washington City Paper last May that regulations had been drafted and that she was in the process of reviewing them. "It's a tool we should be using," said Donaldson. "The mayor wants to use it. And resourcing it is where we're looking at how best to do that."
"It certainly would be a streamlined way, if executed well, for us to prevent affordable housing — especially federally subsidized buildings — from being lost," said Claire Zippel of the DC Fiscal Policy Institute. "It's in the interest of the city, especially if it has an ongoing subsidy stream from the federal government, to keep that building preserved, to keep those dollars coming into the city."
"What both TOPA and DOPA provide is the opportunity for District residents to grab ahold of affordable housing," said Zurbrigg, "and to think about the future of the city in terms of diversity, inclusion, affordability.
"Housing is essential — everyone needs a place to live," she continued. "When we talk about preservation work, we are referencing buildings, units, and physical space, but we ultimately mean people. So the preservation of affordable housing means that people from diverse backgrounds and ages can continue to live, work, interact, and engage in the city."