Take Part in the Action of Equity Summit 2015 Wherever You Are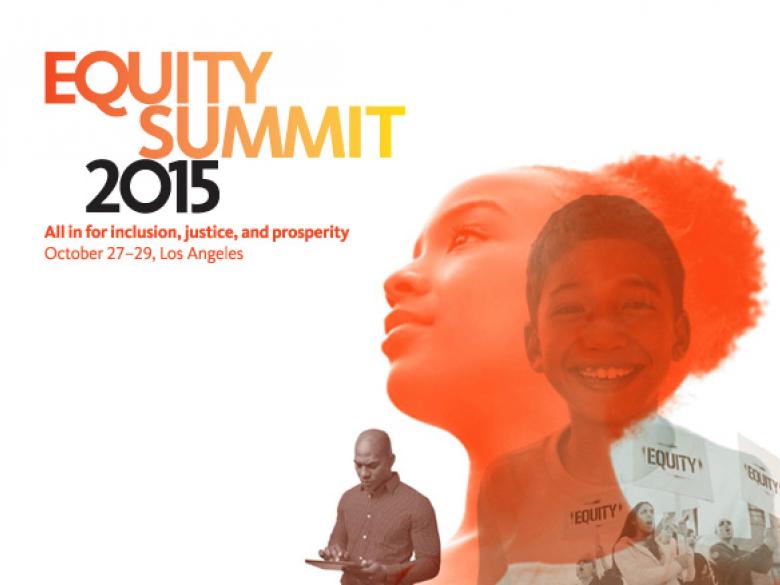 Equity Summit 2015: All in for inclusion, justice, and prosperity will take place next week, October 27-29 in Los Angeles. For those unable to attend in person, there are still several ways to participate in and enjoy the Summit remotely. The three main plenaries for the event will be webcast live here. Times and titles for these plenaries are listed below and a full description is available in the Summit agenda.
"Place, Race, and Economy: Winning on Equity in the 21st Century" featuring Raj Chetty, Manuel Pastor, William Spriggs, Tom Steyer, and La June Montgomery Tabron, moderated by Angela Glover Blackwell. Wednesday, October 28, 9:00 a.m. – 10:30 a.m. Pacific.
"All-In Cities: Building an Equitable Economy from the Ground Up" featuring Robert Garcia, Marqueece Harris-Dawson, Betsy Hodges, Brad Lander, and Judy Morse, moderated by Rip Rapson. Thursday, October 29, 8:30 a.m. – 10 a.m. Pacific.
"Building a Multiracial, Multigenerational Equity Movement" featuring Geoffrey Canada, Mary Kay Henry, Stewart Kwoh, DeRay McKesson, Carmen Perez, and Nick Tilsen, moderated by Robert Ross. Thursday, October 29, 1:45 p.m. – 3:45 p.m. Pacific.
You can also follow what's going on at the Summit in real time via social media by checking out the PolicyLink Facebook page, Twitter page, or following @PolicyLink and #Equity2015 on Twitter. After the Summit, stay tuned for more articles on the exciting work of Summit speakers in upcoming issues of America's Tomorrow.
Demanding Dignity: An Interview with Summit Speaker Pablo Alvarado on Organizing Day Laborers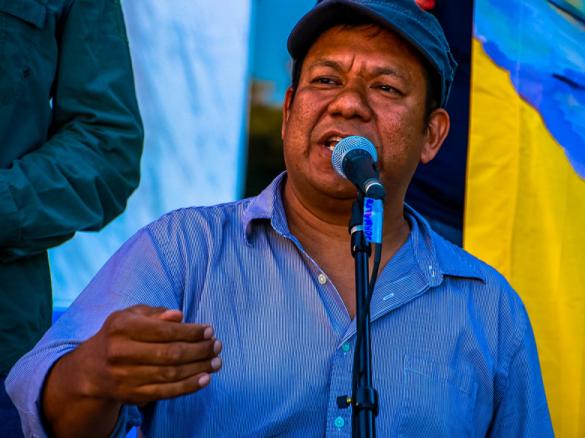 Over the past few weeks, America's Tomorrow has showcased several of the hundred-plus speakers featured at the Summit — inspiring equity leaders who are using innovative approaches to build an inclusive, thriving economy. Following the Summit, we will continue to share the insights and work of leading equity advocates from across the nation through a regular Q&A feature for America's Tomorrow.
Though routinely visible on street corners and in countless work sites, day laborers are often treated as an invisible part of the local economy, subjected to discrimination, police harassment, and a glaring lack of worker's rights and protections. In California alone, an estimated 40,000 day laborers are looking for work on any given day, 80 percent of whom are undocumented. Because work is usually part-time and unreliable, the average day laborer brings home only $260 a week. Through his organization, the National Day Laborer Organizing Network (NDLON), Pablo Alvarado seeks to unite and mobilize day laborers to advocate for policies that not only protect their basic civil, labor, and human rights, but build a stronger nation for all. As part of our ongoing Equity Summit 2015 speaker series, America's Tomorrow interviewed Alvarado, who directs NDLON, on the role of effective labor organizing to ensure fair and just treatment of all workers, regardless of their race, ethnicity, income, or citizenship status.
What are some of the biggest challenges facing day laborers?
Day laborers are often the first line of attack against immigrant communities because we are highly visible, we are on the streets. Even before deportations went up when police were granted authority to enforce immigration law under the Obama Administration, day laborers have been under siege — from law enforcement that would harass them and accuse them of loitering to policymakers who were passing laws against them, to employers who failed to pay their wages. On a day-to-day basis, day laborers are struggling with a lack of available work, wage theft, and police harassment. Additionally, the jobs they do get do not pay a living wage and provide no benefits, so there is so little security.
We advocate for a view of a day laborer not just as a temporary worker who is willing to do the heaviest jobs you can think of, but as a human being, a father, a son. It's about equity. We're not asking for any handouts, we just want the same access to opportunities — the same access to justice — that other people have. And it's not as simple as being documented or getting citizenship. It's not that quick of a fix — if it were, you wouldn't see millions of African Americans incarcerated or facing lack of opportunity and discrimination, you wouldn't see Black folks and Latinos being killed by police. They are citizens, but that doesn't guarantee equal treatment. So, the intervention has to be broader and it has to be holistic and it has to be dramatic.
What does that intervention look like?
Our network connects 70 worker centers nationwide. These centers provide a safer and more dignified place for people to look for work, to organize around similar issues, and get help and advice for workplace problems and learn how to advocate for better conditions for themselves. For example, every one of our worker centers establishes a living wage that is higher than the state minimum wage, so that collectively they organize to demand that of employers. We help prevent wage theft by educating the worker to defend themselves and be clear in their contractual relationships with an employer, how much they will be paid and when. We also provide workers with skills-building, because the more abilities they have, the more they can negotiate better wages and working conditions. We train them on OSHA regulations so they know how to be safe in the workplace and identify dangers in the workplace before they agree to work there. On a broader level, NDLON does work to fight for immigration reform, to end deportations.
In an economic and political climate that so often favors business interests over workers' interests, how do you make the case for better labor protections for arguably one of the most marginalized population of workers?
Right now people don't acknowledge that most Americans would not be able to maintain their middle-class lifestyle if they weren't able to afford a nanny, a housekeeper, a gardener — most of them immigrants being paid low wages and doing the work that cares for their kids, their houses, their parks. We are the ones toiling the fields to pick your lettuce, we are serving your food in restaurants, keeping your houses painted, and your factories running. And the thing is, we're not complaining about that. We are only asking that we get to do that work on a fair playing field, where we have access to basic rights and justice — the same thing immigrants of past generations have fought for as well. We are not asking for a system that favors us. The legacy of White supremacy is still alive. You see it in a system that facilitates the success of White people and hinders the success and opportunities of people of color. And I know there are people who are worried about the fact that people of color are becoming the majority, worried that we will somehow take over and oppress them. But that isn't what we're talking about at all, not for one second. We're talking about equality — the ability to be treated equally in the marketplace, on the streets, regardless of the color of your skin.
Our immigrant rights struggle has been peaceful, it is not based on hatred but on a love for our people who are struggling, out of love for others who are in vulnerable circumstances, out of love for this country and a desire to make it better. I think it is always the people at the bottom who make things better for everyone. When we advocate for a living wage and safer conditions for our workers, this will ultimately help all workers. That's why I believe immigrants and poor people will write the next chapter of our nation's history. They are the people who will make this country better, more equitable, for everyone.