Why Washington State Invests in Home Care Workers — and Your State Should, Too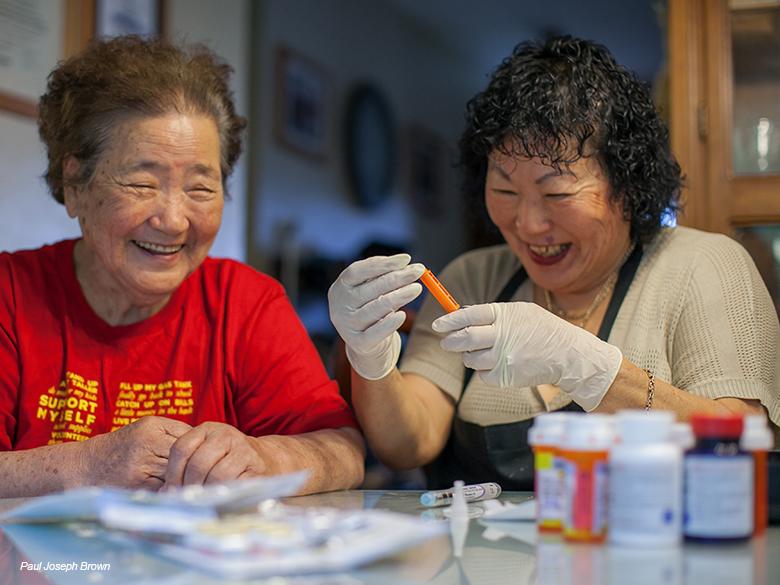 Home Care Aide Sun Benjamin administers medication to her 91-year-old mother, Hyang Moon. Benjamin also provides full-time care for her grandson, Nathan Drummer, who has developmental disabilities in Tacoma, WA.
A groundbreaking partnership of labor, government, business, and nonprofits in Washington State is reinventing the home care industry to improve wages and opportunities for workers, meet employer demands for new skills, and provide high-quality services to consumers.
Sponsored by a labor-management partnership including SEIU, the State of Washington and private industry, the SEIU Healthcare NW Training Partnership has created the nation's first large-scale career pathway program for home care aides — one of the fastest-growing, lowest-paid occupations in America and a field vital to job creation and economic growth, especially in immigrant communities and communities of color. The program trains 40,000 aides a year in 200 classrooms across the state and online, offering instruction in 13 languages.
The partnership also runs the nation's first registered apprenticeship for more advanced training. It has won praise from the White House for committing to serve 3,000 apprentices annually in five years, up from 300 now.
By earning certification while strengthening their capacity to handle the increasingly complex needs of clients, graduates of the SEIU Healthcare NW Training Partnership can command higher pay, opportunities to advance, and greater respect for their work.
After completing the program, Home Care Aide Glenda Faatoafe received a $4-an-hour raise, to $15.03, and was invited to apply for a job at a local hospital. Although she loves working one-on-one with clients in their homes and intends to keep doing it — at age 52, she has done this work for 20 years — she is thrilled to realize she has career options.
"I didn't realize how employable I would become," she said. "We're overcoming what's always been one of the biggest challenges in our industry — having people realize this is not just a job but a career that can go somewhere."
A new direction in policy
Nationally, about 900,000 people — overwhelmingly women, many of them immigrants and women of color — care for ailing or frail elders, people with disabilities, and others who need assistance at home. The care workforce is projected to grow by nearly 50 percent in the coming decade, as the population ages and as more complex health problems are handled at home instead of in health care settings.
At $10 an hour, the median pay for a home care aide is considerably lower than the $16 average for all U.S. workers. About 45 percent of the nation's home care workers live in households with incomes below 200 percent of the federal poverty line.
Job training is generally minimal. Turnover is high, with estimates ranging from 25 percent to more than 200 percent a year. This is expensive for employers and disruptive for families, which means we all have a stake in developing a stable, valued workforce in this sector
Why has the arduous job of caring for our ill and disabled loved ones been marginalized and underpaid? A major reason is federal policy. Until this year, home care aides along with other direct care workers like personal attendants were exempt from federal wage and overtime guarantees. It was a throwback to New Deal legislation, which viewed the work as companionship, as opposed to real work.
The Department of Labor has at last taken a step forward in recognizing the value of direct care. As of January 1, many direct care workers are entitled to receive at least the federal minimum wage, $7.25 an hour, and overtime pay.
A market-based case for raising the floor
States have always been able to extend their labor standards to home care aides. Washington has led the way in doing so, thanks in large part to advocacy and organizing by SEIU 755. In 2011, voters overwhelmingly approved a union-sponsored ballot initiative to strengthen training requirements for aides and require certification. The union campaigned on a potent economic message: Home care aides add value to the health care chain by helping to keep people healthy and out of emergency rooms and hospital beds; they should receive the training to contribute even more and they should reap a fair share of the financial benefits that accrue to the system.
"It's a market-based view of raising the floor," said Charissa Raynor, executive director of the training partnership. "We're not talking about winning a 50-cent differential for aides. We're talking about widespread adoption of the view of home care workers as trusted, influential members of the health care team. They're not just compassionate individuals who help older people and people with disabilities stay at home, but professionals who are skilled and competent at helping people stay out of the emergency room, which saves the system a lot of money."
The partnership's basic program provides the 75 hours of training that the state requires all home care aides to complete. The apprenticeship program offers more advanced training, continuing education, and peer mentorship. Glenda Faatoafe has graduated from both programs and hopes to become a mentor for a new generation of home care professionals.
"My quest for us to get better training has become the focus of my life," she said.
How the Proposed Fair Housing Rule Will Boost the Economy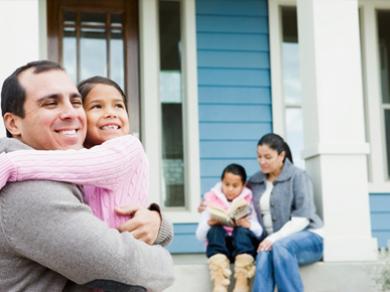 Strong and effective fair housing laws are essential for building prosperity — for people struggling to get by, for local and regional economies that benefit from thriving communities, and for the nation as a whole. That's why a proposed rule by the Department of Housing and Urban Development is so important. As inequality soars and neighborhoods of concentrated poverty are on the rise in most American cities, the rule would push municipalities to deliver on the promise of fair housing. By helping to connect low-income families to neighborhoods of greater opportunity, the rule has the potential to spur economic growth not only within these households, but within cities and regions.
The rule, due out this summer, is called Affirmatively Furthering Fair Housing (AFFH). It would sharpen the tools that equity advocates and public sector leaders can use to increase investment in high-poverty neighborhoods, fight racial discrimination in the housing market, and add more affordable housing choices in neighborhoods with jobs, good schools, and other essentials. It would do this in three important ways:
It would make municipalities more accountable to community member needs by requiring resident engagement on fair housing and community development issues.

It would require a data-driven analysis (an "assessment of fair housing") of community conditions and impediments to fair housing, including factors that contribute to areas of racially concentrated poverty and high unemployment (e.g., school performance, transportation access, and toxic exposures).

It would require jurisdictions to tie federal funding — such as Community Development Block Grants and HOME funds — to addressing the fair housing challenges that are identified.
Taken as a whole, the proposed rule would mean that cities, counties, and states must be proactive to ensure all people can live in neighborhoods where they have access to the opportunities and resources we all need to succeed.
This rule is long overdue. It will help turn around the lasting negative impacts of historically discriminatory practices that contributed to the creation of poor neighborhoods of color, and it will reduce barriers that cut millions of Americans off from economic opportunity. This rule can be a powerful tool to advance equitable economic growth for the nation, and here are five reasons how:
Reducing growth-limiting racial and economic exclusion: Research shows that families living in disinvested and low-income communities have limited economic mobility and reduced future earnings. This effect creates generational cycles of poverty and limited opportunity: For example, two-thirds of Black children raised in the poorest quarter of U.S. neighborhoods a generation ago are now raising their children in similarly poor neighborhoods. This proposed rule has been proven to help direct more investment to neighborhoods that need them and help low-income families move to neighborhoods with more resources. Both the Puget Sound and the Twin Cities regions built off of their fair housing assessments – part of a pilot for the proposed AFFH rule – to focus new infrastructure investment in Native American, African American, African immigrant, Latino and Southeast Asian communities in need of investment. When St. Louis conducted a fair housing assessment, the city found that Housing Choice Vouchers were being used primarily in low-income neighborhoods where there were few jobs and community amenities. This assessment helped the city revamp its program to help residents find diverse housing choices that better met their needs.

Connecting people to job opportunities: By encouraging more job investments in high-unemployment communities and promoting transit investments that connect these communities to jobs elsewhere, this rule would help people previously isolated from employment opportunities better engage in the regional workforce and contribute to local economies. For example, Puget Sound used its fair housing assessment to strategically plan for a new food distribution hub and job incubators within historically disinvested neighborhoods where job growth was needed. And a New Orleans assessment that found transit was not serving late-shift schedules for hospitality and healthcare workers led to realignment of services to better meet low-wage, transit-dependent workers' needs.

Creating jobs: Places that support the development of quality affordable housing and new infrastructure in disinvested neighborhoods also create new jobs both in the short- and the long-term for communities. The National Association of Home Builders estimates that building 100 affordable homes can lead to the creation of more than 120 jobs during the construction phase and roughly 30 jobs in a wide array of service industries once homes are occupied. When coupled with job training, inclusive hiring and contracting practices, and provisions for good wages and benefits, these jobs can help put low-income and unemployed residents on a pathway to good careers and financial stability.

Attracting new employers: Lack of quality affordable housing that connects to transit makes it more difficult for employers to recruit and retain employees, putting the local economy at a competitive disadvantage. In a national survey of more than 300 companies, 55 percent of large companies reported an insufficient level of affordable housing in their area, and two-thirds of these respondents cited this shortage as negatively affecting their ability to hold onto qualified employees. Other survey data suggests that affordable housing availability plays an important role in where new businesses decide to build or expand their operations. In Boston and Chicago, fair housing assessments helped these cities support new affordable homes around growing job centers in order to attract more employers to the area.

Providing low-income families with more disposable income to invest and save: The disproportionate housing burden on low-income communities and communities of color makes it hard for them to save for emergencies, make long-term investments, or spend money within the local economy on necessary goods and services. Affordable rent and mortgage payments, and access to affordable transportation, can substantially decrease household costs, in some cases by as much as five hundred dollars a month. When families can save on housing and transportation costs, it bolsters their resiliency and financial stability and allows greater spending on health care and education. These investments contribute to greater stability not only for these households, but for the broader economy: a recent study found that every extra dollar going into the pockets of low-wage workers actually adds about $1.21 to the national economy.
The Affirmatively Furthering Fair Housing rule is powerful only if we understand it and put it to use. Learn more about the rule in our upcoming webinar.