Tomorrow's Qualified Candidates: Blue1647 Has a Plan to Solve Tech's Diversity Problem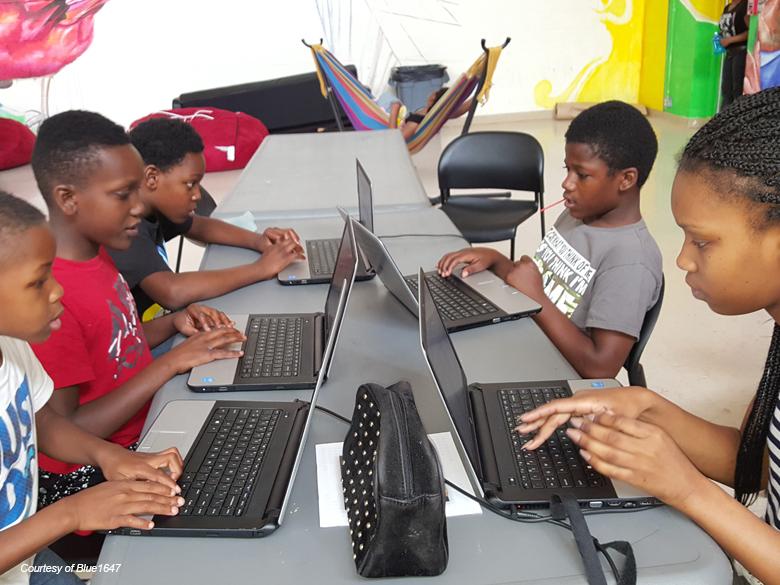 By Alexis Stephens
When the brick industrial building located at 1647 South Blue Island Avenue was constructed in Chicago's Pilsen neighborhood in 1925, it was a truck depot for Fuhrman and Forster, a meatpacking and sausage company. In those days, meatpacking established Chicago as an economic and social gateway for a generation of European immigrants to the United States.
That truck depot is now home to Blue1647, an entrepreneurship and technology innovation center named after the address of the 10,000-square-foot space, which opened in August 2013. "We looked at "blue" in so many interesting ways," said Founder and CEO Emile Cambry Jr., "thinking of ourselves as the blueprint of community economic development in the 21st century."
The organization's mission is to serve as a career gateway for the local Black and Latino youth who flock daily to the site to take part in its classes, workshops, apprenticeships, and internships. In addition to its educational and workforce development programming, the site is also a coworking space and a business accelerator, and it houses programs such as the Code Blue USA Hackathon Series, 1919: Women in Technology, and Latina Girls Code.
As a former investment banker, academic, and community activist, Cambry saw how tech start-ups and the innovation economy were catalyzing Chicago's economy, but observed that the opportunities for career advancement and wealth creation were inequitable. He sees Blue1647 as a corrective force, a way to change the narrative about what youth of color can achieve, and a business model with tremendous growth potential.
In addition to the original Pilsen site, Blue1647 has opened four more locations: another in Chicago, two in St. Louis, Missouri, and one in Compton, California. Two more are on the way in Indiana. Cambry's ultimate goal: to impact a million students every year. In 2013–2014, 11,420 students participated in STEM classes or workshops at Blue1647. Ninety-six percent of students who participated in the center's summer 2014 workforce development trainings are currently either in high school or college, or employed in tech.
The organization's membership model helped to support its growth. Memberships to private offices and collaborative workspaces range from $25 to $450 per month. Blue1647 also accepts donations and is planning to raise money for equipment through a "community-based digital currency" called Blue Coin.
"I see it as economic justice on a high level," said Cambry. "We have to make sure that we're planting the seeds for today's students to be successful. As the economy becomes more digital and more jobs are concentrated in the tech sector, we have to make sure that doesn't create another crisis for communities of color."
Serving the deepest need in St. Louis
In August 2015, Blue1647 opened its first non-Chicago site, located in the Al Chapelle Community Center at the Clinton-Peabody housing development in St. Louis, Missouri. The program is part of an employment training initiative coordinated by a partnership between the St. Louis Housing Authority  and the St. Louis Agency on Training and Employment (SLATE) and funded by two federal grants.
Clinton-Peabody is one of the lowest-income, highest-need communities in the city, with an average median income of $7,200. Only about 30 percent of families have a working family member and more than 90 percent of households are headed by single mothers. Blue1647's tech hub there provides basic computer skills for adults as well as entrepreneurship and coding curriculum for youth.
"I wanted to improve my typing skills since I haven't typed since high school," said Velva Danner, 51, who graduated from a Blue1647 class in February, "so when I do go out and look for a job, it's going to help in the long run." She had previously worked in food service and customer service, but was interested in taking the class so that she could develop her administrative skills. In addition to her training at Blue1647, Danner will be graduating from a separate financial literacy class being held on site this month.
"We have so many opportunities in information technology in this region," said Stacey Fowler, the adult services and special projects manager at SLATE, "but the people with the skill sets to fill them are not here. We can't grow our labor force until we start building opportunities and training. The center provides a fun, up-close introduction to IT."
"For the adults, we want to make sure that we tackle the immediate computer needs and then slowly progress to the more advanced programs," added Cambry, commenting on the St. Louis effort. "That doesn't mean they won't ever have digital skills, like coding, but it really gives us a chance to test where they are and prepare them for their immediate work environment and work needs."
Change doesn't happen overnight
For youth, who are more likely to be digital natives, lessons involve app development, 3D printing, and graphic design. Cambry mentioned that the students started writing a newsletter about what they are learning in their classes, and it's being circulated throughout the housing development. "We talk about changing the narrative. Now we have a distribution platform for that," he said.
"All of this support and this micro-targeting is really starting to yield a lot of benefits," he continued. "I've learned throughout this process that patience is important, but consistent programming with patience is even better."
Since Blue1647's headquarters opened in Chicago, Cambry has learned many lessons that are helping to shape the structure and the curriculum of the sites that he is continuing to open. Among them is that in each location he tries to employ as many instructors of color as possible. "It's important for the students to see representation of themselves," he said. "They need to see that. They have expressed that it's important to them."
And despite current statistics that show racial disparities in the innovation economy closing at a glacial pace—Ursula Burns stepping down as CEO of Xerox leaves no Black woman CEOs on the S&P 500, for example—Cambry sees his work as a process with long-term rewards: "The biggest thing we try to tell everyone is that it's not magic. It's not something that changes overnight. You can't change 60 years of the cycle of poverty overnight. But I'm very optimistic. It's a slow process that eventually builds upon itself. That's how you start to change the narrative."
"Find Those People and Get Them to the Table": Lessons on Economic Development from Cleveland's Tracey Nichols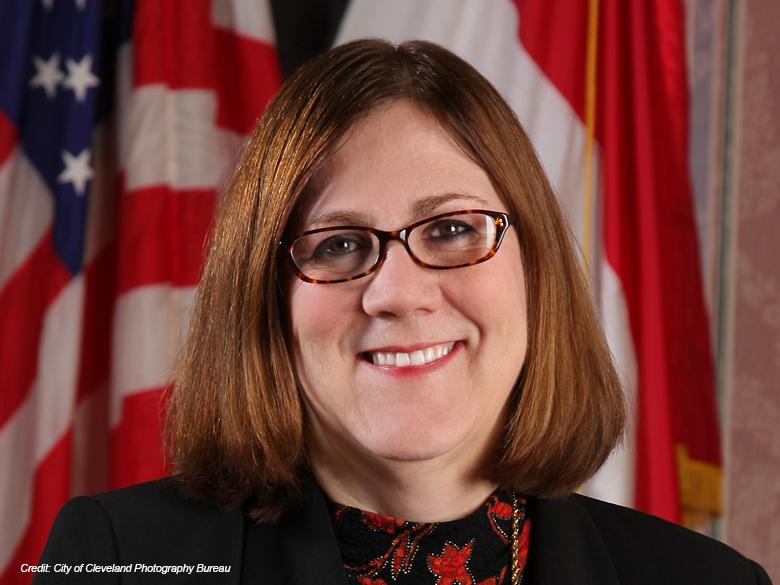 By Alexis Stephens
Job creation in Rust Belt cities is no easy task. But Cleveland's director of economic development, Tracey Nichols, has focused on the city's existing strengths and assets, along with Mayor Frank Jackson and others, rather than solely mourning the loss of manufacturing and industrial jobs.
In 2005, the city joined forces with the Cleveland Foundation, and anchor institutions such as local universities and hospitals, to form the Greater University Circle Initiative, a collaborative redevelopment initiative to improve economic opportunities for local residents while strengthening the region's economy. More than a decade in, this anchor-focused approach has achieved impressive impacts: in 2013, the institutions collectively hired 539 local residents from low-income communities.
America's Tomorrow spoke with Nichols about economic development wins and the power of hiring local.
Q: Why has Cleveland been so successful at community development strategies involving anchor institutions?
A:  One of the things that has made Cleveland very successful is the conveners that have come to the table, including Mayor Frank Jackson and Ron Richard from the Cleveland Foundation. It's great to have the top people at the table—because they really help pass down the policies and initiatives — but we also needed a second level of individuals who are top level staff of their organizations, like others from the City of Cleveland and the various anchor institutions, and that's helped us a lot.
In the beginning, it was very difficult for people in the neighborhood to get jobs at these institutions. One of the challenges was that you had to have a computer in order to apply. That was daunting for some, and others just didn't have computers. So we set up times when people could come and fill out applications and there was someone there to help you. Then, the university hospitals started brainstorming and came up with a program called Step Up. In that program, people who were in entry-level jobs are mentored to take next-level jobs.  And when people move up, they get more money, more responsibility, more of a sense of accomplishment. They're retaining people, which is fantastic.
Q: How does the upcoming Republican National Convention factor into the opportunities that are being created for Cleveland's low-income residents?
A:  Well, I think that all of us are hoping that some of the stories of our successes will be noticed by what's estimated as 20,000 media personnel who will be in town for the RNC.
We've also got a lot of new hotels and restaurants that are coming online. What's exciting to us is that we have something called the Community Benefits Program. One of the things that's required is that these businesses sign a workforce development agreement requires them to go through our Ohio Means Jobs portal, a database of all of the people who are not working in the city of Cleveland. [We are especially doing this] for large hospitality-type functions. What's more important to us than temporary jobs are those that are going to be there after the Republican National Convention.
Q:  How have you formalized the process to ensure that this work of creating economic opportunity specifically benefits people of color and women in the city?
A:  We're hiring so that the people who need jobs most, get jobs first. [In addition to the workforce development agreement] that helps to match unemployed residents to job opportunities, we have the Resident Employment Law, which requires construction projects of more than $100,000 hire Cleveland residents to perform 20 percent of all construction hours. Four percent of construction hours must be performed by low-income residents. So this gives people an opportunity to get training and get some hours under their belt in the construction industry.
Q:  How does a city like Cleveland balance the work of creating growth downtown with the kind of work that you do to help neighborhoods?
A:  Well, I think that it comes from the top down. Mayor Jackson tells us all the time that our job is to help the least of us. So while we work on downtown projects and they're glitzy and they're big, the bottom line is, for my team, we find a lot more reward in working in neighborhoods where there are tough situations.
I had a group of six senior citizen ladies who came to me and said they had to take three buses to the grocery store. And they said, "It's your job to get us a supermarket." Their area had been hard hit in the housing crisis and lost a lot of houses. So they didn't have the population or the median income to bring another Big Box in. We worked to bring in a developer and brought in a Save-A-Lot and a Mills Clothing Store. The six ladies were there at the opening, as well as every elected official from kingdom come. Sometimes that kind of catalyst can help change a neighborhood.
Q:  How can your work in Cleveland be replicated in other cities?
A:  A lot of times people say to me, "Well, there's no one in my city government like you, Tracey." And I keep trying to tell people there may not be the top person in your city government who cares very much about economic inclusion, but I guarantee you there is someone in your community or economic development department who cares this much about economic inclusion. It's just a matter of finding that person and telling them what you need and letting them try to figure out how to help you, and getting them to the table.
I think that most people who want to become public servants want to help people. There are other people like me in just about every community and every place. Find those people and get them to the table, because they know how to use the tools and they'll be able to use them in your community just like we do here.
[Ed. note: on May 11, 2016, the Ohio Legislature passed House Bill 180 and Senate Bill 152, which would prohibit Ohio cities from mandating geographically based hiring preferences for local construction projects. It is currently awaiting the signature of Ohio Governor John Kasich. In a letter to Governor Kasich, Mayor Jackson wrote, "Low-income workers, women, people with disabilities and people of color are vastly underrepresented in construction jobs, when compared to their overall participation in the workforce. This is a missed opportunity for connecting our citizens to quality jobs, especially given the wages and benefits associated with construction work."]