Summit Speaker Series: Minneapolis Mayor Betsy Hodges on Building Equity into the City's DNA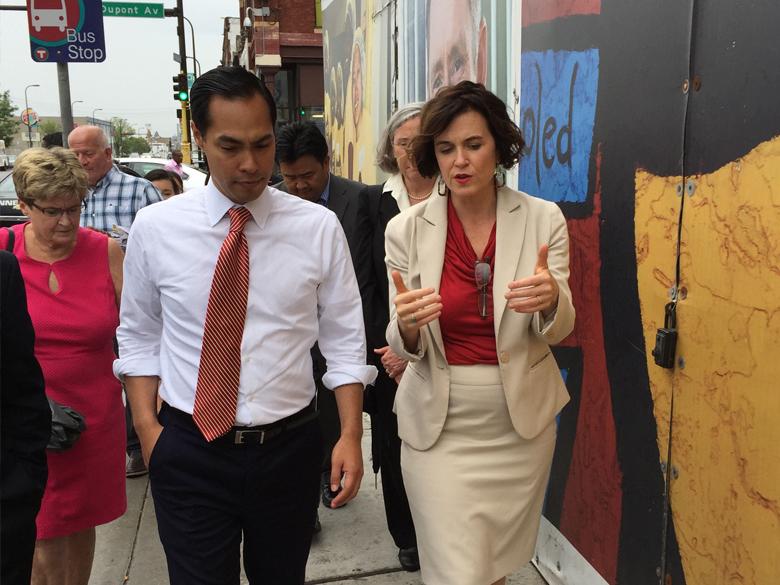 Minneapolis Mayor Betsy Hodges touring the Promise Zone with HUD Secretary Julian Castro.
By Courtney Hutchison
As Equity Summit 2015 approaches, America's Tomorrow will showcase the work of a few of the 100-plus speakers and presenters featured at the Summit — inspiring equity leaders who are using innovative approaches to build an inclusive, thriving economy within their regions.
During her mayoral campaign in 2013, Betsy Hodges ran on a platform of equity and growth, arguing that for a city with a rapidly growing population of color, but persistent racial disparities, the two couldn't be more intertwined. Since taking office, Mayor Hodges has spearheaded a number of initiatives, including those within the city's housing, transit, and educational systems, which will lay the groundwork for a more equitable Minneapolis. America's Tomorrow interviewed Mayor Hodges, exploring how, as the city's leader, she is weaving equity "into the DNA" of her administration.
Equity and growth have been common themes within your administration. What spurred this explicit focus on equity?
When I was campaigning, there really was this hunger to have a conversation on equity. We know that [in Minneapolis], demographics are changing and we'll be a majority [people of color] sooner rather than later. But the way things are right now, Minneapolis has some of the greatest disparities between White people and people of color in the country and, if that continues, we're not going to be ready for future growth and prosperity. We need to make sure that people of color are both equipped to take the jobs of the future and create the jobs of the future.
There are many people who are inspired by the moral argument that ending the racial gap is the right thing to do, but not everybody. A lot of people, however, are persuaded by the economic implications. If you look at the fact that 70 percent of the kids in our public schools are kids of color, and those are the kids who are failing, you realize that if that continues, in the future we're not going to have the kind of educated workforce our economy depends on. To prepare us to be a city of the 21st century, we have to make sure people of color are not only in the picture, but at the center of the picture.
In practice, how does this focus on equity play out within your administration?
If you come to my office I have it written on the top of the white board: How does this move the dial on equity, how does this move the dial on growing the city, and how does this make the city run well? Those are the three filters through which we view everything we do.
I'm trying to build equity into the DNA of the city, and to do that we need to apply focused, concentrated attention on it. That's why I created the Office of Equitable Outcomes, which will place a couple of dedicated staff in our City Coordinator's Office — the most centralized body we have — and make it their job to look inwardly at how our city offices incorporate equity — into our hiring, licensing, civil rights work — and outwardly at how we can run our partnerships. When you add these staff to our Bloomberg Innovation team, which is looking to use data to help tackle some of the city's challenges, you start to see this team of people who can make equity real for the future of the city.
What are some examples of equity-driven policies and programs that are in the works in Minneapolis?
I presented my budget a few weeks ago, and the theme of that was transforming how we do the basics in the city — from how we are doing our streetlights to our workforce programs to how we hire firefighters. All those things need to be reimagined for the 21st century.
So taking the firefighter example, our fire chief has a pipeline program to create a new ladder into fire department jobs for low-income youth and youth of color. It starts with talking to 10th graders to give them an imagination to be firefighters, then there's curriculum in one of our high schools for it, an Explorer Program where kids can spend time on the ground with firefighters, and a new "cadet" designation that allows recent [high school] graduates to work in the fire department while they train to become full firefighters.
We are also one of the first 20 regions to join the White House's TechHire program to connect people of color to jobs in the tech sector because we know our jobs of the future are going to be in tech and we know that people of color are not well represented there. So [in my budget proposal], I've funded the program to do accelerated training in technology fields, as well as 30 scholarships for that program.
Another way we hope to connect youth of color to opportunity and employment is through our BUILD Leaders program, which is tied into our My Brother's Keeper and Promise Zone work. Through this program, [which we've successfully piloted already], we will employ young men of color ages 18 to 24, who have gone in some ways down the wrong path, but are trying to get on the right path, to mentor middle school boys to help them stay off a bad path altogether. This way, we give these young men employment, train them in a mentorship curriculum, give them job experience and skills, and create this positive loop of mentorship.
How do you ensure that these various individual initiatives or programs work in concert with one another, and not as siloed efforts within different sectors or city departments?
The work that I'm doing — the more I do it, the more it overlaps. I can see this bigger picture of where our youth violence prevention blueprint overlaps with my cradle to kindergarten initiative, which overlaps with the Promise Zone work, which overlaps with the Generation Next initiative around the achievement gap, which overlaps with the My Brother's Keeper focus on boys and young men of color. The things that we do in any one area have a multiplicative effect on the other work we're doing, and I'm very excited about that. You pull a thread and you start to see that it's connected to every other thread in the fabric.
What do you hope to gain from speaking at and attending the Summit?
I've done my best to move heaven and earth to be at the Summit because I know that some of the sharpest minds and most open hearts are going to be there. I know there will be good, practical, on-the-ground ideas about things I can do in my city. I also know there will be a lot of strategic thinking about the barriers we'll face, how we manage them, and how we productively enter into a conversation on equity within our communities. To the extent that the work that we're doing in Minneapolis and the perspective I carry as a leader — particularly a White leader doing this work — can be useful to people, I hope to bring that to the Summit so we can learn from and inspire each other.
Making Sure That Communities of Color Matter to the Fed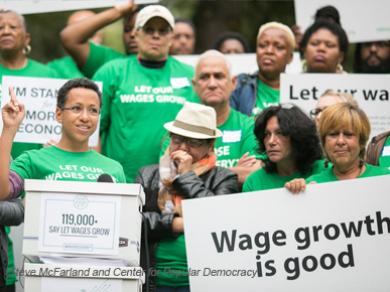 By Alexis Stephens
Every August, the nation's top banking officials retreat to a quiet Wyoming town in order to deliberate on monetary policy decisions that have a dramatic impact on the American economy. And for the second year in a row, a coalition of 70 nonprofits, community-based organizations, and unions went to Jackson Hole, Wyoming, to engage officials on how these decisions affect low-income communities and communities of color in need of well-paying jobs.
"[Last year] was the first time in the summit's history that outside voices had attempted to influence the Fed and talk to them about real problems in the economy," said Jordan Haedtler from the Center for Popular Democracy. This year, more than 100 people participated in the Fed Up action. The majority were low-wage workers from communities of color, many of whom have become involved in fair work- week campaigns around the country (read our story on the Retail Workers Bill of Rights in San Francisco for more on fair work-week campaigns).
Participants wore the campaign's signature green t-shirts that read "Whose Recovery?" and encouraged those attending the main summit to become advocates for an equitable economy. During the opening press conference, unemployed and underemployed workers from communities hardest-hit by the recession shared their stories. Rod Adams, from Minnesota, spoke about how as a recent college graduate he has struggled to find a job that provides him with a stable living. For the past year he's been working for $10.10 at the Mall of America and sending out his résumé for salaried positions, but has barely gotten replies back, because of low local demand for workers with limited employment experience.
Philadelphian Urell Spain, 60, had the opposite, but related problem of too much experience when she began a new job search a couple of years ago. "I worked in corporate America for 30 years," Spain said. "I reached the glass ceiling and I couldn't go anywhere. Eventually, layoffs caught me and after 30 years, I found myself without a job." At the time she was saddled with debt, car payments, and tuition for her children to go to private school. "It was very difficult to find work, because I was in my mid-fifties. No one wants you in your fifties. I cost too much," she added. "I ended up falling into the nonprofit sector purely by accident and I fell in love with the fight."
Before attending the Fed Up convening, Spain was not aware of the relationship between the decisions that the Fed's governing body makes and her struggle to find a job after being laid off.
"I didn't know much about what the Federal Reserve was about," Spain said. "I knew of the entity and I had heard of them, but I never had the opportunity to pry into the power that they have."
Pulling back the curtain on the Fed's monetary policy
The Fed Up Coalition hosted a parallel conference to the Fed's, with teach-ins and testimonials from people who have been left behind in the nation's economic recovery. The convening amplified the message that it is important for the Fed to keep interest rates low to stimulate job creation.
"Over the two days, we talked about what the Fed can do to be more accountable and more responsible to the communities that are really struggling and haven't really fully recovered from the recession," Haedtler said. The conference's teach-ins provided contrasting supplementary content to the theme of the Fed's summit, which was inflation dynamics and monetary policy.
One Fed Up session focused on how the Fed has been affected by the inflation of the 1970s. Average wages were on the rise at the same time prices skyrocketed. As a result, the Fed has overemphasized a strategy of keeping wages low in order to stave off inflation. Today's dynamics are much different; targeting higher wages can only serve to strengthen the economy for working families.
Another teach-in raised the question: Do Black lives matter to the Fed? "We talked about the Fed's role in the economic violence that is being waged on Black people in this country," said Sarita Turner of PolicyLink.
A third session focused on how keeping interest rates low can expand the labor market to everyone. "With full employment, workers have bargaining power and employers are no longer able to discriminate," Haedtler said. "The bad news is that Black unemployment is still roughly double White unemployment. But the good news is if you continue to push for full employment, Black workers will rejoin the labor market at a two-to-one ratio to White workers."
Pushing for full employment for all
These themes were bolstered by a new data analysis, "Full Employment for All: The Social and Economic Benefits of Race and Gender Equity in Employment," prepared by PolicyLink and the USC Program on Environmental and Regional Equity. This research shows that Black and Native American households would see the largest increases in average income if everyone who wanted a job could find one. There would be 9.3 million fewer Americans living in poverty and $261 billion more in tax revenue streaming into the federal government, and the GDP would grow by $1.3 trillion.
"This report dissects the unemployment rate that mainstream economists deem acceptable," Turner said, "and takes into consideration that when you dig under the veneer of the nation's unemployment rate and look at the unemployment rates of the Black, Latino, and Native American communities, [these groups] would stand to gain the most by a 'full employment for all' approach."
Turner added that the kinds of information and data sharing facilitated by the Jackson Hole conference is a vital capacity-building opportunity for community organizations. She said it improves "our own ability to articulate what matters to us, in the terms that these folks talk and think in."
One of the key issues that Fed Up has focused on over the past year has been the selection process for regional bank presidents. "Currently they are lacking in both professional and racial and gender diversity," Haedtler said. In the past year in Dallas and Philadelphia, the search for new regional presidents was conducted behind closed doors. "After ignoring numerous written and verbal requests from us," according to Haedtler, "they've unveiled White, male Goldman Sachs employees who — in both cases — were involved in their own selection."
The recent short-lived slump in the stock market has cast doubt on whether the Fed will raise interest rates this month, but Fed Up is still planning on organizing an action to coincide with the next Fed policy meeting scheduled for September 16 and 17. "It shouldn't take two days of financial pain for those who have enough money to be invested in the stock market to change the Fed's calculation around interest rates," Haedtler said. "If they do further delay an interest rate increase in September, it should be because they listened to people like us and not because some people on Wall Street have two tough days."
Spain hopes that the campaign's visibility in Jackson Hole will help Fed officials see that low-wage workers and marginalized communities of color need to be priorities in their decision-making process. "They needed to hear our stories," she said, "because hopefully our stories could have an impact on touching that little part in their souls to get them to not increase interest rates."
"I feel like it was just really the epitome of how to create energy around an important issue," Turner said, "and how to really engage on-the-ground, grassroots advocates, economists, think tanks, and policy wonks — all in one room, thinking and learning together." (Spain is the financial director for ACTION United, one of the coalition members of the Fed Up campaign).
Celebrate the Summer Jobs That Strengthen Cities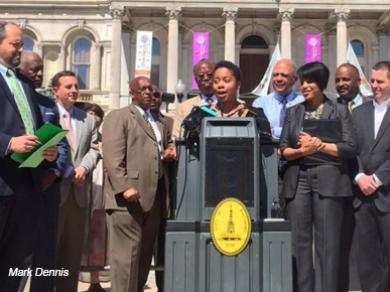 Alexandra Odom in front of Baltimore City Hall.
By Fran Smith for PolicyLink, published in Next City.
For six of the past seven summers, Alexandra Odom, a 20-year-old African American college senior from Baltimore, has been employed by the city's YouthWorks program. She has cleaned up parks, worked in the mayor's office, and helped build a website at the University of Maryland, Baltimore. This summer she is working at a landscape architecture and urban planning firm, helping a local school to build an outdoor classroom.
The jobs have put money in her pocket, taught her valuable skills, and burnished her résumé and confidence. "My experiences have opened my eyes to different things I can do and given me a sense of security going into the workforce," she said.