The Secret to Equitable Growth: An Interview with Scholar and Activist Manuel Pastor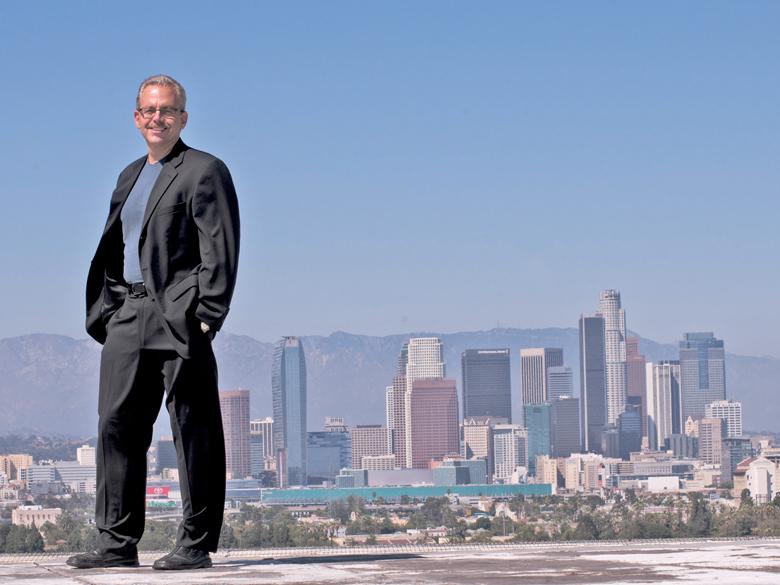 By Fran Smith
What's the secret to fostering sustained, inclusive economic growth in America? There's no single answer but at least one element may be surprising: diverse leaders coming together to develop shared knowledge about the problems facing communities and a shared vision for an equitable, prosperous future.
That's the conclusion of a new book, Equity, Growth, and Community: What the Nation Can Learn from America's Metro Areas, by Manuel Pastor and Chris Benner. It builds upon their earlier research, also profiled in the book, showing that greater income equality is the strongest predictor of whether a region will sustain growth over time. Drawing on lessons learned from 11 cities around the country, the authors explain how developing a shared understanding of challenges, informed by data, can help overcome political polarization, spur investments for the common good, drive growth, and increase resilience in the face of economic restructuring. America's Tomorrow spoke with Pastor, director of the Program for Environmental and Regional Equity and the Center for the Study of Immigrant Integration at the University of Southern California, where he is a professor of sociology, American studies, and ethnicity.
How did you get the hunch that creating a shared sense of community and commitment to place isn't simply a nice thing to do — it can translate into equitable economic growth?
About three years ago, we wrote a book called Just Growth: Inclusion and Prosperity in America's Changing Metropolitan Regions, in which we took a data-driven approach to look at those regions that seemed to be doing relatively well on achieving both equity and growth and those that were not. We wanted to uncover, through statistical analysis and case studies, the magical elixir in the places doing better. There were a number of structural factors such as educational level of communities and the nature of the industrial structure, but when we went out to do the case studies, we found another important set of characteristics that we hadn't thought about. Regions doing better had come up with some mechanism to create community. And so this book sought to lift the veil and understand how such communities get created and sustained.
What do you mean by community in this context?
We call it this fancy term, epistemic communities, which translates simply into what you know and who you know it with. We looked at how diverse and dynamic an epistemic community was — that is, did it represent a lot of different interests and allow you to come to common ground? Was it able to deal with change — demographic change, economic shocks, etc.? We found that places that have come up with mechanisms to establish diverse and dynamic epistemic communities tended to be able to sustain growth better over a longer period of time.
Describe these mechanisms.
Some were jurisdictional, like in places where cities and suburbs are consolidated, so the interests between the two are more aligned than in places where there are sharp divisions between city and suburb. But in some places the mechanisms were different. There turned out to be leadership-development programs and data-generation programs. These created shared knowledge about the region and tended to bring together people in what we thought of as being a place-to-place, race-to-race, face-to-face conversation about the future.
How is this different from stakeholder meetings, collaborative policy frameworks, or other standard ways of thinking about engaging diverse voices?
A lot of collaboration is about transactions — "You scratch my back, I'll scratch yours." This is about moving from transactions to transformations. It's about doing things that benefit people who may not be us or even be like us. The transformation comes in seeing and acting on the greater good.
For example?
If you think about what we need to with regard to climate planning, it's about protecting a planet for a generation that we're not a part of, right? Or what we need to do about making sure that public school systems work for everyone — we need to bring people on board to take action for a set of children that may not be their own.
Where have you seen this happen on the ground?
In San Antonio, voters passed a tax on themselves to extend pre-K to disadvantaged kids, when probably most of those voters were themselves not disadvantaged. Interesting, one of the key supporters was the local Chamber of Commerce who argued that it was a workforce development issue key for the next 20 years. That's creating a sense that we're in this together, that your interest is my interest, and that because of that, we're going to think long-term. Or consider the Fight for Fifteen in the United States. A lot of people on board to raise the minimum wage already make more than the minimum wage. They know that it makes economic sense to raise the wage but, more important, it offends their values, their sense of self, to live in a country in which people are working full time yet living below the poverty line.
You write, "Our ability to grow together is fundamentally rooted in the ability to know together." What do we need to know?
First, we need to know that we're interlinked, that the region will only do well if everyone in the region is doing well and it's going to do no better than the least well-off among us. There's a lot of empirical support for that — and one key contribution of the book is a study, replicating work by the International Monetary Fund, that looks at long-term employment growth in nearly 200 U.S. metros and finds that the single biggest predictor of failing to grow over time was the initial level of income inequality. Also important were residential segregation and several other measures of social distance. Our destinies are interwoven, so we need to find ways to come together and we will all do better.
Second, we need to be able to see the other person. That's one reason why these regional conversations that bring people together are critical. In our national politics, people who are screaming about their distrust of Muslims probably know almost no Muslims. And you know, it's pretty hard to suggest that three million undocumented people in California should be deported when you spend enough time to get to know some of them — people who are your neighbors, who are raising families just like yours, people who wave at you as they board the bus to go to their work, just as you go to yours. There's something about bringing people together, creating a sense of belonging, and shrinking the social distance that is really, really fundamental.
And since I'm also a big nerd, let me just stress that we also need to have a fact base or a database, to let us know what problems we're dealing with.
Why is data important?
Data systems ground everybody in the real issues. Once that happens, you can have a rational debate about what to do. You're talking about how best to address who's being left behind, not whether or not the economy is in fact leaving people behind. You're talking about how best to lay out transit. Should it be rail or bus or roadways? You're not talking about whether or not people are disconnected from employment. In San Antonio, one current community-based data system, SA2020, has played an important role at bringing people together. That has also happened in Salt Lake City through Envision Utah, which created scenarios for population growth and environmental change and helped residents design a Salt Lake City that everybody wanted to live in. Now, facts alone are not what allows you to win policy change and social progress. That's a question of political power and organizing. But this fact base is extraordinarily important in getting past political and ideological polarization.
How do organizing and conflict fit into this picture of community?
One thing that Chris and I have been rightly criticized for in the past was the idea that forming community is sort of kumbaya — that people simply come together, learn to understand one another, and join hands and sing a happy song around growth and equity. In fact, in many of these regions the thing that makes sure equity gets on the table and becomes part of the discussion is community organizing. It's conflict. You need to raise uncomfortable issues when people are being left behind — when there's a problem of over-incarceration and young African American and Latino men are left out of the labor market because of criminal justice records. Or when people are talking about undocumented immigrants in a disparaging way that doesn't recognize what a vital part they are of the community and how important they are to economic growth over time. So conflict is important. What we try to explore in the book is, when does conflict help to produce understanding and eventually collaboration instead of simply wars of attrition.
What's the answer?
The trick for community organizers is to know how to play an inside-outside game — to know how to organize from the outside but also understand how to wield power on the inside. To know when you conflict and when you collaborate. To recognize that collaboration with someone very different doesn't mean you're surrendering your values. You're not moving into the center. You're moving the center to bring equity into the growth conversation.
What can the nation learn from cities that are getting growth right?
Solutions are possible. One of the things I think that stymies people in the United States is the sense that these problems have been with us always and there's nothing that we can do about that. But in fact, many metropolitan areas have figured out the secret of how to bring people together. And you do see creative strategies moving the needle — once people have agreed that they need to move the needle.
Get a free download of Equity, Growth, and Community here.
New Partners and Stronger Pipelines: the Promise of Rural and Tribal Promise Zones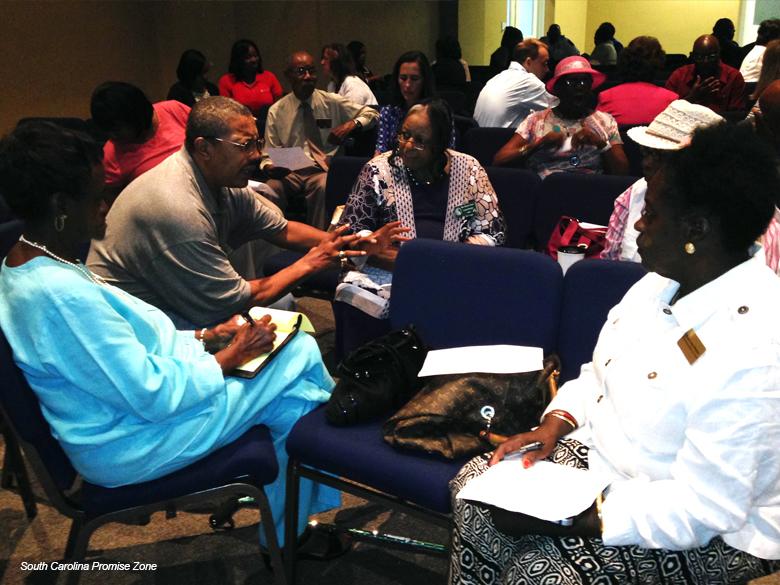 By Alexis Stephens
When President Obama announced the first Promise Zone designations in 2014, as a part of the federal government's initiative to partner with and invest in high-poverty communities, urban designees Los Angeles and Philadelphia garnered a lot of the early attention. But the initiative is also bringing hope to rural communities and tribal nations, whose economic issues require specifically tailored solutions for populations that are often overlooked.
The goals across all Promise Zones are the same: create jobs, leverage private investment, expand educational opportunities, and reduce crime. But for rural and tribal Promise Zones, economic recovery requires special attention to the challenges of expansive spaces —commuting and coordination between stakeholders takes longer, business attraction is more competitive, and replacing aging infrastructure is more costly. Designation offers a solid boost in overcoming these hurdles. Just one of the program's benefits: each designee receives preferences in competitive grant programs and technical assistance from participating federal agencies.
Here are some of the early investments that the 2014 and 2015 class of rural and tribal Promise Zones are making in their first years of planning and implementation.
South Carolina Low Country
The poverty rate for the six counties of South Carolina's Promise Zone is a dizzying 28 percent. The area's median income of $32,705 is 45 percent less than U.S. median income. Danny Black of Southern Carolina Regional Development attributes these statistics to a gradual loss of local middle-income jobs in the textile, energy, and defense industries.
Since designation in 2015, the Promise Zone has been able to attract $11 million in grant funding, $312 million in capital investment, and helped to create 210 jobs in manufacturing, distribution, and small business contracts. These opportunities are creating crucial opportunity pipelines for these counties, which are majority people-of-color. Last month Allendale County, which is 73 percent Black, was selected as the site of a new solar energy facility by Cypress Creek Renewables. The facility will create 40 to 60 jobs during construction and will entail an $8 million investment.
Partners are also trying to train and educate a specialized workforce in the meantime. They've enrolled more than 100 people in a regional welding program for construction and maintenance, which will lead to locals having the leg up in competing for new middle-wage jobs. "We think these Promise Zone opportunities, these grants… are a godsend that we can grab hold of," Black said, "to do some very targeted things in these areas in our communities and get them in a better position for future jobs."
Choctaw Nation of Oklahoma
"We are working with the U.S. Department of Agriculture (USDA) Rural Development, the Environmental Protection Agency, and the Department of Interior in planning water and sewer infrastructure improvements and how that relates to economic development," said Sara-Jane Smallwood, the director of policy at Choctaw Nation of Oklahoma. The Promise Zone's lead organization is focused on addressing infrastructure upgrades as the first step toward developing effective economy-related strategies. "If you are trying to grow or recruit businesses, you have to have those basic needs," Smallwood noted.
Since being announced as a first-round designee in 2014, the community has also been working to invest in telecommunications and broadband infrastructure to increase coverage. In July, President Obama made the first visit of a sitting president to the Choctaw Nation to announce his ConnectHome Initiative, selecting the Nation as a pilot area where Internet service providers will provide public housing residents with low-cost, high-speed Internet access. Wider access means more opportunities to connect residents to the new economy.
In addition, last October a consortium of economic and educational leaders in Oklahoma and South Kansas, including the Choctaw Nation, won a $500,000 contract from the U.S. Small Business Administration for their Unmanned Aerial System (drone) sector.  The proposal, which has up to four additional years of renewal, will help to jumpstart entrepreneurs utilizing drone technology, connect industry leaders with local high schools and college students to pursue related careers, and attract venture capital to the region.
Smallwood joked that the term "Promise Zone" might almost sound ironic to Native communities, given the broken promises they see as typifying the relationship between tribal nations and the United States government. But she added, the Choctaw Nation's leadership is more than hopeful for the future; they see Promise Zone designation as "a way that our sovereignty has been strengthened because it has opened so many new doors for federal-tribal relationships. That's what it is really about — being approached as an equal and a partner that's doing really great work."
Kentucky Highlands
The Kentucky Highlands Promise Zone is strategically situated deep in coal country where, according to Berea College's Dreama Gentry, 6,000 direct jobs — and more than three times that number of indirect jobs — have been lost in just the past three years.
In the past two years, $223 million in funding has poured in to the Zone.  This includes federal grants, money from private foundations and private investments, federal loans, and other investments. Included in that figure for federal grants is a $19.9 million grant from the USDA to help Supplemental Nutrition Assistance Program (SNAP) recipients find jobs, get training opportunities, and receive success coaching through the Paths 2 Promise program. "We have brought in a significant amount of grant dollars into the Zone," Gentry said. "It's those early wins with some of that grant funding that has started to provide some direct services and has folks saying, 'Wait a minute, this could start making a difference.'"
As momentum has snowballed, the Promise Zone has gone from having 12 primary partners in 2014 to 64 by the end of 2015. This level of collaboration has helped to break down some county-line silos and has helped the full eight-county region envision what a less coal-dependent economic future is going to look like. "We've had judges and county executives meet to plan to submit funding opportunities together and that would not have happened two years ago," Gentry said.
Pine Ridge Reservation of the Oglala Sioux Tribe
The Thunder Valley Community Development Corporation in southwest South Dakota is taking a holistic approach to addressing both the economic and housing needs within the Pine Ridge Indian Reservation Promise Zone. The CDC has been working on a planned community initiative in the reservation to address a chronic housing shortage and to serve other community needs since 2010. But just a few months after being designated as a Promise Zone, the Regenerative Community Development project received a $1.97 million grant from the USDA for a new community center within the development. The vision for the community includes 100 multi-family units, more than 30 single-family houses, a workforce development center, a sustainable agriculture center, a grocery store, and a youth center.
"We're not talking about putting a dent in poverty; we're going to end poverty on Pine Ridge," Thunder Valley CDC Nick Tilsen told a local ABC affiliate at the groundbreaking. "We're going to end the housing problem on Pine Ridge, and it's not going to be just because of the Promise Zone. The Promise Zone is just part of that strategy."
A Common Door
Although all of the rural and tribal Promise Zones serve different types of communities and economies, Lisa Cylar Barrett, director of federal policy at PolicyLink, sees strength in their alignment: "One of the things we've heard consistently... from Promise Zones is that rural and tribal communities appreciate having a specific door to enter this work through as it demonstrates a recognition of the different context of rural and tribal communities  and allows them to compete against other similarly situated communities rather than lumping them in with urban communities."
She has urged patience when evaluating the impact of the program. "Disinvestment in these communities didn't happen overnight, so it's not going to turn around overnight," she said. At minimum, the exercise of applying for a designation rallies a region to focus on the task at hand. "Ultimately, the program helps people in those communities to think differently about how they work together to collectively solve the issues within their community."