The Long Road to Legalization for LA's Street Vendors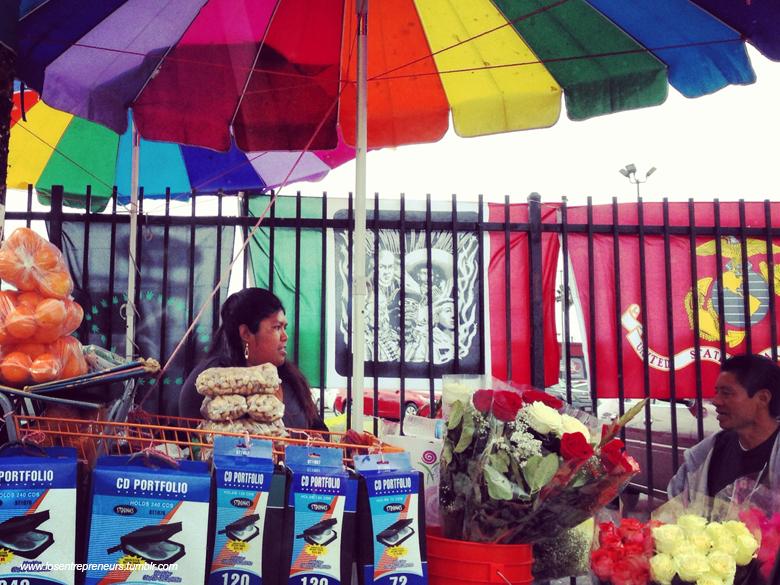 By Alexis Stephens
Merced Sanchez started her own business selling t-shirts and women's accessories in the Los Callejones flea market in downtown Los Angeles after she moved from Puebla, Mexico, over a decade ago. A successful businesswoman, after three years she was able to open her own small storefront. But disaster struck and her storefront burned down.
"I lost everything," said Sanchez. "Now the economy is not good for a store, so I sell in the street."
Sanchez is one of roughly 50,000 street vendors in Los Angeles. Street vending is a $504 million industry for the city, with benefits that ripple throughout the economy. But each time they set up shop, street vendors like Sanchez risk fines of up to $1,000 or jail time because LA is the only major city in the country that prohibits the sale of food or goods on sidewalks. Vendors take this risk while only earning an average of $204 a week or $10,098 a year, according to a recent Economic Roundtable report.
The ability to legally sell merchandise, hot dogs, fruit, or ice cream on the street is a vital economic opportunity for thousands of immigrant Angelenos — many of whom are women who have low or variable incomes — looking to take care of their families.
"My mother ran a business in Mexico and I always helped her," said Sanchez. "She said that as long as we sold something, we would have food on the table."
The Los Angeles Street Vendor Campaign, a coalition of more than 40 social justice-oriented community partners, is leading the effort to change the city's street vending policies. "For us, one of the benefits of creating a permit system for street vendors is that we're creating a pathway for these folks to get out of poverty," said Rudy Espinoza from coalition partner Leadership for Urban Renewal Network, a nonprofit committed to revitalizing low-income communities.
The economic impacts of street vending
Legalizing street vending would benefit LA's economy, according to the Economic Roundtable report, with total potential tax revenue estimated at $124 million a year. Vendors also buy local: four-fifths of the goods and services they purchase in order to operate are produced in Los Angeles County.
"All of our vendors dream of owning a brick-and-mortar business," said Janet Favela, a community organizer from East LA Community Corporation. "But those things are often out of their reach, [because of lack of] access to loans and all of those other things that come along with it." Street vending provides a lower-cost alternative.
Supporters of the ban argue that street vendors unfairly compete with the brick-and-mortar businesses they operate near by, but the Economic Roundtable report found that businesses that have street vendors selling near them (a bar with a hot dog stand operating in front of it, for example) often experience expansion and job growth due to an increase in foot traffic. Between 2007 and 2011, these businesses grew at an average of 5 percent, while businesses that didn't have street vendors nearby saw a 5 percent decline on average, according to the report.
If they were granted permits, street vendors could also serve as critical "eyes on the street" acting as deterrents to crime. But without permits too many are afraid to call the police for fear of getting in trouble, according to Espinoza. Two months ago, someone tried to steal merchandise from Sanchez's stall. "We could not call the cops because we knew they would say that we are doing something illegal," said Sanchez.
"I want a permit and peace"
In November of 2013, City Council Members José Huizar and Curren Price introduced a motion to explore the legalization of street vending. Since then, progress has been slow going. The issue has been discussed in the council's economic development committee twice and a general framework for how legalized street vending would operate from the city's perspective has been approved. Six public hearings have been held, and campaign supporters are pushing for a third committee meeting to be held in October.
"What [city council] is proposing is three different scenarios," said Espinoza. "One is to not do anything about the problem. The second is to create a citywide permit program, which we are advocating for. And the third is a district model, where community members would vote if they would like vending in their neighborhood or not."
LA's city council actually passed an ordinance allowing for special vending districts in 1992, but the law is popularly considered a failure, because a sufficient enforcement strategy was not put in place. Eventually, vendors began to operate outside of their boundaries and the ordinance lost its effectiveness. "From the perspective of vendors and even from an enforcement perspective, it doesn't make sense to have different boundaries and different rules on one side of the street and another on the other side," said Favela.
Favela says that a citywide permit program would allow immigrant entrepreneurs to inhabit public space with confidence, make them feel like their families are welcome in the city, and signal that local government has an innovative approach to the local economy. "A lot of folks would be able to feel like they can come out of the shadows," she said.
"You don't know what it's like to work outside in 106-degree weather and fearing the police," said Sanchez, who hopes to once more be able to open her own storefront. "I always ask God to help me make enough for me, my parents, my merchandise, and to help my husband. I want a permit and peace."
The coalition is encouraging Los Angeles residents to stay actively informed about upcoming meetings and votes; they hope for a citywide permit proposal to get through city council by the end of the year.
Summit Speaker Tracey Ross on Economic Resilience and Climate Change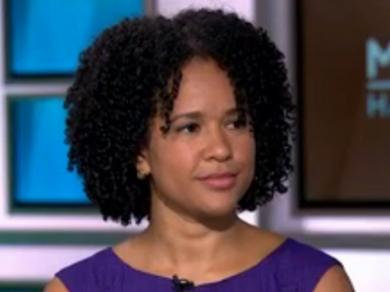 By Courtney Hutchison
As Equity Summit 2015 approaches, America's Tomorrow will showcase the work of a few of the 100-plus speakers and presenters featured at the Summit — inspiring equity leaders who are using innovative approaches to build an inclusive, thriving economy within their regions.
From hurricanes in the eastern seaboard to the current drought in California to rising rates of pollution-induced asthma in children, the effects of climate change and other environmental issues consistently hit low-income people and communities of color first and worst, making policies and strategies to foster sustainable communities an essential piece of the broader equity agenda. America's Tomorrow interviewed Tracey Ross, associate director of the Poverty to Prosperity Program at the Center for American Progress, about her work at the intersection of environmental justice and economic resilience in low-income communities and communities of color.
Climate change and other environmental issues are often overlooked as an equity issue — can you explain the link between the two?
In America, our communities were essentially designed — through redlining and urban renewal projects that pushed low-income people into deeper and more concentrated poverty — so that low-income people and people of color live in the worst communities in the worst conditions.
But when people think about poverty, they think about the inability to access affordable housing or limited transportation options or some of these things that are much more visible. But living in concentrated poverty also makes you more likely to be exposed to high levels of pollution, live in close proximity to environmental hazards, and be vulnerable to extreme weather events, because these are communities with the least amount of resources and least amount of political power. People think of extreme weather events as great equalizers that don't discriminate based on race or ethnicity, but what really happens is that [these events] exacerbate the underlying socioeconomic problems that our country struggles with every year.
What are advocates doing to counteract this legacy of disinvestment and discriminatory policies?
It's an uphill battle, but I think there's a lot of good work being done at the local level to push for policies like inclusionary zoning that help fight against gentrification and displacement of people of color and low-income people as communities develop. At the federal level, the Obama Administration has done a good job with regard to place-based initiatives such as Choice Neighborhoods, Promise Neighborhoods, and Promise Zones. These initiatives are designed so the federal government can be a better partner with local leaders and support innovation at the local level, rather than dictating a one-size-fits-all approach to community development.
Obviously, Congress is not a good ally in this work, but the Promise Zones initiative is a great example of how it doesn't always take much to change the tide. I was talking with one of the leaders of the Los Angeles Promise Zone — previously they received $36 million through federal place-based grants, which was a big step for the community. But then, because you have President Obama saying, "We're going to give this Promise Zone designation to Los Angeles because they're doing great work," all of a sudden all leaders from the private sector, philanthropy, and various organizations wanted to do work in that zone. The fact that Obama put his office behind the idea that we needed to do more in high-poverty communities was an important signal to local leaders that they need to come together. That's a perfect example that doesn't necessarily require money.
When you have community development and resiliency initiatives going hand in hand, you actually save money. Studies show for every dollar invested in building up resilience to climate change, in your infrastructure, in your housing, that saves $4 in disaster response and recovery. It is just a smarter investment to build communities up stronger rather than to try to rebuild them after a disaster.
These environmental hazards have a clear negative effect on the health and safety of low-income communities and communities of color, but what about their economic well-being?
I've identified three major ways that lower-income communities, particularly low-income communities of color, are disproportionally impacted by climate change: the quality of their housing, the environmental hazards they are exposed to, and economic insecurity. All three have economic implications. Consider what happens when a disaster hits, and federal labor laws generally include more protections for salaried workers, who will still get paid even if they can't get to work — unlike someone working for an hourly wage, who will immediately lose wages and may not be able to make ends meet. Also, disaster-related benefits aren't always sufficient and disproportionately affect the poor. Following Hurricane Katrina — probably our most stark example of what can happen — the federal government gave a lot of money to the state of Louisiana to dole out to residents to help them rebuild and bounce back. The state decided that money given to homeowners would be based on the value of the property, rather than the cost of reconstruction. Given the history of racism, property values are tied to what kind of neighborhood you live in, and there's often a "Black tax" in the housing market that depresses real estate values, regardless of whether it's a high-poverty community or not. So when Louisiana distributed funding, those living in the predominantly Black Lower Ninth Ward had an average gap of $75,000 between the cost of the damage accrued to a home and the grants received, making it impossible for many to afford to rebuild. As a result, only 37 percent of households have returned to the Lower Ninth Ward in the decade following Katrina. It all comes back to: if you're starting at the bottom and you're hit, it's just going to hit you harder. It's going to pull you deeper into poverty and so the economic ramifications of not investing in high-poverty communities are extreme.
What do you hope to gain from speaking at and attending the Summit?
I'm excited to do a lot of listening and talking to people from around the country. My dad grew up in housing projects in Oakland, my mom grew up in a working-class family in Oakland, and from birth, I was steeped in an activist tradition of what they saw going on there in the 1940s, 1950s, and 1960s. So my heart is always with the activists, but my disposition and my skill set has put me at the 30,000-foot level on these sorts of things, stepping back and analyzing trends over time and across issue areas. This just means I have to work extra hard to connect with people who are wrestling with the issues on the ground and learn from them, so that I can properly represent them when I'm having conversations in Washington, DC and when I'm thinking through these issues. At the same time, because I do have the luxury of analyzing these issues from the 30,000-foot level, I hope that the various connections that I make when I'm studying energy or transportation or the health-care system will be helpful for others in their work.