Obama's Overtime Plan Boosts Pay Where It's Needed Most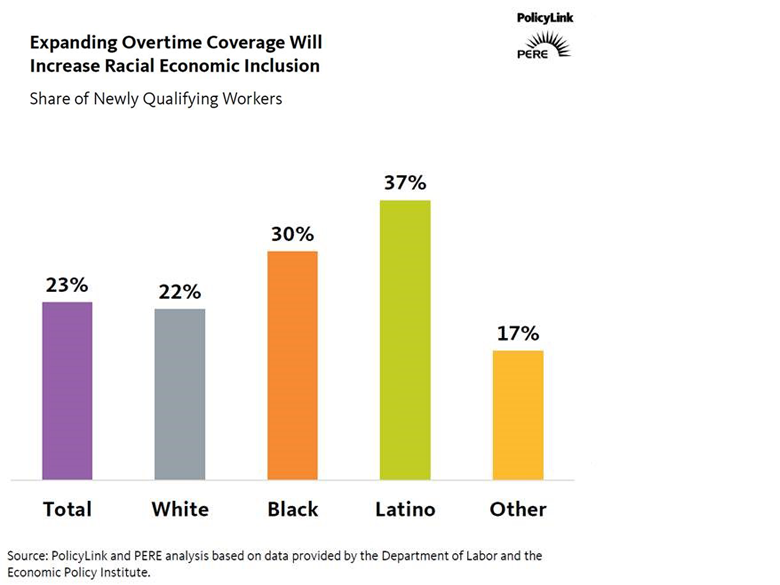 President Obama proposed a new rule last week to expand overtime protection for nearly 5 million workers. This rule will have an outsized benefit for Black, Latino, and women workers concentrated at the lower end of the wage scale. It would be the first time the federal government has changed the eligibility standard for overtime coverage since 1975 and marks a step toward a stronger, more equitable economy.
Currently, salaried workers who earn less than $455 a week — below the poverty line for a family of four — qualify for overtime coverage. The proposal would increase the threshold to $970 a week, adding more than $1.2 billion in wages for newly eligible workers.
Who will benefit? Encouragingly, groups who have long been left behind. Based on the Department of Labor's estimate of workers who do not currently qualify and an Economic Policy Institute study on the projected gains of expanded overtime by race, ethnicity, and gender, PolicyLink and the Program for Environmental and Regional Equity at the University of Southern California (PERE) estimate that:
37 percent of salaried Latino workers who do not currently qualify would be covered (slightly more than a half million workers).
30 percent of

salaried

Black workers who do not currently qualify would be covered (slightly less than a half million workers).
22 percent of

salaried

Whites who do not currently qualify would be covered (3.6 million workers).

In addition, 56 percent of those newly covered will be women, according to the White House.
Under the rule, employers would have to compensate their employees 1 ½ times their regular pay for any work beyond 40 hours a week. Or, employers would have to adjust workers' hours and hire more people to make up the difference, growing the workforce. Either way, it's good news and not only for the affected workers, but also for their families and the communities where they live, shop, and bank. As Obama wrote in the Huffington Post, "It's good for business owners who are already paying their employees what they deserve — since those who are doing right by their employees are undercut by competitors who aren't."
Why San Francisco's Groundbreaking Retail Workers Bill of Rights Should Become a National Model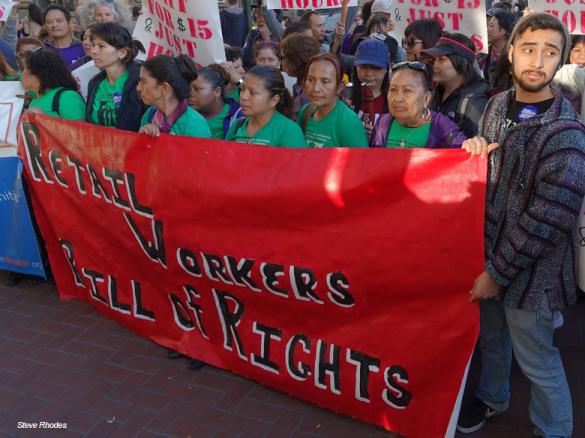 A growing national campaign to raise the minimum wage has focused attention on low pay in fast food, chain restaurants, and corporate retail — industries with some of the fastest job growth in the United States. Now activists and workers across the country are recognizing that higher hourly wages are necessary but not sufficient to build a strong economy that works for all. Workers at large chains — particularly employees of color, who are disproportionately stuck in part-time jobs with erratic, often abusive scheduling practices — need basic protections if America hopes to close the racial economic divide.
That's why San Francisco's new Retail Workers Bill of Rights, the first law of its kind in the nation, marks an important step toward advancing economic equity. It encourages fair, consistent scheduling in chain stores and restaurants, and opportunities to advance. Together with the $15 minimum wage that San Francisco voters overwhelmingly approved last fall, the bill of rights could usher in a new era in a city with the second-highest income inequality in America. And it opens a new front in the robust national movement for good jobs for the people who need them most.
A growing list of cities, including Washington, D.C., Chicago, and Minneapolis, have grassroots campaigns for similar policies to lift the floor for cashiers, stock clerks, janitors, security guards, and other workers at chain stores and restaurants. The goal is central to stabilizing lives, household incomes, and local economies in low-income communities and communities of color.
San Francisco's bill — which is actually two laws encompassing comprehensive policies — protects hourly workers at chain retailers from the chaotic, unpredictable scheduling practices that have become the industry norm. The new policies also expand access to full-time employment, by requiring employers who need more help to offer additional hours to current part-timers before hiring new ones. Employers must give part-timers equal treatment to full-timers with respect to wages, paid and unpaid leave, and access to promotions. And the bill guarantees a measure of job protection when companies change hands.
The bill applies to companies with 20 or more locations globally and at least 20 employees in San Francisco. About 40,000 workers stand to benefit, according to Jobs With Justice San Francisco, the labor-community coalition that led the campaign for the bill of rights. The Board of Supervisors unanimously passed it late last fall, giving companies until July 3, 2015 to comply.
"These policies are pushing back against the trend toward permanent part-time work, and that has a direct economic effect on workers and their families," said Gordon Mar, executive director of Jobs With Justice San Francisco. "These policies also push back against trends that put workers lives and schedules at the whim of their managers and employers. It restores predictability and balance for workers, which is equally as important as the economic benefits."
Transforming low-road jobs into paths to opportunity
About 15 million people in the United States — one in 10 workers — are employed in retail. It is one of the largest sources of new jobs in the nation, the second-largest industry for Black employment, and a significant factor in perpetuating racial economic inequity, says a new research paper by the NAACP and Demos.
Contrary to the stereotype of teens flipping burgers or bagging groceries to earn pocket money, millions of households depend on retail paychecks. The paper finds that about half of all retail workers contribute at least 50 percent of household income, and 65 percent of retail workers are parents. Black and Latino workers are over-represented in cashier jobs, the lowest-paid position in retail. They are more likely to be employed part time despite wanting full-time work, and they are more likely to be poor: 17 percent of Black and 13 percent of Latino retail workers live below the poverty line, compared with the retail workforce overall.
Eliminating involuntary part-time work would reduce poverty by at least 2 percent, with the greatest impact on Black and Latino working poverty rates, according to Demos and the NAACP.
Corporate retail scheduling practices, determined by software algorithms, leave workers to deal with ever-changing shifts, wide swings in weekly hours and incomes, and in some companies, the requirement to be on-call — only to have shifts canceled at the last minute, with no pay. This makes it impossible for workers to plan a budget, take a second job, attend school, arrange stable child care, or even schedule a doctor's appointment. The practices harden economic disparities. "On-call, unstable, and unpredictable schedules pose costs to employees that exacerbate the problems associated with occupational segregation and the racial wage divide," the paper says.
A vision for the future
Sandra Herrera has lived this reality. She immigrated to San Francisco from El Salvador at age 10 and began working in retail a few years later. She has held the same job as a supermarket cashier for the past 7 ½ years, and two of her four children, both in their 20s, work as supermarket cashiers, too.
All these years, Herrera never knew until Friday whether she'd have to work on Sunday or how many hours she'd have to put in that week — 24, 28, 16, or a sudden spike to 45. Often she pleaded for more work only to have her hours cut when her manager hired another part-timer. Watching her children face the same treatment propelled her to join the campaign for the Retail Workers Bill of Rights.
"It's not for my future right now, it's for our kids," she said. "I don't want my kids to struggle like I was struggling."
Significant as they are, the recent gains for retail workers are not a panacea. Fifteen dollars an hour adds up to slightly more than $31,000 a year for a full-time worker, hardly enough to live on in an expensive city like San Francisco. While the bill of rights eliminates the worst scheduling abuses, requiring employers to post schedules two weeks in advance and pay on-call workers for a few hours if a shift is canceled with less than a day's notice, workers like Herrera and her kids still will experience variable schedules that make it hard to plan a life.
But by saying no to poor conditions in a huge job sector, the San Francisco bill has opened an important conversation about the future of work. "This is about lifting the floor for retail workers but it's also about thinking long term," said Michelle Lim, the Jobs With Justice San Francisco strategist who directed the bill of rights campaign. "What should the ideal retail industry look like?"